Briefs: The Second Coming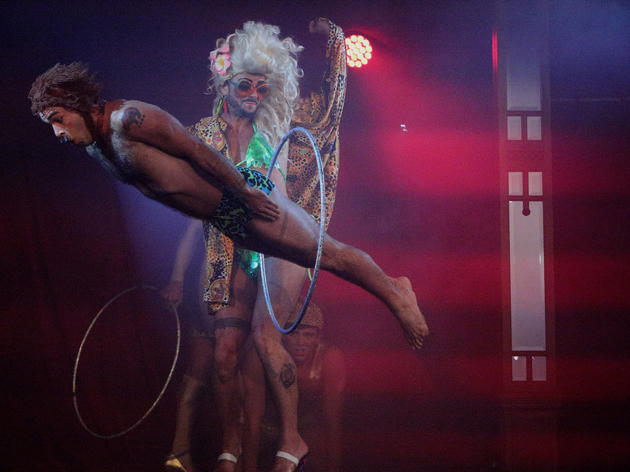 Impossibly tantalising and infinitely sexy circus from Brisbane-based company Briefs at the London Wonderground.
This review is of the show's 2014 run. The show returns to London Wonderground in September 2016.
Wow. There's really no other ejaculation worthy of this show. It's an eye-popping spectacle that is both fabulously sexy and seriously clever. There's never even a hint of anti-climax. And you'll definitely leave wanting more, more, more.

After wowing the crowds at this year's Glastonbury, Brisbane's Briefs boys have brought their deliciously fuck-you swagger to the South Bank. Comprising six Aussies and one New Yorker, 'The Second Coming' is like a blazing disco ball of energy exploding in a nightclub that's inside a theatre, inside a circus tent.

Compered with the driest and dirtiest wit by high heel-wearing, bearded Shivannah, the show is a raucous blend of impressive circus skills, burlesque and cabaret. It's imaginative, playfully perverse and crammed with pin-sharp references to everything from '2001: A Space Odyssey' to 'Pulp Fiction'.

This is intelligent, self-aware entertainment. The performers are as sexy as hell – and knowingly flirty – but what really raises the temperature here is the sheer skill anchoring it all. Thom Worrell's aerial acrobatics are mesmerising while Evil Hate Monkey's banana ballet is a comic masterpiece. What makes them so hot is how talented they are.

Bodysuit-wearing drag performer Dallas Dellaforce manages to say more about gender conventions in ten brilliant minutes than many hours of earnest theatre; and youngest member of the line-up, Louis Biggs, trumps his own striptease with a display of astonishing aptitude involving an iconic '80s puzzle.

This is steamy, cheeky fun, powered by a relentless energy that will leave you wanting to lose yourself in the nearest club. By the time the Briefs come together (looking like a particularly fabulous group of superheroes) for a final crowd-pleaser, you'll be out of your seat and whooping.
Rating Breakdown
5 star:

3

4 star:

0

3 star:

0

2 star:

0

1 star:

1
Sorry to differ from the rest of the crowd but my friend and I were hugely disappointed. We have seen the show every time it has been at Underbelly and thought it was absolutely outstanding before.
Yes this was fun enough if you haven't seen the previous show but it was massively inferior to that one.Previously there were distinct acts- yoyo man, banana man, the awful but hilarious dog show, the weird Lady Gaga type character, the wine glass splashing, to name but a few. There wasn't a single memorable act this time. Each of the group had distinct characters last time and it was easy to remember what act they had performed. This time half the cast are new and it has massively suffered as a result.
There was nothing memorable and the characters were none existent. Sorry boys but you need to rethink your act-you used to be great-now you are just another show.
Watched this Last Night and it did not disappoint, the good thing is that you don't know what to expect which makes the show exciting. Camp, Fabulous, Funny and Clever! Highly Recommend!