Heads up! We're working hard to be accurate – but these are unusual times, so please always check before heading out.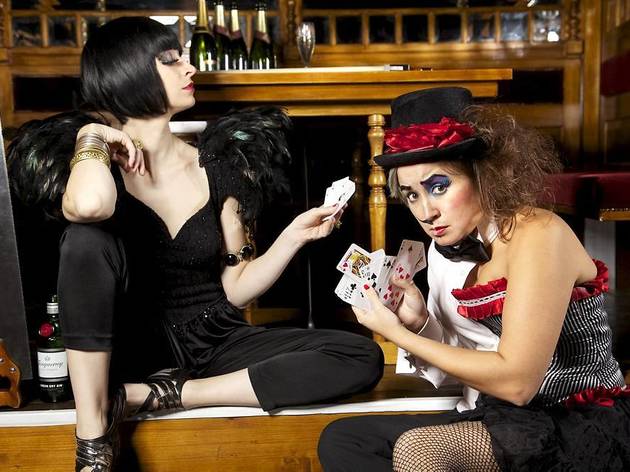 EastEnd Cabaret's guide to modern sex
Get your freak on with the 'Notoriously Kinky' duo
London's sexual landscape can be a bit of a minefield. The squelchy gamut, if we can call it that, runs from the everyday likes of inexperienced lovers and over-zealous suitors to varsity-level stuff like golden showers and necrophilia.
But fear not. EastEnd Cabaret is on hand, with indispensible guidance on all of the above, not to mention the likes of the 'dangerwank' and 'accidental anal'. We've had our eye on this distinctive duo – vaguely Eastern European femme fatale Bernadette Byrne and her stalky accompanist and 'personal freak' Victor Victoria (aka Aussie performers Jennifer Byrne and Vicky Falconer-Pritchard) – since they started performing in London in 2010, and they just keep getting better.
Their original songs – always about some interesting angle on sex, always musically rich, always engaging as stories – are consistently strong, and the rapport between Bernie and Victy's grotesquely endearing personae gets richer and weirder all the time. And boy, can they work a crowd.
Ahead of their
new run at the Soho Theatre
, we asked them for a few top tips to enrich your sex life. Follow them at your own risk…
BB:
'Sexy tricks can spice things up in the bedroom. For example, if you see a beautiful woman in Thailand shooting ping-pong balls at unsuspecting punters and think, "That looks easy, I could do that!", you should definitely try it. Just don't be too disappointed when you fail miserably and there are three hours of your life you will never get back.'
VV:
'Try collecting items from various cupboards around the house for sexual inspiration. It's amazing what you can do with whipped cream, frozen peas, a belt and a tube of Deep Heat. But beware: the order in which you use them may mean the difference between a long night of passion and a long night in A&E.'
BB:
'Loving yourself – however, whenever, wherever – is one of the most important things in existence. If you feel that beautiful urge, you just have to go for it.'

VV:
'The key is stealth. Also adequate coverage. Especially in public places. We have created a useful guide (
see your local YouTube
) on how to conduct a successful "dangerwank" which potential practitioners may find quite informative.'

BB:
'Just try it, darlings. It could change your life.'
VV:
'A suggestive sentence, whispered breathily in your partner's ear, is a good way to enhance the sexual intensity of any situation. So I've heard, anyway.'
BB:
'Victy, you have no idea. But darlings, think before you speak. If you have to ask, 'is it in yet?', then it is most definitely not in. This is not good bedroom banter. I know this from experience.'
See the latest cabaret galleries on Time Out