Heads up! We're working hard to be accurate – but these are unusual times, so please always check before heading out.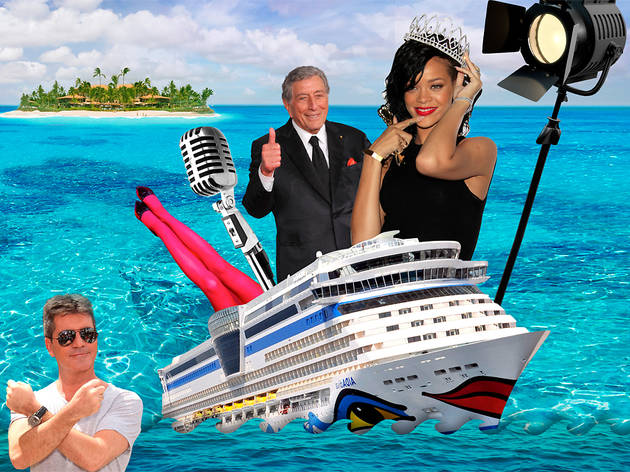 Five reasons to love cruise-ship cabaret
Think seaborne cabaret is the gold standard of crap showbiz? Think again!
To the uninitiated, the phrase 'cruise-ship cabaret' conjures images of naff crooners in Bri-Nylon and combovers, or women of a certain age wearing a headful of plastic fruit and an erratically lipsticked grin. But to those in the know – like 'Rat Pack' star, bearer of the Sinatra flame and internationally acclaimed chanteur Gary Williams – they're the beating heart of mainstream cabaret, the pumping engine that keeps the industry afloat. Here are Williams's top five reasons to love cabaret the cruise-ship way. All aboard the love boat!
'Mainstream cabaret isn't dead, it's just moved… to sea. The British social-club scene has all but disappeared and without a "name" topping the bill, theatre is a huge gamble. But the cruise-ship industry is huge and getting bigger all the time. It's one of the few places where thousands of skilled entertainers of real substance can ply their trade and make a good living.'
'I pity the "X Factor" contestant that prompts Simon Cowell's now-annual criticism of being "too cabaret" or "too cruise ship". But what's he basing his opinions on? Does he know, for example, that Rihanna's worked on one? How about Tony Bennett? "Chicago" is currently wowing audiences in a 1,380-seat theatre at sea. I'll take that over a girl with a jumping dog, thanks.'
'I'm a crooner. I sing easy listening, jazz, Latin music and the Great American Songbook. Guests know exactly what to expect. If they like that style, they'll come, if not, they'll go to the casino. That's it. If you're planning to use your show as a platform to educate the masses in musical appreciations, well… good luck.'
'One lighting designer I know was attracted to cruise ships because of the state-of-the-art equipment on board. He'd lit many arena-size shows with the same amount of equipment available in a 900-seat theatre at sea. Almost anything's possible.'
'On the very first cruise ship I worked on, a very nice elderly lady approached me as I walked off stage. "What a wonderful show," she said, "and your voice! I could listen to you all day." I was flattered. I thanked her and asked, "Are you enjoying your cruise?" She stared at me. I tried again. "I was wondering, are you enjoying your cruise?" She just stared at me. Finally she said, "I'm sorry, you'll have to speak up, I'm profoundly deaf." That's funny patter, and I didn't even have to make it up.'
Adapted from the book 'Cabaret Secrets' by Gary Williams, which is out now. See www.cabaretsecrets.com for details.
See the latest cabaret galleries on Time Out