Mat Ricardo brings variety back to the West End
The Leicester Square Theatre hosts a new night of eclectic entertainment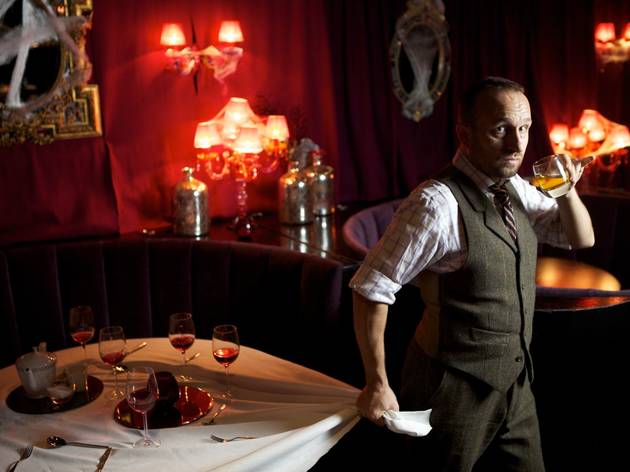 Over the past year, variety has had few champions as visible as 'gentleman juggler' Mat Ricardo. As well as a packed schedule in his capacity as the scene's pre-eminent lobber-and-catcher of balls, boxes, pins, blades, wine glasses and bowling balls, he's popped up on TV alongside Jonathan Ross and Alan Titchmarsh, as well as doing his patented reverse-tablecloth-pull on an income-protection ad. Later this month, he takes things up a notch when he brings 'Mat Ricardo's London Varieties' to the Leicester Square Theatre for the first night in a monthly residency – arguably the West End's first honest-to-goodness variety night since the '80s.

The format follows the template of last year's successful run at Bethnal Green Working Men's Club: as Ricardo puts it, 'no theme, no story, just the best acts I can find' from the worlds of comedy, cabaret, circus and magic, plus an on-stage interview with a legendary act. This run's turns include Paul Daniels, Al Murray, Omid Djalili, EastEnd Cabaret and The Boy With Tape On His Face. The show is then posted online in podcast and video form.

It's all fuelled by Ricardo's infectious passion for skilled performance: a former street juggler, his knowledge of variety heritage is truly encyclopedic. And, naturally, his own skills are part of the package. He has set himself the challenge of learning a new routine for each show, and none of the easy stuff: 'I've just taken delivery of three cordless electric carving knives…'

'Mat Ricardo's London Varieties' starts at the Leicester Square Theatre on Feb 28.

See the latest cabaret galleries on Time Out
Our take on the second edition of the London scene's annual awards
Read more
Chaz Royal celebrates his ten-year anniversary as a cabaret producer
Read more
Cabaret diva Ursula Martinez shares some of her favourite photos with Time Out
Read more
Myra DuBois and Kiki Kaboom slug it out as cabaret's two biggest scenes face off
Read more
Check out some amazing photos from new book 'The Domestic Burlesque'
Read more
Sponsored listing
Empire Casino
There's not a lot you can't play at this Leicester Square gaming complex. You can roll the dice on everything from three card poker, American roulette, blackjack and punto banco to electric gaming, slots and pai gow tiles – a Chinese gambling game played with a set of 32 dominoes. There are restaurants and bars on site too, as well as the Dragon Lounge – a special room for the VIPs to go for the big bucks. Special events and offers feature regularly, too.