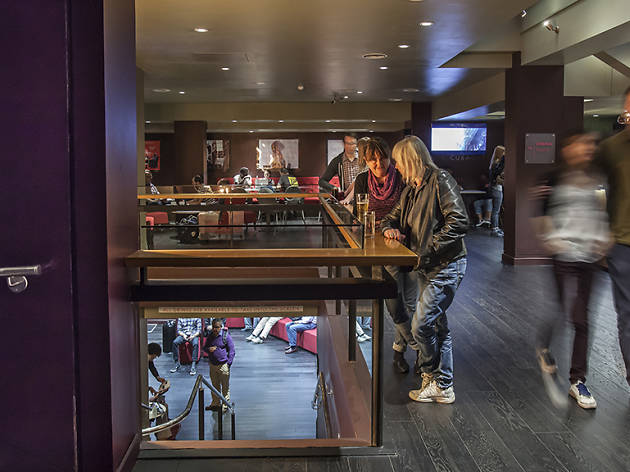 Arthouse film fans have been known to go weak at the knees at the mention of the Soho Curzon, which has some of the best programming in London – a mix of arty new releases and documentaries, often introduced by the filmmakers themselves. Watching a film at the Curzon always feels special, surrounded by film lovers without it being pretentious. The coffee is good, the bar relaxed, and if you're watching a British film, you'll likely be seeing the finished product a stone's throw from where it was edited in Soho. Perfect for whiling away a rainy afternoon.
Venue name:
Curzon Soho
Contact:
Address:
99 Shaftesbury Avenue
London
W1D 5DY

Opening hours:
Box office 0870 756 4620
Transport:
Tube: Leicester Sq
Do you own this business?
After such imposing movies as 'Hunger', 'Shame' and '12 Years a Slave' – those titles are punishing enough – you'd be forgiven for assuming British director Steve McQueen had a mean streak, if not toward his audiences, then his actors. Now comes '...

Read more

A stellar injustice: Hollywood has made a movie about a faked Mars landing—1977's deliriously silly 'Capricorn One'—but has never given the historic first moon landing its due. That's not so hard to explain. While inspiring on a global scale, the ...

Read more

With 'Gomorrah', his seedy, hyperkinetic delve into Naples' criminal underbelly, Matteo Garrone vividly mapped out a whole ecosystem of organised crime, populating it with sharply drawn characters and bursts of vicious violence. In 'Dogman', his l...

Read more

If you've ever been stuck hundreds of miles from the love of your life, wondering if it's really worth all the heartache and phone-checking, Pawel Pawlikowski has made the movie for you. With a monochrome love story spanning two decades and four c...

Read more

The best horror movies, just as major as the more reputable stuff, work on a primal level, beyond plot or words. They grab at your bowels. Dario Argento's 1977 stunner 'Suspiria', an explosion of color, gore and vaulting stylistic ambition, is und...

Read more

Scotland's David Mackenzie directs what is, in historical terms, a follow-up to Mel Gibson's 'Braveheart'. In 1304, with an uprising thwarted, Robert the Bruce (a mullet-sporting Chris Pine, scuffed up but still smouldering) vows to serve under En...

Read more

Richly entertaining and blackly funny but told with sincerity and heart, the half-dozen western tales packed into 'The Ballad of Buster Scruggs' show the Coen brothers loading up their six-shooter and firing barely a dud. Inevitably, some of the...

Read more
Average User Rating
4.6 / 5
Rating Breakdown
5 star:

13

4 star:

10

3 star:

0

2 star:

0

1 star:

0
The thing I like the most about Curzon Soho is the great selection of films that they always have on show. The cinema also deserves a thumbs up for keeping its 'independence' in a part of London where gentrification demands more and more of businesses. Prices are high, which is expected given its location. The cinema has an ok bar and an overall artsy fartsy hipster crowd (the face of gentrification, ironically). The seats in the actual cinema screen were comfortable and the screen was designed in a way that the person sitting in front of me did not obscure the view. A good cinema.
There is always something to see here and the staff are wonderful
A good range of movies and THE BEST CAKES in London. A great bar too! This place must stay.
Anyone who works in film sees this place as their sprritual home. Anyone who is a real fan of cinema feels the same. I'd do anything to keep it open.
This venue is a huge part of my life. It makes cinema going an absolute pleasure. Currently I am making a documentary about fighting to save the Curzon Soho in it's current awful predicament. I love this place.
Curzon Soho Cinema has had a historic role in the development of arthouse cinema in the UK, and it's to me the flagship of art cinema in London. I value the significance of cinema culture and the role it plays in the identity, politics, society and economy of a country, especially in the UK where the creative and
cultural industries compete with the financial sector.
I can't believe it is under threat. London should learn to better protect historic and cultural spaces, especially from developers.
A brilliant and pioneering cinema with an excellent bar and coffee shop.
A great venue. Fantastic films and a great place to hang out too. Their programme of director and cast Q&As is especially strong.
I love every floor of the Curzon, from the cafe selling delicious red velvet to the bar and popcorn floor and, of course, the screens. You can tuck away in a corner and have a quick drink with your fancy man before hot footing it to watch the latest independent and international films. If you're into film then this is definitely the spot for you.
Probably my favourite cinema in central London. Film-going aside the bar is a good spot for a date!