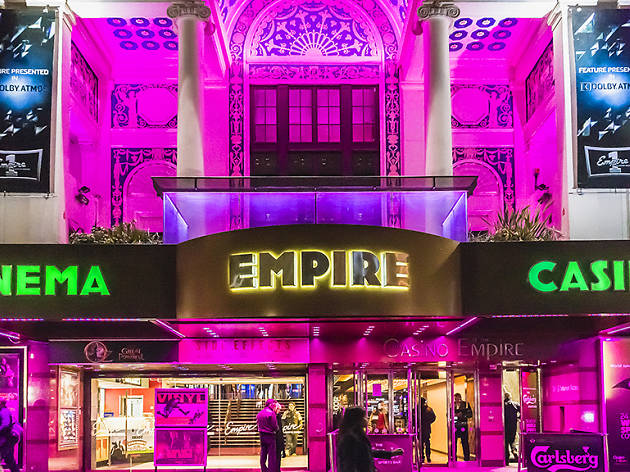 One of London's oldest cinemas (it opened as a theatre in 1884, and as a cinema following World War II) the Empire in Leicester Square was until recently home to London's biggest non-Imax cinema screen. It's now been refurbished, with its massive main auditorium separated into one full Imax screen and one smaller, 400-seat Impact (ie, big but not quite Imax) theatre. There are also a number of smaller screens tucked away throughout the building, making a total of nine. Don't come here to watch an award-winning three-hour Turkish drama. The programme is as mainstream as you'd expect from a central London multiplex, with all the big Hollywood hitters. The prices, too, reflect the cinema's tourist-friendly location. Snacks are the usual hot dogs, nachos and popcorn.
Venue name:
Empire Leicester Square
Contact:
Address:
Leicester Sq
London
WC2H 7NA

Do you own this business?
With one obvious exception, toy stories do not have the luckiest big-screen pedigree: the results are often either sugary cartoons for undemanding kids or noisy blockbusters for brain-dead teens. If the producers of 'The LEGO Movie' had taken eith...

Read more

If the future of Hollywood lies to the East, we should all get very comfortable with crowd-pleasing, cross-cultural action blockbusters like 'The Great Wall'. Guaranteed neither to offend nor confuse audiences from Beijing to Boston, this is as mu...

Read more

The title of this burger-based biopic drips with irony: businessman Ray Kroc (Michael Keaton) may have sold himself as the founder of the McDonald's empire, but the truth was a little different. Kroc was an on-the-road milkshake mixer salesman whe...

Read more

Forget Matt Damon and his shitty potatoes – the latest Martian castaway aching for Earth is a lanky teenage oddball played by British actor Asa Butterfield ('Hugo') in this good natured but crushingly bland romantic melodrama. Butterfield is Gardn...

Read more

Who the hell is Xander Cage? A valid question, particularly if you don't have an encyclopaedic knowledge of stalled twenty-first-century action franchises. Back in 2002, 'XXX' saw skate-punk Xander Cage (Vin Diesel) recruited by shady CIA officer ...

Read more

This delightful animated feature from the studio behind the Minions movies takes a tired-sounding idea – a comedy set around a talent contest – and turns it into something winning and witty. 'Sing' is fast and frenetic, dashing from character to c...

Read more

Before you get funny, no, they haven't come for his cat this time. Keanu Reeves is back as the taciturn ex-assassin prone to murderous rages: 2014's 'John Wick' saw him taking on the Russian mobsters who killed his dog (it reminded him of his dead...

Read more

After a decade-long absence, Mel Gibson returns to directing with a brutal war film that has a rousing tale of God-inspired heroism at its heart. 'Hacksaw Ridge' is the true story of Desmond Doss (Andrew Garfield), an army medic and decorated WW...

Read more

As inspiring as the red glare of rockets heading into space, this huge-hearted crowd-pleaser has a sophisticated idea running through it: by and large, busy scientists don't have time for racism or sexism. So it proved at Virginia's Langley Resear...

Read more
Average User Rating
3.7 / 5
Rating Breakdown
5 star:

0

4 star:

2

3 star:

1

2 star:

0

1 star:

0
I went there just a couple of times but I think is one of the best cinemas in London. The rooms I saw are little and intimate, the seats incredibly comfortable. The staff was very friendly, they helped us to find our seats and also the food is amazing, you can find everything in the shops inside.
I loved the fact that you can book online and then collect your tickets at the machine. After the film, a little walk in the centre of London is simply necessary! :D