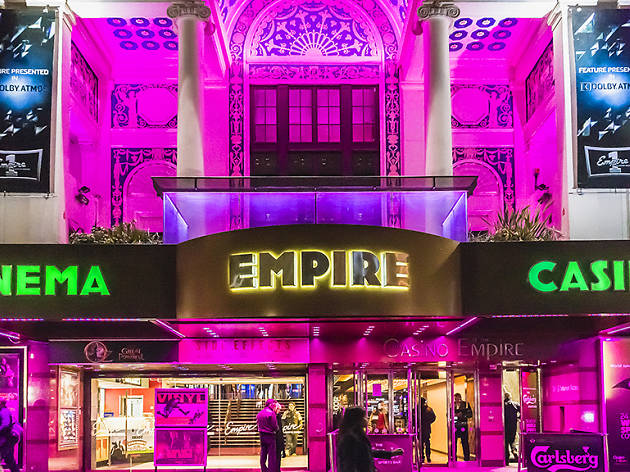 One of London's oldest cinemas (it opened as a theatre in 1884, and as a cinema following World War II) the Empire in Leicester Square was until recently home to London's biggest non-Imax cinema screen. It's now been refurbished, with its massive main auditorium separated into one full Imax screen and one smaller, 400-seat Impact (ie, big but not quite Imax) theatre. There are also a number of smaller screens tucked away throughout the building, making a total of nine. Don't come here to watch an award-winning three-hour Turkish drama. The programme is as mainstream as you'd expect from a central London multiplex, with all the big Hollywood hitters. The prices, too, reflect the cinema's tourist-friendly location. Snacks are the usual hot dogs, nachos and popcorn.
Venue name:
Empire Leicester Square
Contact:
Address:
Leicester Sq
London
WC2H 7NA

Do you own this business?
In a year with no Baz Luhrmann movie, 'The Greatest Showman' fills the gap with a big, brassy, unashamedly over-the-(big)-top circus musical with one eye on the multiplex and one on the pop charts. As befits an origin story for legendary American ...

Read more

Teen movies have long been a safe bastion for queer viewers, offering plucky heroes who exude a society-be-damned confidence – think of 'Clueless''s Cher Horowitz stomping through her high school's halls. And while gay teens may worship the hypers...

Read more

In some respects, 'Tomb Raider' has come a long way. Lara Croft, 2018-style, is now less of a geek's voluptuous fantasy; as portrayed by Alicia Vikander ('The Danish Girl'), she's sinewy and serious. Moreover, Lara's not such an anomaly these da...

Read more

Jaegers (giant robots) and Kaiju (huge primeval creatures with interdimensional containment issues) are again going head to head in 'Pacific Rim Uprising', and while director Guillermo del Toro has not returned for this sequel to his 2013 original...

Read more

After the 'Twilight' saga, we're well used to young adult romances involving mysterious, pale sun-dodgers with attractive depths. The twist with this one is that there's nothing supernatural about nocturnal teenage guitarist Katie (Bella Thorne). ...

Read more

'A Quiet Place' is like 'Aliens' retooled as a militant librarian's fantasy. Actor-director John Krasinski's relentless shocker thrives on a nifty premise: in a post-apocalyptic near future, a family must survive in a world where the slightest sou...

Read more

Marvel sinematik evreninin merakla beklenen, dev bütçesiyle dudak uçuklatan, 'Avengers' serisinin son filmi 'Avengers: Infinity War', daha önce görmediğimiz bir yıldız oyuncu kadrosu ile nihayet vizyona giriyor. Iron Man, Thor, Captain America, Dr...

Read more
You may be interested in:
Rating Breakdown
5 star:

1

4 star:

2

3 star:

1

2 star:

0

1 star:

0
I went there just a couple of times but I think is one of the best cinemas in London. The rooms I saw are little and intimate, the seats incredibly comfortable. The staff was very friendly, they helped us to find our seats and also the food is amazing, you can find everything in the shops inside.
I loved the fact that you can book online and then collect your tickets at the machine. After the film, a little walk in the centre of London is simply necessary! :D