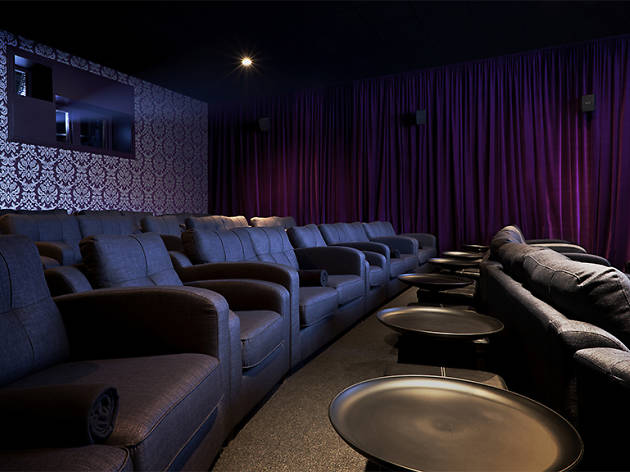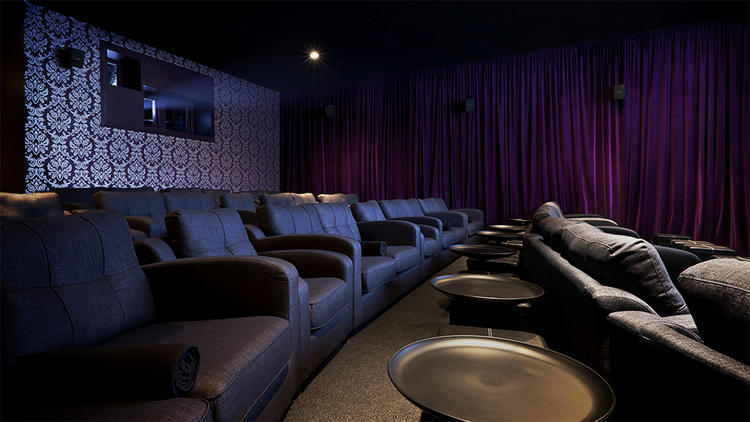 Lucky old Whitechapel. They get to have the gorgeous Genesis as their local. Not only is it cheap, but it's also been beautifully renovated in the past two years by guys who design film sets for a living (try knocking the bricks upstairs on the mezzanine level). The end result is pretty much a perfect local cinema, where you'll find proper old East End ladies drinking coffee next to cool kids on laptops in the café. There's a bar upstairs, and if you want to fill your face, you're in for a treat. Choose between crodoughs from nearby 100-year-old bakery Rinkoffs, or the snack bar with a wall of Pick 'n' Mix or jumbo hotdogs from World's Wurst (terrible name, brilliant bangers, from £3.90). Book seats in the Studio 5 boutique screening room with armchairs and a cosy bar for a date.
Venue name:
Genesis Cinema Whitechapel
Contact:
Address:
93-95 Mile End Rd
London
E1 4UJ

Transport:
Tube: Stepney Green
Do you own this business?
Brain-dead, sunken-eyed, shambling and gormless - London's 20-somethings don't look set to wrest control of the universe any time soon. In fact some are enough to make you despair of the human race. Take Shaun (Pegg), a genial bloke with lovely gi...

Read more

It begins with an axe crashing into a TV set: sparks fly, a scream is heard, and the symbolism is brutally obvious - forget everything you thought you knew about the quirky, wacky, cosy world of 'Twin Peaks', cos Daddy's home and he's pissed off. ...

Read more

Thomas (Reeves), a salaryman at a software company, leads a secret double life. As 'Neo' he's a computer hacker much in demand. But only when Trinity (Moss) introduces him to charismatic seer Morpheus (Fishburne) does Neo learn that the whole wo...

Read more

This is not an action movie, but a cerebral comedy - which is to say, an ideas movie. Some of those ideas are startling, provocative, transgressive, even subversive. They're also pretty funny. It goes like this: Norton used to be an upwardly mobil...

Read more

Decadence is both the subject and the style in 'Oldboy' director Park Chan-wook's elegant, intensely romantic adaptation of Sarah Waters's spicy bestseller 'Fingersmith'. Shifting the action from Victorian England to pre-war Korea under Japanese r...

Read more

The first miracle of Barry Jenkins's exquisite coming-of-age drama 'Moonlight' – and this heartbreaker of a film is filled with miracles – happens around a kitchen table. We've already seen quiet, sullen Chiron (Alex Hibbert), a 10-year-old with f...

Read more

Here is Jessica Chastain flexing her extraordinary Meryl Streep-like range again and just about keeping this political thriller in the realm of enjoyable. Her character is Elizabeth Sloane, a ruthless Washington DC lobbyist so fierce that when she...

Read more

Most modern filmmakers got their start in commercials and music video – and you can tell, every time you go to the movies. David Lynch started out as a surrealist painter, and indeed his earliest films 'The Alphabet' and 'The Grandmother' were par...

Read more
Average User Rating
4.9 / 5
Rating Breakdown
5 star:

17

4 star:

2

3 star:

0

2 star:

0

1 star:

0
Thank you from the bottom of my heart for screening "A Way of Life" on 7 March. It resonates so with the political climate of today. And the bonus was having the director, Amma Asante for a chat and Q & A following the film. She was articulate, informative and a wonderful model for women of color.
Great local cinema! Cheap tix, fun events and promotions, various independent releases, good food and drink; couldn't ask for a better local cinema!
Its cheap and its different. Very far from any typical chain cinema and that's what makes it great. A little run down but a whole lot of charm :)
Brilliant little cinema and great prices to boot.
I Love this cinema. Its what ALL cinemas should be like. Top customer service. Top comfort.
I love the atmosphere at the Genesis, the staff are all very friendly and helpful. They've got great coffee, excellent food, a really cool bar and the biggest screen in the East End so they've got you covered for a day and/or night at the movies. Excellent events and festivals going on all the time so there is plenty of selection for all film tastes. The luxury screen 5 has comfy sofas which are great for a date night :)
Beautiful cinema, beautiful community around it.
Long may Genesis reign - it is a fantastic cinema. Always enjoy going there.
A splendid family owned cinema. They really care about the films they put on, often organising themed music in the bar for a one off special. Great bar and pieminster pies.
Great venue, lovely staff, amazing bar. Always interesting festivals/screenings/Q&A's taking place. Terrific value for money.
The most beautiful foyer I've ever seen. Must be one of the coolest venues I've been to in London which supports all the Arts. Amazing hidden gem.
Wow, what a venue, a real gem! I actually reserved some space in the bar to celebrate my husband's 30th birthday. All the staff could not have been more helpful. The laid back atmosphere meant that all had a great time and the cocktails went down very well too! The bar let us DJ our own tunes, on a Saturday night, and supplied us with some top notch pies too. What more could you ask for? Well maybe a good film accompanied by some good drink and snacks...well they have that too! We will return to sample the cinema delights here as well.
Very cool indie cinema, recently refurbished with a luxury screen STUDIO 5 which has sofas & a bar! Gallery, café & £3.50 on a Weds.