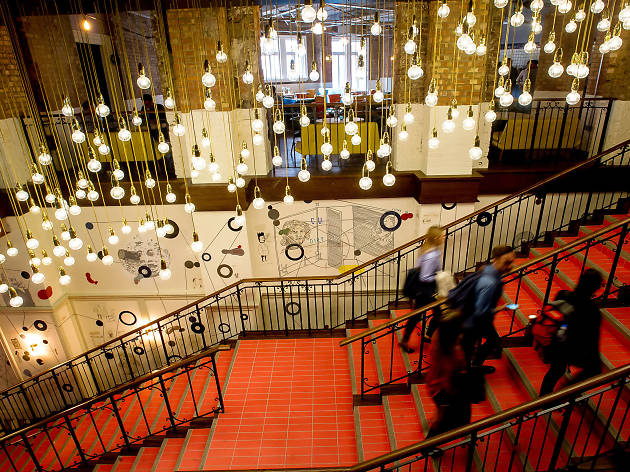 1/3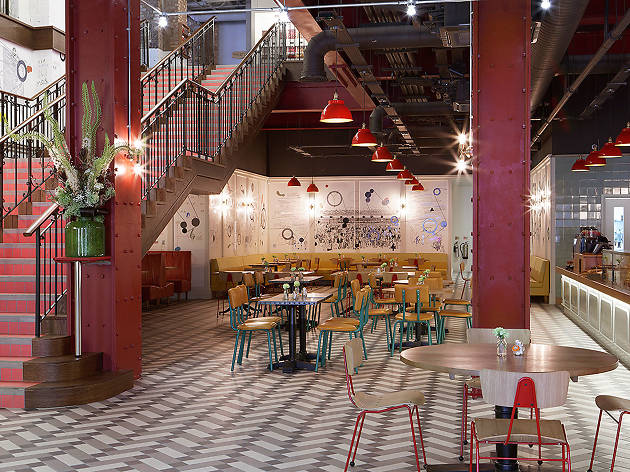 2/3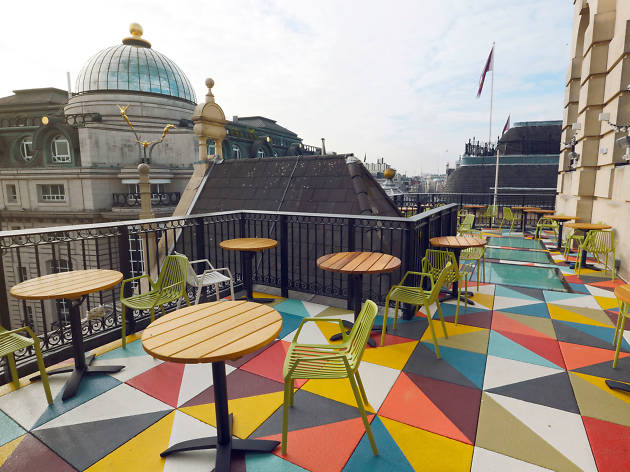 3/3
The Picturehouse's latest branch, opened in the summer of 2015, sits on the site of the old Cineworld in Piccadilly's Trocadero centre, which has had a stunning revamp. Distancing itself from the old maze that was former cinema entrance, Picturehouse have walled this up and made a clear entrance on the corner of Shaftesbury Avenue and Great Windmill Street.
Inside visitors are met with a grand staircase paired with a film themed mural by US artists Patrick Vale and Paul Davis. There's also a ground floor café. Up a level you'll find the box office and the bar, before heading to one of the seven screens. Still in the same theatres the original screens were, these rooms have been overhauled with larger screens and comfy seats with more leg room.
Another climb up a level will take you to the gallery space and a members-only bar with a roof terrace that looks out over the busy streets of central London.
More
Less
Picturehouse Central says
London's most stylish new cinema, inside the Trocadero. Seven screens playing a mix of quality mainstream, indie, foreign language and documentaries. Plus a ground floor cafe, first floor bar-restaurant and a newly opened members' bar across two floors with a roof terrace revealing stunning views.
More
Less
Venue name:
Picturehouse Central
Contact:
Address:
The Trocadero
Shaftesbury Avenue
Piccadilly
London
W1D 7DH

Cross street:
Great Windmill St
Transport:
Tube: Piccadilly Circus
Do you own this business?
Besson's first American movie begins promisingly with a stylish action sequence, but goes off the rails. Hitman Leon (Reno) lives in isolation in his starkly appointed New York apartment, but when a neighbouring family is massacred by corrupt cop ...

Read more

The original Dawn of the Dead (1978) was a colourful mix of social commentary, black humour and gory effects work. Romero's cannibalistic zombie hordes, instinctively amassing outside an enormous mall in which a handful of survivors are temporaril...

Read more

Olmi's uncompromising reconstruction of peasant life in turn-of-the-century Lombardy marks a return to his origins in neo-realism and non-professional casts. Choreographed as an ensemble work that admits no star performers, his film takes its unhu...

Read more

Polish-born Pawlikowski has already filtered his daring background in documentaries (for which he chewed the breeze with an extreme Russian nationalist and hung out with a crazed Serbian warlord) into two exceptional features, both made and set ...

Read more

An evolution of the tech-heavy Hollywood blockbuster, the 'Planet of the Apes' franchise is a Darwinian dream come true. These movies have captured a soulfulness that's different from anything else out there. 'Apes' wrangler, director and co-writ...

Read more

It seems third time's the opposite of lucky with animated franchises. Like 'Toy Story' and 'Ice Age' before it, the 'Despicable' series has made the short trip from lovably madcap to tedious in three films (not counting the actually-kind-of-terrif...

Read more

There's doom in the air from the moment we first catch sight of sixtysomething Krisha (Krisha Fairchild) on a visit to her extended family in Texas for her first Thanksgiving with them in many years. They're all smiles and hugs, but everyone's try...

Read more

Music sounds better when you're on the road. In 'Baby Driver', 'Shaun of the Dead' director Edgar Wright takes the car-chase action film – loaded with tyre squeals – and weds it to a cracking jukebox playlist. The result is the most supercharged p...

Read more

You might already know how the evacuation of Dunkirk in May 1940 turned out: how over 300,000 mainly British troops escaped from the beach and harbour of a northern French port while being bombarded by the Nazis. But the power of Christopher Nolan...

Read more
You may be interested in: