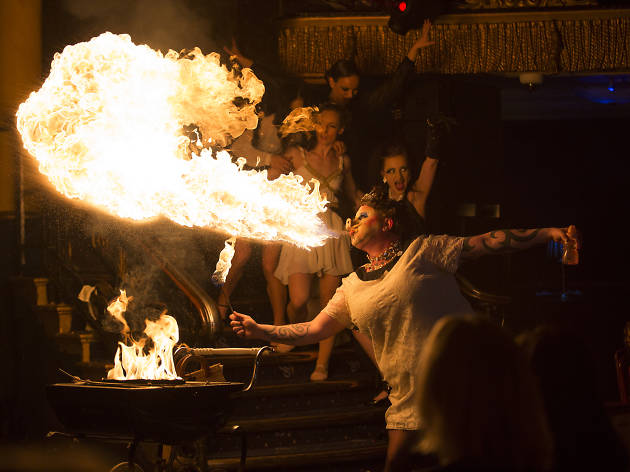 Details
Address:
3-4
Coventry Street
London
W1D 6BL

Transport:
Tube: Piccadilly Circus/Leicester Square
Contact:
Do you own this business?
Rating Breakdown
5 star:

5

4 star:

1

3 star:

2

2 star:

1

1 star:

5
Giving Cafe de Paris one star is really far more than they deserve. A terrible venue with disgustingly rude staff who seem set out to make themselves feel important by ruining your night. It's an outdated, overpriced 'club' that no one who lives in London would ever go to. Once a diamond of the London club scene - it's now nothing more than an embarrassment.
It was my birthday yesterday and I decided to try out Cafe de Paris as we got a LUX Guestlist and wanted to celebrate my 26th in a nice setting. The place looked good but there was mixed reviews, so decided to try it anyway. We got there around midnight and me and my friends decided that we have drinks inside the club, but had a quick drink at my house. The taxi took 40 minutes as I live in South London. When we arrived at CdP the bouncer immediately said that we were unable to get in as my friend was drunk (which is very unlikely as we didn't drink much at all except for the drink we had much earlier).
This 'bald' bouncer with glasses was absolutely disrespectful and even at one point squared up to us because we were arguing the fact that we weren't drunk at all. We just wanted to go into a 'supposed' good night club and was sent away for defending the right that we were not allowed into the premises. I am now 26 years of age, with respectable education and a finance career which covers, public finance, schools finance and charities finance behind me. I am a very mature and understanding person. This bouncer absolutely degraded my friends and belittled us to make us feel like 18 year olds.
I should also add that 3 of us were black men, and the one who was 'drunk' had a neck tattoo. It did feel racially motivated at times, as a lot of people from various races were getting in, and most of them looked very incoherent and were shouting in the queue. He also said that he saw us coming and we looked drunk and rowdy. If somebody knows this bouncer please inform us how he saw us from around the corner from leaving our uber please?
Because of this not only was the night ruined but so was my birthday. I honestly would like to say to all readers to avoid this place at all costs as a nightclub. The team that we spoke to were unhelpful and my other friends that just got in 15 minutes before us were not even given a refund. I would suggest one of a plethora of clubs in the area. If you're reading this, Cafe de Paris, i would suggest crisis talks because I am not the first to comment on this individual.
Thank you for reading this review. Its just borderline inhumane to treat people from the way you look, and nobody deserves that.
Was booked in with a promoter got there and they didn't accept my ID, with my bank card fair enough they have policies to follow so didn't argue, staff seemed friendly enough but to make me stand out of the queue in about -2 weather when I've just travelled an hour to get there after just saying "we're busy" and not telling me the reason why until the promoter asked what's happening 5 mins later after I've been standing there numb freezing cold being told your busy but your still letting people in..
My sister arranged a night out here for her birthday, it started off ok the male staff weren't very friendly and kept telling people where they should stand and not stand constantly. As a few of us were leaving a bouncer asked my sister and her boyfriend to move from the stairs they were standing there for a few moments waiting for me when a bouncer came and grabbed my sisters boyfriend my the shoulders to physically move him he was not happy with this and pushed his hands away next thing we know there were 6 bouncers tackling him so he was on the floor and dragged him up a whole flight of stairs they continued to hurt him outside where he was on the floor me and my sisters tried to get some of them off him as he was in pain but a bouncer throw my sisters to the floor and another one kicked me and elbowed me in the face.. my toe is hurt so bad I had to go to hospital the next day and have bruised my eye socket bone my sisters boyfriend already had a slight shoulder injury and now it has made it a lot worse which is now affecting his work, overall the worst experience even strangers outside were shouting to the bouncers to get off him. I'm going to look into taking it further as it was unnecessary and thuggish, will never be returning.
Absolutely DISGUSTING treatment!! DO NOT GO! I booked for my birthday and received a polite email confirming saying there was an On Site Events Manager to deal with any issues. Incredibly RUDE, AGGRESSIVE, ACCUSING bouncers refused to listen or let me speak to a manager. We arrived around 10:30 as requested after only two drinks and were treated disgustingly! Ruined my birthday !!!!!!!!!! Maybe if you're from a wealthy background they might treat you nicely. Doesn't deserve one star
Me and a few girls were lining up to go in because it was her birthday they seemed like they were in a rush to get us in? Within 2 minutes we were told to step out of the queue? There were 7 of us and we had some serious money to spend! We just wanted to have a good time. Anyways we were dressed appropriately so the only other conclusion is they are RACIST! All of us were black girls but we did not think that would be an issue? Seriously don't even bother going if your black, you will just get embarrassed. Thanks a lot Cafe de Paris for making us feel like were back in slavery days
Amazing club with many beautiful girl and nice service. The line to the club is very long so better to be on guest list (Lux guest list is perfect (077 7509 2749 ). I really appreciate the music and great vibes ! I'll return soon !
Went there for my wife birthday with some friends and we had a fantastic time. All the staff were lovely and made us feel very special. Loved the show and we stayed until late dancing in the VIP section! Highly recommended
I've been to the cabaret dinner and show a couple of times and it is always a great experience. The venue is just magic and fits perfectly with the type of show. Food was good quality and drinks as you should expect in the West End. The staff know what they are doing. I will definitely go back there.