Heads up! We're working hard to be accurate – but these are unusual times, so please always check before heading out.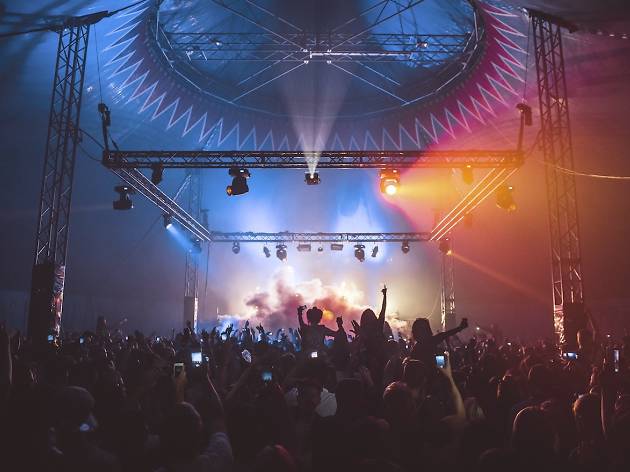 Housebound: London's love affair with Chicago house music
It's a big deal in the UK, but in the city where it was born house is all but forgotten
It's a sunny day in mid-September and several thousand people are crowding into circus tents in north London's Finsbury Park, looking like a mishmash of the cast of 'Skins' and the onstage ensemble at a Happy Mondays reunion gig. They're here for Ceremony, a one-day festival of dance music which, I'm surprised to discover, features three- and four-decades-old music from Chicago. The inaugural event has booked several pioneers of house: Robert Owens, Roy Davis Jr, DJ Sneak, Kevin Saunderson and Lil Louis. All are from the American Midwest and in their forties and fifties, and are sharing the stage with young, Chicago-influenced British acts like Route 94 and Kidnap Kid.

As I walk through the festival site, stepping over empty nitrous oxide canisters and shrivelled pink balloons, the similarities between US and UK festivals are evident. At both you will find throwback NBA jerseys, an overcrowded VIP section with 'P's who do not seem very 'I' and a girl in a spandex cheetah-print jumpsuit blowing bubbles. But there's one fundamental difference: they're playing Chicago house music here. This genre, a robotic and electronic progression of late '70s disco, is today part of the mainstream in Europe. But back in Chicago it's a cult scene. As a Chicagoan, I am stunned to see thousands of people turning out for Lil Louis's evening set on the main stage.

Lil Louis has played his hometown just twice in the last two years: at a community arts centre on the South Side, and at a smaller upscale salsa club with a dress code. 'I intentionally play once in a blue moon [at home],' Louis explains. 'I enjoy being missed.' In Chicago, the old-school DJs of his ilk are relegated to festival side stages, street fairs and niche clubs. The Windy City's dance scene is largely dominated by the bass drops and builds of commercial trance and EDM.
'People are hungry for this music again'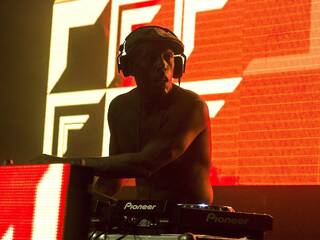 House music was born in 1976 at 206 South Jefferson Street, a nondescript three-storey building just west of downtown Chicago. At the time there was no sign on the building and the regulars took to calling the joint 'the Warehouse,' later just 'the House', which gave the genre its name. Back then, crêpe paper, tinsel and a disco ball dangled from the ceiling beams – walk in the door today and you'll find a law office.

'There should be a plaque there! People should be taken there,' says Terry Farley in his genial London accent. Farley is a key disseminator and preserver of Chicago house music, and he also played a part in the rise of acid house in the UK. In the late '80s he published the cult dance fanzine 'Boy's Own' with his mate Andrew Weatherall, and established the label Junior Boy's Own, which pressed hits for Underworld and The Chemical Brothers. Last month, the 55-year-old Slough native released 'Acid Thunder', a five-CD compilation set of essential old-school cuts. Track one, disc one is a classic Chicago house track, ESP's 'It's U', crafted by DJ Tommy 'Thumbs' Adams in 1985.

Farley was recently sitting at home watching television when he heard the song in an unlikely place – a Tesco ad. 'I'm watching some show and­­ "It's U" started playing, with a girl dancing around,' Farley says. Technically, the model twirling about in her F&F summer wear was grooving to a cover of the song by Belgian duo FCL, issued earlier this year by London label Defected. 'It's that ingrained in British culture,' Farley adds. 'Music from 30 years ago is selling clothes to 18-year-old kids.'
'Minimal house was just a phase – people wanted something more soulful'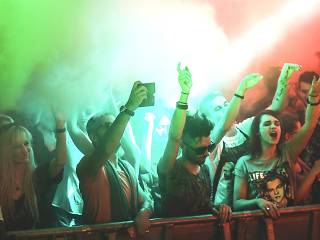 How did this happen? How is it that middle-aged men from Illinois, now obscure in their birthplace, are dancefloor gold in London? 'I would say about four years ago the recent Chicago house resurgence started,' says Jason Spinks, a resident DJ at the Dance Tunnel in Dalston, and owner of Kristina Records, a small dance record shop. 'Not that many years ago, classic Dance Mania 12-inches were possible to get for a few pounds,' Spinks says. 'Now you don't see them around. There are labels dedicated to digging out lost music from that time. People are hungry for this music again.'

Inside Spinks's record shop, I find releases from seminal Chicago house labels like Trax, DJ International and Dance Mania, intermixed with bleeding-edge sounds from London imprints such as Lobster Theremin and The Trilogy Tapes.

'Minimal house had just been a phase, and I think people wanted something more soulful,' explains Freya Van Lessen, one of Ceremony's promoters. The next morning, in my hotel room, I switch on 4Music to see Duke Dumont's UK Number One hit 'I Got U' playing – a pitch-perfect homage to Chicago house. I later speak to Dumont, aka 32-year-old Adam Dyment, as he waits in an airport after a gig in Ibiza. He echoes that sentiment. 'I love soul music,' says the Harrow-born DJ. 'When you get dance music with that soulful vocal, I'm drawn to that. Chicago house has more of that than other dance music genres. House music was a way I could do soul music in a nightclub capacity.'

Back in Finsbury Park, the Ceremony tent is packed. Two kids wearing snapbacks branded with the logo of Chicago's baseball team, the White Sox, push against the stage barrier. The crowd roars and waves its arms as smoke cannons blast. Behind his CD decks, Lil Louis bobs and weaves, shakes his hips to a merengue rhythm, and strips off his form-fitting white T-shirt. An unusual sense of civic pride washes over me as Louis plays a hot and hard house number that repeats a sample of his voice: 'House music is from Chicago!' A girl with blue hair leans in and shouts over the record, 'This is timeless!' If only I could convince the people back home.