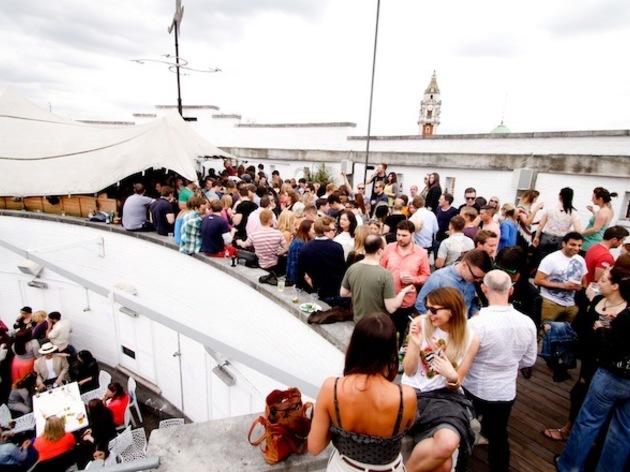 1/2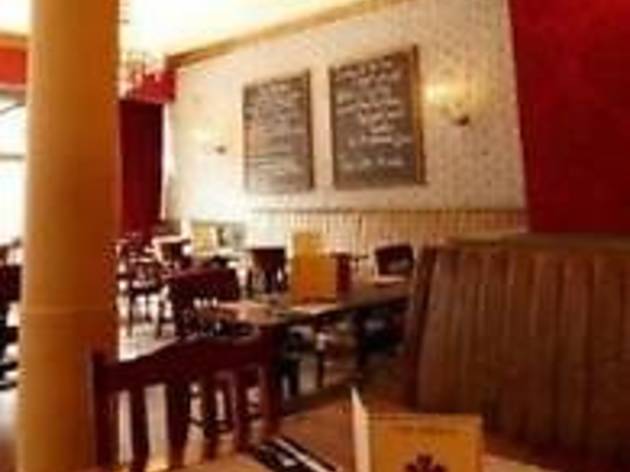 2/2
Time Out says
Brixton's multi-floored bar and club the Prince of Wales serves many functions, but its club space and terrace are the jewel in its musical crown. The terrace is arguably the best of any club in London, and summer months see parties (led by top crews like Slide and Get Diverted and Brixton Boogaloo) take place way up high. There's a loose funk, house, soul, disco and hip hop ethos to PoW's programming, and you'll find selectors like Gilles Peterson, Norman Jay and Joey Negro spinning party jams on any given weekend. Alongside that, various house and techno legends also make appearances, playing on both the terrace and the inside section of the club, making PoW a truly versatile venue.
Details
What's On
Pick a date
Please select two valid dates
The first date can't be after the second date
No events found for the selected dates
Up On The Roof's NYE Disco with Nightmares On Wax

The Brixton pub-based club is going big once more for New Year's Eve. At the stroke of midnight, genre-hopping icon Nightmares On Wax will be taking to the decks at the Prince of Wales for the very first time for three hours of back-to-back bangers. But...

Clubs

Tuesday December 31 2019 - Wednesday January 1 2020
Average User Rating
3.3 / 5
Rating Breakdown
5 star:

7

4 star:

3

3 star:

2

2 star:

1

1 star:

5
Nice venue with an eclectic programme of events, set in a nice art deco setting. Really like what they have done with the roof terrace in the winter, and always good for a drink in the summer.
One of my favourite venues in London, always a great party! Amazing vibe, staff are really friendly and the music is always on point. If your ever in this area, I would highly recommend checking out The Prince of Wales.
Was here on Saturday 6th February. The music was really good and the vibe too. We never had a ticket for the club as they were sold out. We went to the pub and the bouncers said they'd come find us if any became available. They were true to their word. Who does that?👍
My friend had an issue with losing her purse, but the bouncers were very helpful and found it.
I'll would Defo come back again.
Great venue! In the summer, the terrace is amazing... I thought that was it, but has suprised to see the club with great bands and music :)
I'm sure it was a great venue, however I barely got to experience it as I got kicked out after complaining about one particularly aggressive door man who was rude and intimidating and just an overall sorry excuse for a human being. One of the other staff members even agreed that he was a menace. I've never experienced a night like it and I will never be setting foot in the place again. In addition, multiple other staff members were very unhelpful and rude.
Drinks were relatively reasonably priced and the venue was easily accessible.
I would like to leave zero stars
Awful staff! Bar man short changed me and refused to believe he could be wrong. When the manager realised I wasn't going to let it go she counted the till and returned with my correct change but no apology. When I asked for an apology I was to I was rude and she got security to remove me from the premises.
If I could give minus stars I would!
By far my favourite party venue in South London. Great Pub with a wide selection of drinks. Club has recently installed a new Funktion One Sound system which sounds mega! The Roof Terrace is the real gem here, particularly in Summer when they host some amazing day parties. Highly recommend.
Unfortunately, similar to many of the other posts on here, we went to this pub with a group of friends as a birthday night out. When we arrived at the pub we had to cue up for the usual ID check and search. Half way through our group being checked the female bouncer decided to turn round and talk to a woman on the street (I do not know if this was a friend or just someone who had been in the pub previously). Due to this our party had been separated as I myself and the friends behind had to wait for her to finish her conversation. At this point it wasn't an issue however he behaviour afterwards and attitude towards us was. One of the girls with us only knew me and as she had been waiting for us to come into the bar for some time now she naturally felt alone so popped out to check where I was. The bouncer, from her conversation, immediately turned round and shouted at her to move as she couldnt stand in the door way. Then turned to carry on her conversation. My friend looking confused and startled didn't know what to do, I said to her not to worry and I would only be about 5-10 minutes so to just find the others and I would meet her there. This comment immediatley sparked up the interest of the female bouncer I had been waiting for. She turned to me, rolled her eyes and in a belittling tone said "oh my God what on Earth do you think I'm going to do. I'm only doing a quick search" to which I just said "I don't know but I've been waiting for the last 10 minutes to finish your conversation." As you can imagine both of us were no longer in the mood to carrying on drinking in this bar and because it was a friend's birthday we we're quite annoyed that we had been made to feel this way.
When I was finally let in I asked to see a manager. We were asked to wait at one side of the bar and waited again for a solid 10 minutes and then we're told we had to go to him on the other side of the bar. When we got there he was also have a conversation with another member of staff of which we had to wait for him to finish before he spoke to us. (On reflection even this behaviour shows how much they value their customers). I said to him, in a very calm tone, that I just wanted to raise this issue with him as I felt that the behaviour of the security staff could end up giving a bad name for the venue and he should be aware. To which he became very defensive and said that she was his best security person and must have had a reason to speak to us in that way. When I told him that I hadn't been challenging her ability to do the job but just her attitude he continued to get defensive and started to interrupt me and my friend. In the end he refused to hear us out and kept making excuses. A simiple apology would have been fine. Since reading the other reviews on here I am not surprised he was so defensive. It's obvious we are not the only people that have had these issues. The fact that the issues have not bee resolved either suggest management needs improvement too.
Wouldn't go again.
There are lost of other nice pubs that we had been to that night that were actually much busier and we were still treated with much more dignity and respect.
The parties organised by Rob & Matt ( Up On The Roof & Slide On The Terrace ) that I have attended these past eight years ( the first time 2nd Aug 2009 ) have ALWAYS been the highlight of my clubbing experience in London - it was the first time in five years that I dared to to get 'OUT' of my comfort zone - until then I was obsessed with only going to 'gay' clubs and was quite fearful about how a 'mixed crowd' would react to my obvious sexuality - my fears were completely un-founded. Apart from one tiny insignificant incident ( which had a happy ending ) I have always been so happy here. This is my comfort zone. Over the years there have been changes to the name and layout ( I do miss the hot tub! ) - but not to the formula - that old adage 'if it works don't change it' is so true. This was a review of my first experience in 2009 and still resonates with me in 2017: The event was the first open air at Dex for this year: DEX-CLUB Get-Diverted Terrace Launch Party with Radio Slave This was a review I posted 7 Aug 2009 - & I still love the club! EXTRAORDINARY! - this was recommended by a friend Colin - this lovely guy is one of the few straight m8's I have -but I enjoy getting out of my comfort zone of the gay scene clubs - and Colin knows some amazing 'str8' venues. Living in Brixton for four years Dex was ideal - just 5 min walk away. Well I was not disappointed! - met Colin on Sunday 2nd Aug for the 1pm > 1am slot - the venue is perfect - rooftop - how many clubs offer this! – out-door bbq - bar - gr8 crowd - and a new DJ every 2 hours! - starting with 'minimal' house getting harder later - the crowd was so friendly and lol loads of the girls danced with me - had my arse smacked so many times - usually its guys! - and absolutely no attitude about my sexuality - very friendly staff - OMG one of the bar boys I could not stop drooling over! - OK if the weather is dodgy you can always try the weekend nights - the club also has an indoor room. The music is brill - sorry guys but so many gay scene clubs are all playing same same hard house - well done DEX you got it! Well if you want to try something new - just do it!
multitiered club in Brixton. Was there on Guy Fawkes night, was there for the fireworks, we had a fireshow instead. Disappointing since the fireworks were advertised.

The music, provided by ByDayByNight was excellent. And you can move freely from floor to floor and change rooms for your favourite DJ and music.
Staff are not very warm and the security was too stiff. They didn't let us in after we went out to get cigarettes which I thought was interesting since we paid to get in. They shouted at us when we tried to negotiate and there were about 30 people out at the door, also not allowed back in.
There are a lot friendlier places, with great music in London, I doubt if I ever go back.

What a fantastic venue, The roof terrace is a real hidden Gem!
My first time at this venue. Had a good night, but was spoiled by a rude barman towards the end.
Security and the door girl were very helpful as one of our friends never had a ticket and they helped source on for her.
The roof terrace was amazing. Would defo go again.
Awful security who spent most of the night standing either on-stage or in the middle of the dance floor. They seemed to enjoy being a menace. Event was in a grim-looking black room - no attempt to decorate or light up.
We were all extremely disappointed as we'd been expecting so much more from the Greg Wilson night out. I hope Greg selects his upcoming venues more carefully in future. As for the POW, we'd never going back.
I had a great night on Thursday but my friend had her jacket stolen. This seems to happen quite frequently as I also had a jacket stolen last year. Unfortunately the security guards and management did not seem at all interested in investigating these thefts.
Snap up exclusive discounts in London
Time Out's handpicked deals — hurry, they won't be around for long...