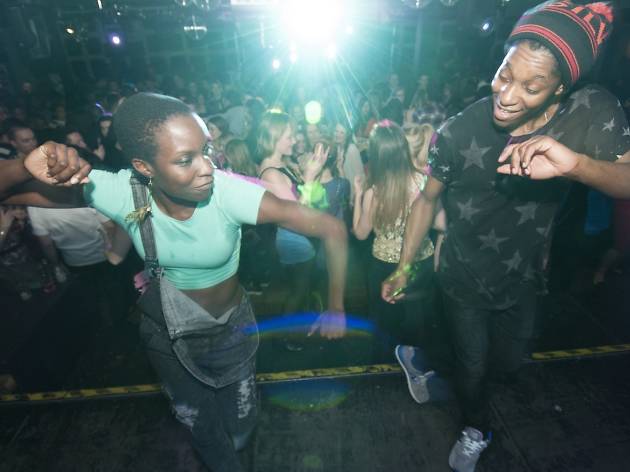 This much-loved, super-fly and super-fun club night busts out all the classic R&B, hip-hop and rap jams you know and love from the '90s through to present-day. Think Biggie, Tupac, Destiny's Child, Rihanna, Jay-Z, and many more. There's also a big nod to golden-era UK garage and grime, plus the odd performance from special guests. In a word: expect this bank holiday special to be lit.
Average User Rating
4.1 / 5
Rating Breakdown
5 star:

7

4 star:

0

3 star:

1

2 star:

1

1 star:

1
A wicked night out, always good vibes!!!
Absolutely the best night out in London! Been going for years & hands down the djs, vibe & crowd are the hypest i've experienced. There are a few copycat type nights about which are literally that, copycat. Supa Dupa Fly IS The original, the best! Just arrive early to avoid the crazy queues!!!!
Definitely the best 90s & 00s hiphop & rnb night in London by FAR!
Always 100% vibes - the best to do it for sure!
This is our fav night in London. By far the best dj's, crowd & vibe! Never disappoints, at all of the venues! Strongly recommend it!
Brilliant night of 90s, 00s & now Hiphop, RnB & Garage! Incredible djs, crowd & vibe!
Saturday 20th August 2016, came at 22.30, asked to wait outside, been queueing for more than an hour like animals in the bloody cold weather, no one from the staff came to say something, no apologies, nothing, i felt like a dog... thank you Ace hotel Supa bad DUpa fly
Write a review...Went to the Super Dupa Brunch party yesterday at The Hoxton Holborn Hotel... Brunch was an absolute rip off! Waste of money! The description clearly stated that it was a serve yourself scenario. "Hubbard and Bell... their unique approach to dining served in large platters enabling you to help yourself to all the dishes..." Erm... Nope. Was handed a plate with half of a bagel, a tiny piece of avocado toast, half a sweetcorn fritter (which was TINY! the size of half of a scotch pancake. The tiny ones.) and basically a shots worth of granola. Wasn't allowed anything else. £15 for half a plate of food? Absolutely ridiculous. Also, there were no spoons so we were left to eat our granola with a fork... fun! Party was actually pretty good. Although the DJ's mixing skills weren't great... didn't seem to know how to keep the momentum going and kept changing the vibe with every single song, which was annoying.