Heads up! We're working hard to be accurate – but these are unusual times, so please always check before heading out.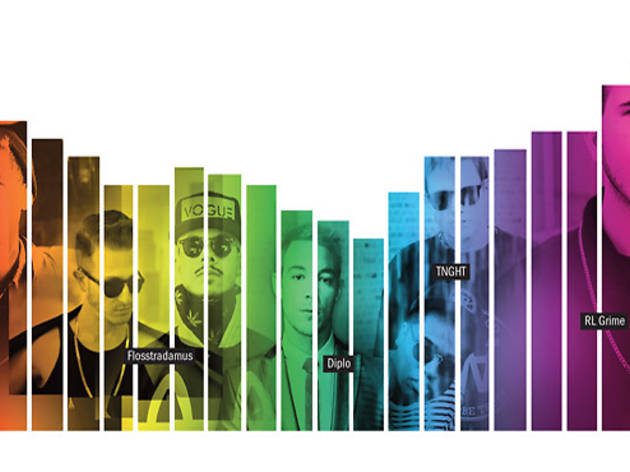 Time Out's guide to trap music
Here's our three-part introduction to the latest trend to hit clubland
Background? Aren't genres like trap nonsense?
Admittedly, goofy styles like 'donk' don't need a history lesson. But trap music has real roots.
Go on…
In American street slang, 'the trap' refers to drug dealing as a way of life. Though the word's appeared in hip hop lyrics dating back to the '90s, Atlanta rapper T.I. kicked off a Southern trap scene in 2003 with his gritty 'Trap Muzik' LP.
So trap music is basically just Southern hip hop?
Not exactly. Recently, producers outside of the scene have been using the influence of trap beats to create a new and trendy type of global dance music.
So it's just one big rip-off?
Well, yes. But all music is a series of thefts and mutations. It's just that the internet makes it more obvious and trackable than ever before.
I knew the internet would be to blame.
Totes. The formula's always the same – obscure American ghetto sound + the internet = global trend. Works every time.
So what does trap sound like?
Fast and slow.
That's not very helpful.
Okay. Imagine a slow and sluggish hip hop song with plenty of bass. Now add 808 claps in double time and a crazy flurry of stuttering hi hats. Voilà, you've just made your first trap remix.
How does anybody dance to that?
That's the beauty of trap – you can choose from two different styles. Catch the slow groove and dip with Usher-like grace, or ride the fast vibe and pogo like an out-of-control jackhammer.
What else makes trap stand out?
Thanks to its fondness for squawking synths and rushing build-ups, it's taken over from dubstep as the rude-boy sound for 2013.
What, dubstep's over already? Thanks for telling me. So will trap get my rocks off too?
Well it definitely bangs harder than electro or house. But if you grew up listening to jungle or happy hardcore, you'll think trap is just pony.
I'm guessing… the internet?
Yes, but beware. The net is awash with amateur trap remixes of anything from Adele's 'Skyfall' theme to Bing Crosby's 'White Christmas'.
Urgh. How about record labels?
Well Diplo's label Mad Decent was responsible for dropping two of last year's biggest trap bangers – Baauer's 'Harlem Shake' and Flosstradamus's 'Total Recall EP'. Check out Glasgow's LuckyMe too – home of bass prodigy Rustie plus Hudson Mohawke and Lunice's TNGHT project.
How about hearing it in a club?
Try
Covert
in Vauxhall, for the London debut of Los Angeles remixer RL Grime. Give Major Lazer's recent trap overhaul of Hot Chip's 'Look at Where We Are' a listen too.
Anywhere else I can hear it?
Coming out of a tinny set of phone speakers on a bus near you soon. Don't say we didn't warn you…