Heads up! We're working hard to be accurate – but these are unusual times, so please always check before heading out.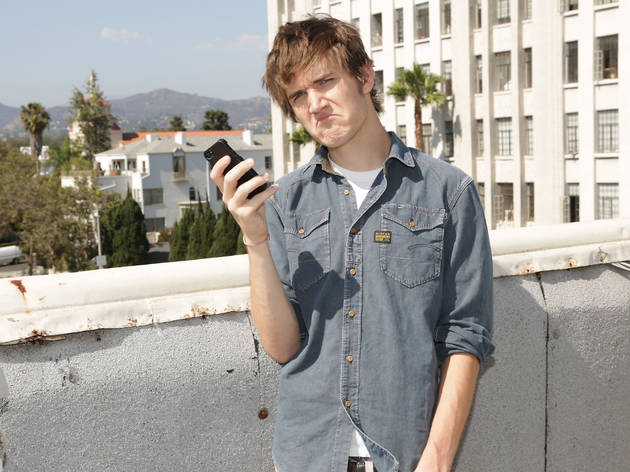 Bo Burnham interview: 'Comedy doesn't really matter that much'
The Bostonian wunderkind has shifted from internet star to one the most creative comedy forces out there. We speak to Burnham about where he can go from here
Bo Burnham is head and shoulders above most comedians. Literally. He's 6' 5" tall. But he's also one of the funniest, most talented stand-ups currently working. And he was born in 1990. Yes, the '90s!

The 23-year-old got his break on YouTube, aged 16, performing joke-packed songs in his bedroom. Two years later, he'd already made a natural transition to stand-up, and in 2010 he left audiences gobsmacked with his debut solo show at the Edinburgh Fringe. Burnham returned to the festival earlier this year with follow-up show 'What', which he now brings to London. It's the comedy show of the year, and we awarded it a gushing five-star review at the festival.

Speaking to him on Skype from his LA home, it's almost like going back five years and watching him on YouTube. 'It's hard to look back and not be embarrassed of myself,' he says of his old videos. 'Most of my old stuff I just think is cringey, you know? I'll probably think this interview is cringey in a couple of years.'


You've said that you've been influenced by a lot of British stand-ups. What is it about our style of comedy that interested you?
'I guess it's more of a tendency towards theatre. There's a theatrical patience to it, where you can go five minutes without a laugh and that's OK. I don't know how to do that. What I think I did, I hope, is take this British form that I found – which is the ability to change form and change tone – and then I took American attention deficit disorder and shoved it into that. So it's dense and I try to be funny every, single second with sharp, concise jokes. I'm not saying British people don't have that…'

Your previous show, 'Words, Words, Words', won the Panel Prize at the Foster's Edinburgh Comedy Awards and received a heap of five-star reviews. How do you think your comedy has developed since then?
'I think that show was just a lot of spitballing [throwing out a suggestion for discussion] from the back of the classroom. It was that meta-comedy thing of making fun of the way other comedy is, which is fun to do, but I felt like it was a little bit young and angry and antagonistic. It was like a negative print, almost: this is who I don't want to be. And this one is hopefully more of what I am. This is me coming out of the dark room with actual developed pictures.'

'What' likes to keeps the audience confused and surprised: you take them in one direction and then reveal it's all an illusion…
'For me, if you distill comedy down, it is surprise and the unexpected. That has to be it on its most base level, in any form. It's either, "Oh my God, he slipped on the banana peel, I didn't think that would happen." Or, "I didn't think what I saw coming would come in the way that it came." Or, "Oh, I didn't actually think they would just give it to me exactly like I saw it coming." There are a million ways to go at it, but it is just surprise.

'I was mainly going at it like: what is the most unexpected thing I could possibly do? What would surprise them? It also puts the audience in a certain frame of mind where they're then a little uneasy and have no idea what's real and what's not. It's making fun of the idea of comedy as this sort of rehearsed casualness. I think that is funny in itself.'

Do you ever worry that you care about comedy a bit too much, that you're analysing it too much?
'Yeah, probably. Comedy doesn't really matter that much, I know that. I treat it like an adult, I don't treat it like a child or a God, which some people do. This might just be in America, but "stand-up comedy" is something very particular that I don't particularly relate to. I haven't performed in a comedy club in years, I can't do a set in a comedy club, I'm not good at that. I feel more like someone that does a one-man show, I guess, or a playwright that performs in it. I built this whole thing as a show, I didn't build it in chunks. So, the hardest part isn't my relationship with comedy itself, it's: where do I fit in with all this?'

Do you feel there's enough room for experimentation in comedy in the States?
'In America there just isn't the [Edinburgh] Fringe, there isn't something that embraces that [style of comedy]. Four years ago, I was like: man, in four years, the alternative scene's going to explode, and it's going to be all weird comedy in America. And then Louis CK came along and reinforced the standard comedian, because he's such a genius and he's so amazing. He's the absolute peak of a mountain. But he's in a mountain range, it's not Everest.

'I think comedy has a range, with multiple peaks in different areas. It's like trying to compare Beethoven and the Beatles. Sometimes I hear from people, "I think you try too hard in your comedy." And that's what I worry about. That stand-up is defined as this rehearsed casualness, and that's the definition of it. "Trying too hard." That just blew my mind, because that's such a compliment to me! I'm trying so hard!'

You've recorded 'What' and are releasing it for free. What was the decision behind that?
'Fuck it, man, I worked on it for three years and I just want to share it with people. A lot of people in America just know me as the YouTube kid, they only know me for my 16-year-old stuff. And some people haven't given me a chance or watched my stuff, and certainly wouldn't if I tried to sell it for $5. So I'm giving it away for free because I just want it to spread, and I feel people who haven't seen my stuff could dig it. The only thing I can lose is money, and that doesn't matter. There's no way less people will see it if I give it away.'

You've also written a film script, but you don't want to star in it. Do you care about fame at all?
'The amount of fame I have now is completely fine. That's what I'm happy with. A few people know me, and the few people that do know me only know me because they dig my stuff. I think it would collapse my heart if I was super famous. I don't have the nerve for it, I'm too anxious. I don't know how you're not obsessed with how people perceive you, because they're real people, you know? You can convince yourself that they don't really know you, and that's true, but how can it not hurt your feelings? I just look at Miley Cyrus, and I'm like: great, you've doubled your audience. But you've also doubled the number of people that hate you, and doesn't that hurt? It takes a crazy person not to be affected by that.'

So what's next? Where can you go from here? What's the next show going to be?
'I don't know if I can do another stage show after this. I'll probably want to. But I don't know when I'll be able to have a show again. It won't be for a while, I assume. I might not perform one for a couple of years.'

When we spoke three years ago, you were bursting with ideas for a new show. Do you not feel the same way this time?
'No, I don't.'

Why is that?
'I don't know. I want to try to make jumps in my live show and try to progress it, and I just don't know where to go from here. With "Words, Words, Words", that show was me experimenting with something and then there was a clear direction for me. I don't have that yet. What I'm thinking, maybe, the reason this block might be happening is because the next show might be so different. I might need to build my next show in a certain space, with a cast maybe, or with a person; it might be so different that I can't even think about it really. I just don't know. So I don't know what the fuck to do.'

'Egghead', Bo Burnham's book of poetry, is published by Orion, priced £14.99.

Support Time Out
We see you're using an ad-blocker. Ad revenue is Time Out's main source of income. The content you're reading is made by independent, expert local journalists.
Support Time Out directly today and help us champion the people and places which make the city tick. Cheers!
Donate now