Heads up! We're working hard to be accurate – but these are unusual times, so please always check before heading out.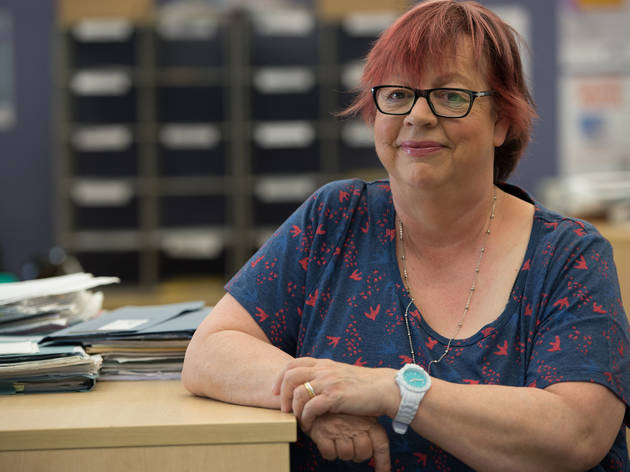 Jo Brand interview: 'Surely by now I know what reasonable comedy is?'
The actress, comedian and 'Splash!' judge talks politics, new sitcom 'Damned' and the future for her much-loved BBC4 comedy 'Getting On'
Jo Brand is fast becoming television's foremost chronicler on the state of Britain's declining front-line services. It's a charge the comedian would likely dismiss with a throaty guffaw, but the evidence is mounting. In 2009 she co-wrote and starred in BBC4's award-winning nursing sitcom 'Getting On'. And this week comes 'Damned', a lighter yet still melancholic workplace comedy, as part of Sky's 'Playhouse Presents' series of short films.

This time the focus is on overworked, over-administered and under-resourced social workers including Rose (Brand), Alastair (Alan Davies) and Martin (Kevin Eldon), but her knack for disguising state-of-the-nation addresses as whip-smart comedic performances remains gloriously intact.

Does 'Damned' do for social work what 'Getting On' did for nursing?
'No, I think it's very different. My mum was a social worker who worked in child protection. These services have all been pared to the bone – I'm sure one Tory said he wanted to bring back the workhouse, and it wouldn't surprise me in the slightest if that happened, once benefits have been slashed back to £2 a week. The cliché for social workers is that you're damned if you do and damned if you don't. If you take a child into care, no one thanks you for it. If you don't and something happens, you're castigated. It's not like being an AA man – no one wants to see a social worker. Any job with that kind of pressure is rich territory for comedy. Pound for pound, this probably has more jokes [than "Getting On"], even it they look a bit crowbarred in.'

Was your mum your main source for research?
'No, I worked for Dr Barnado's in the past, and we have someone who gives us information who's currently a social worker. They did give us some stories which we obviously couldn't use as told to us, but we used the sense of them. We heard some grim tales.'

Is it easier to write real-world comedy when times are tough?
'Not necessarily. The alternative comedy thing started around Thatcher, who was a simpler person to write comedy about because of her personality, not necessarily because of her policies. She had a good look, she was a bit stilted and a bit weird socially, she was married to Denis… There was an awful lot of fodder. Cameron's a bit more difficult. And I don't think there's a lot of interest in politics from the comedy-watching generation these days.'

Is 'Damned' a political show?
'No, it's not a political sitcom. In theory this could be set anywhere: a funeral directors, brothel, whatever. I've learnt to be a professional pessimist. It seems easier to manage your life like that rather than constantly be disappointed. But if "Damned" gets commissioned for a series then we could get much more political. If you want to start making points, it's in place to start doing that.'

And you'd have some fairly big points to make, presumably?
'Yeah, one or two!' [laughs]

Did you want to do more series of 'Getting On'?
'The BBC did actually want more "Getting On" at a point at which we just couldn't do it. Now [co-writers] Vicki [Pepperdine] and Jo [Scanlan] are doing a BBC4 series about dog walkers up in the Wirral ["Puppy Love"]. It's fitting it all in really, which is a good thing to say.'

So we haven't seen the last of it?
'Not necessarily, no.'

You collaborated with Morwenna Banks on 'Damned' Are you more comfortable working with other people?
'Women – I don't know about men, because I'm not one – but women are naturally very cooperative and sociable. It's quite lonely on your own, and hard to judge your own work, and if you're working with friends then you can have a good old gossip.'

How would you compare working with Sky to working with the BBC?
'Not that dissimilar, to be honest. I'm a naturally work-shy person who doesn't like doing rewrites – that's the one thing I find incredibly frustrating about this process. I'm happy for people to make suggestions, but both Sky and the BBC interfere too much if I'm honest. I try to be understanding and do bite my tongue sometimes. Surely by now, at 56, I know what reasonable comedy is? But that's not to say I wasn't happy with the result, because I was.'

TV comedy is constantly deemed to be in a state of crisis. What's your take?
'There's an incredibly fast turnover of people. The programme makers think they're being judged very early on and not being given the chance to develop things. So unless they get it right first time, a series won't be recommissioned or they'll lose their job. And television is changing so rapidly, isn't it? I'm not sure we're keeping up with it. I'm certainly not. I'm an elderly woman with a sagging, disintegrating brain…'

In terms of your disintegrating brain, do you lock yourself out of the house like Rose does in 'Damned'?
'I don't, but I do put inappropriate objects in the fridge. I put the pepper in the fridge the other day – my family laughed uproariously at me and tried to get me sectioned.'

If 'Splash!' doesn't return, what's next for you?
'Oh, "Splash!". I still can't believe they asked me to do judging for it – I've got a whole new group of fans aged five, which is lovely. But I've been trying some stand-up out in smaller theatres outside London, so I'll try and get a tour going after Christmas. It's my favourite thing to do.'

'Playhouse Presents: Damned', Thu Jun 12, 9pm, Sky Arts 1.
Support Time Out
We see you're using an ad-blocker. Ad revenue is Time Out's main source of income. The content you're reading is made by independent, expert local journalists.
Support Time Out directly today and help us champion the people and places which make the city tick. Cheers!
Donate now