John Kearns interview: 'I never saw comedy as a living, ever'
What's so funny about a pair of oversized dentures and a dodgy wig? We talk to 2013 Foster's Edinburgh Comedy Award Best Newcomer winner, John Kearns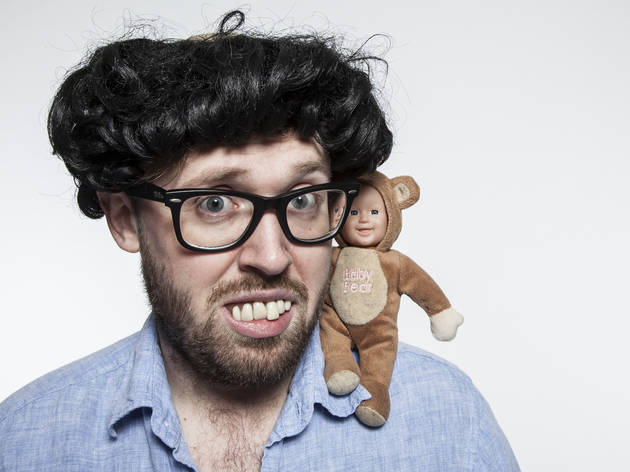 This time last year, at one of London's many pub-room clubs, I saw John Kearns, during his set, read a rejection letter from a comedy agency. A Houses of Parliament tour guide by day, Kearns had been performing stand-up since 2006, but had yet to be snapped up by an all powerful management company, so turned his rejection into wonderfully droll pathos.

Today, the 26-year-old stand-up is one of the most talked about rising comedy talents on the circuit, having scooped Best Newcomer at the 2013 Foster's Edinburgh Comedy Awards. His debut solo show 'Sight Gags For Perverts' played to packed crowds at the Edinburgh Fringe, with comedians (including Steve Coogan and John Bishop) flocking to see what all the fuss was about.

Wearing a pair of snaggly dentures, a tatty monk's wig and an inflatable horse costume (deflated), Kearns mixes screechy self-loathing and absurdly funny non-sequiturs with a dollop of joyous, optimistic audience interaction. He's an absurdist comedian, but there's honesty and heart behind all his silliness.

How did you feel when they announced your name at the awards ceremony?
'I was completely overwhelmed. It was just weird, being presented the prize by Steve Coogan, it was odd. You're in this room of people whose names and faces you recognise, and then all of a sudden you're standing two feet above them, with a microphone, and you've got to give a speech. And in the heat of the moment I told some people to fuck off [laughs].'

The teeth-wig combo has become your trademark. Where did the idea come from?
'When I was growing up, my dad had things like those crap bald caps, or those Scottish hats with the ginger wigs. I like that idea of knowing you're looking at someone recognisable, but they look ridiculous. And I think you can get away with anything if you're acutely aware of what you're doing. With Tommy Cooper, they say that he was so funny because the audience all knew he was in on the joke. He's playing, it's clowning. I can imagine some people saying about me, "He just put a wig on and some teeth in and he's gone and won a fucking award?" But I hope it's more that. It's not like I've just fucking put them on!'

What about the voice – the high-pitched cockney twang – when did that come about?
'People say comedy's all about finding your comedic voice. Whereas I just found a voice, I just put on a voice. If you can't find your comedic voice, just do a funny one. It paid off for me.'

In the show you talk about your dream of making a living from comedy. Is that now reality?
'I never saw comedy as a living, ever. I couldn't quite work out how you made a living from being a stand-up. But now I am. I don't work at the Houses of Parliament any more; I took my chance to go, so I've had to learn completely new skills, like self-discipline and waking up. When you're a comedian, your day doesn't start till 7pm. What the fuck am I supposed to do until then?'

So, now that you're an award-winner and a full-time comedian, is your onstage persona going to change?
'The new material I'm working on is about how it's almost like my bluff has been called. I'm saying, for comedic affect, that I'm trapped, that this wasn't meant to happen. So next year's show is going to be about how I've actually had to deal with it. At the moment it's about flying, about learning how to do things again. I'm really interested in where I can go with it. But it might all change. This time last year my show was going to about the atomic bomb!'

You've signed with an agency now. What else has changed since the awards?
'Well, I basically have meetings now. So that's fun. Within the space of two months I'd met Vic and Bob, Steve Coogan, Harry Hill, and I'm supposed to act like that's normal! It's incredible.'

Apart from next year's show, where do you want to take your comedy? Would you like to do more acting? Stick with stand-up? Get corporate gigs?
'I actually would love to do one corporate gig, just to see what happens! No, basically I'd like to do everything: radio, acting, stand-up… I just want to work with the funniest people and the best people. If over the next five years I can work with the people that I find the funniest, whether that be Vic and Bob, or Pat Cahill, or the Weirdos group, then that's great. Just working with the best people would make me happy.'

That's a very charming ambition.
'Yeah, it's sweet, isn't it? But, you know, it has to be paid. I need to live! Imagine if I just said, "Adverts, I'd love to do adverts."'

What do you think the awards panel saw in your show?
'Maybe it was the idea that it could slip, the controlled chaos. I'm my own sound man, so if the sound fucks up, the show is then a man trying to fix it. And with the audience interaction the joke was never on anyone in the crowd, it was always very much on me.

'But I think the show has got heart, and that's what I'm most proud of. You know with Gollum you sometimes fall in love with him a little bit? It's a bit like that: I look ridiculous, I never explain why I'm wearing anything, my teeth are falling out, you can see my real hair under the wig – you think: why is all this happening? I like the idea that you're trying to work it out, and then you see a flash where you realise it's just a bloke in a wig.'
See John Kearns in London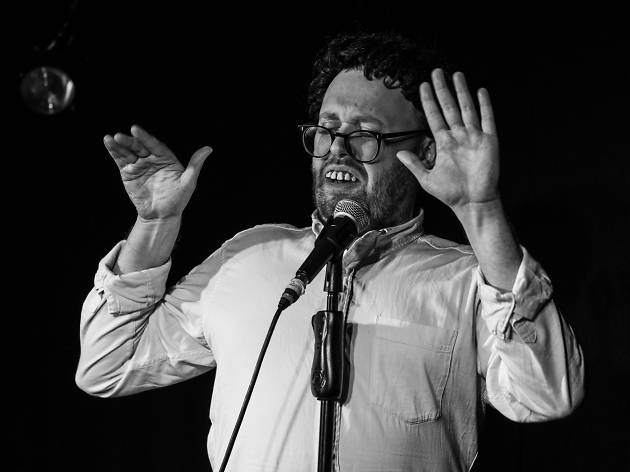 Kearns is the only comic to have won both the Best Show and Best Newcomer gongs at the Edinburgh Comedy Awards – the most prestigious prize in live comedy. He's a true Time Out favourite. This show is a beautiful hour of soulful stand-up with our favourite catchphrase of the year: 'Let it be funny!'
Comedy, Stand-up
The Bill Murray, Islington
Alternative comedy heroes John Kearns (double Edinburgh Comedy Award-winner) and Pat Cahill (multi-award winning nonsense merchant) present a special yuletide editions of their ramshackle comedy night. Expect festive singalongs, merry sketches and special guests.
See all John Kearns tour dates
Snap up exclusive discounts in London
Time Out's handpicked deals — hurry, they won't be around for long...