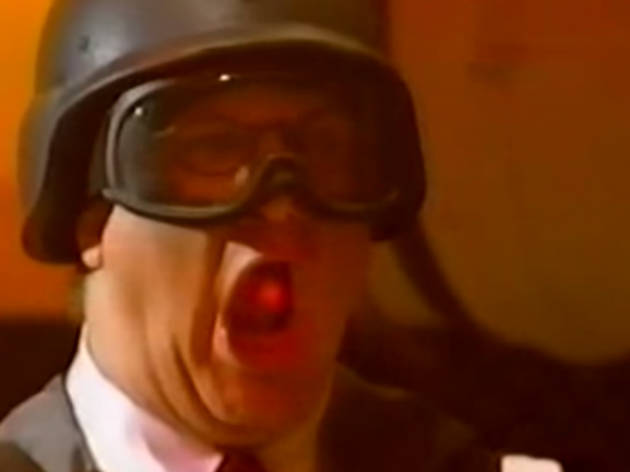 1/8
The Bullet Catch Many magicians have died attempting the bullet catch illusion. Penn & Teller double the ante in their version, firing two bullets into each other's gobs (and catching them, without fatality). Sadly, the trick can't be performed in the UK, 'because you have stupid, stupid gun laws!' says Teller. 'It seems like the only place in the world where we can do that trick now is Las Vegas,' explains Penn. 'Las Vegas: where you can have prostitutes, drugs, tobacco and firearms.'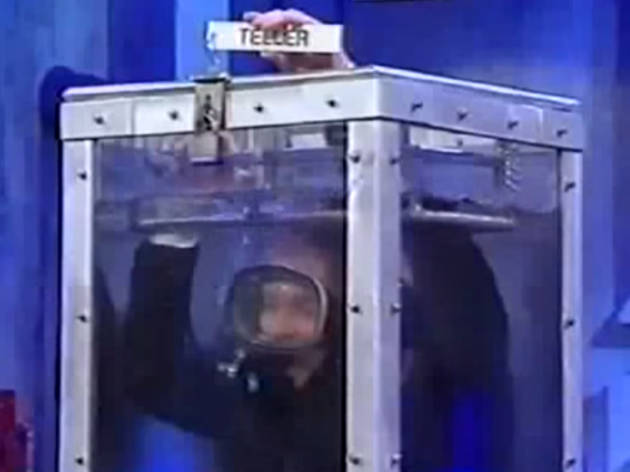 2/8
The Water Tank P&T's take on the classic Houdini escape makes it one big, elaborate card trick with a twist. 'The idea of being in a water tank and not escaping seemed interesting,' says Teller. 'And the idea of someone taking a card trick so seriously he'd be willing to drown himself to prove his commitment to it seemed mighty funny.'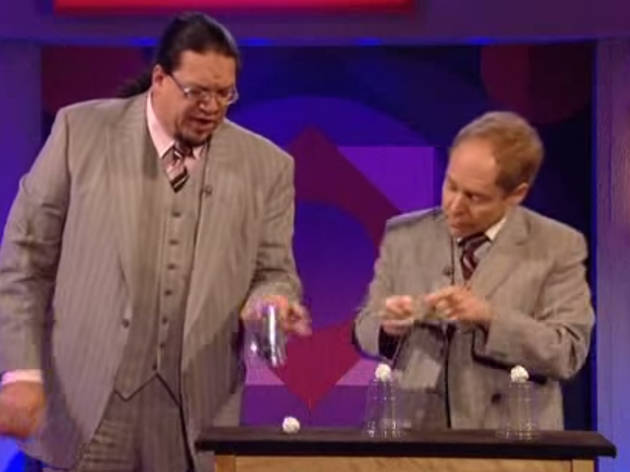 3/8
The Cups and Balls A classic of magic, thought to date back to Roman conjurers or, some reckon, the ancient Egyptians. In Penn and Teller's version they break the first rule of magic: they give away the secret. It's angered some fellow illusionists. 'We had journalists seek out unimportant magicians who said bad stuff about us,' says Penn. 'There have been magicians who have been offended by us, but none of the ones that we respect, none of our heroes and no famous ones.'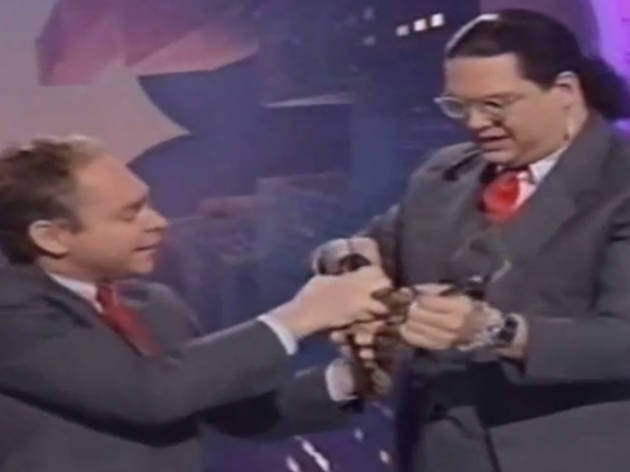 4/8
The Cut and Restored Snake We've all seen a magician scissor apart a piece of rope and then magically repair it. But Penn & Teller decided it'd be much more fun with a living rope. 'Like the water tank, we did that trick for "Saturday Night Live",' says Penn. 'We tried doing it live, just once, but when we pulled the snake out people reacted negatively, and we don't want to make people uncomfortable. The funny thing is the producers of "SNL" got more complaints from cutting the snake in half then we did from killing Teller in the water tank!'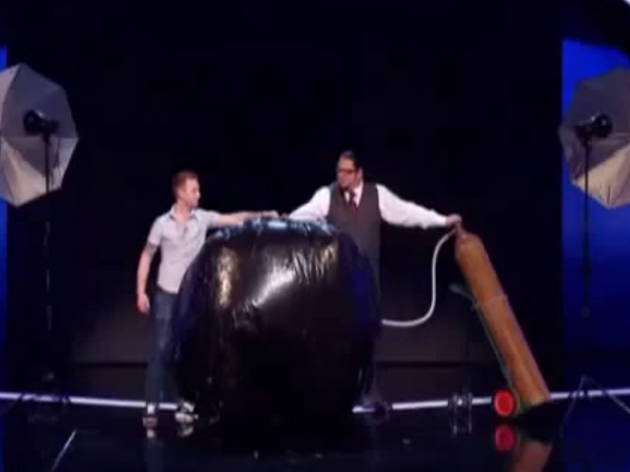 5/8
The Helium Escape Another take on a Houdini escapology routine, 'from a bag that remains untorn', explains Penn. 'We thought putting helium in the bag would prove it was untorn.' Teller is sealed inside the bag of gas and, quick as a flash, magically escapes. But one night he took too big a breath of the helium 'and suddenly found myself on a beach. As I woke up on the beach I realised that I was actually in the middle of the stage and my crew were around me waking me up.'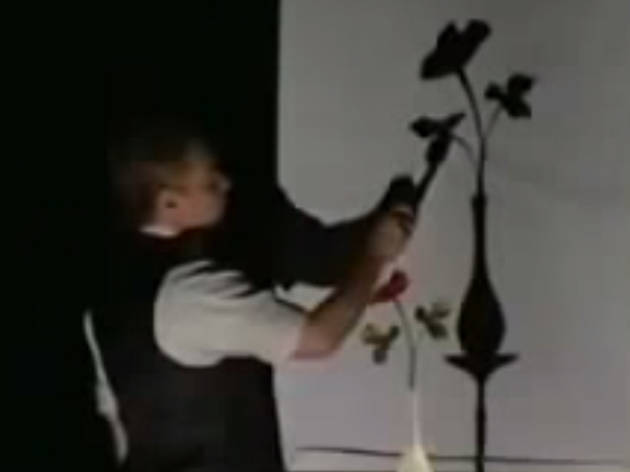 6/8
Shadows One of the most beautiful pieces in P&T's show: Teller's interactions with the shadow of a flower have a mysterious effect on its petals. 'I'm very fond of the trick,' he explains. Teller first came up with the idea when he was a teenager. 'I was sitting in a room, by candlelight, and I had a set of play-school blocks which were casting a shadow on the wall. I touched the shadow and flicked the blocks at the same moment, and it sent a shiver through me. I then spent quite a long while trying to think of how it could be made into a theatre piece. The answer is: I thought about it for a long time until I came up with the answer!'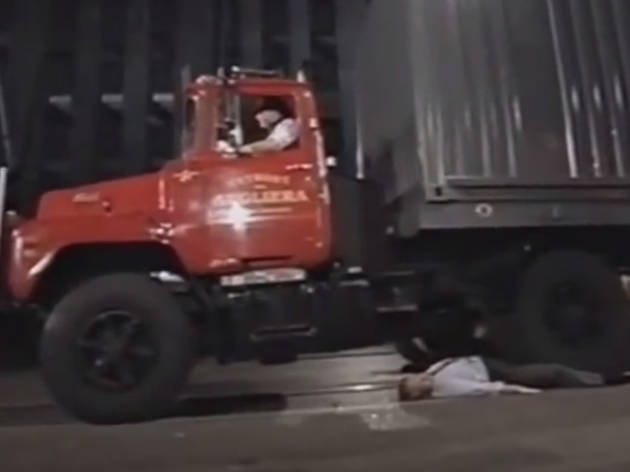 7/8
The Truck Trick One of Penn & Teller's biggest tricks and one that's impossible to perform live. It involves a full-size lorry steam-rolling over Teller, who then stands up unscathed (of course). 'It was very expensive,' says Penn. 'It was an idea that I had at clown college: I would always pitch it as a joke. And then Brandon Tartikoff – who was the big cheese at NBC – came to us and said, "How much money would it take to do this trick?" We were then told to put up or shut up.'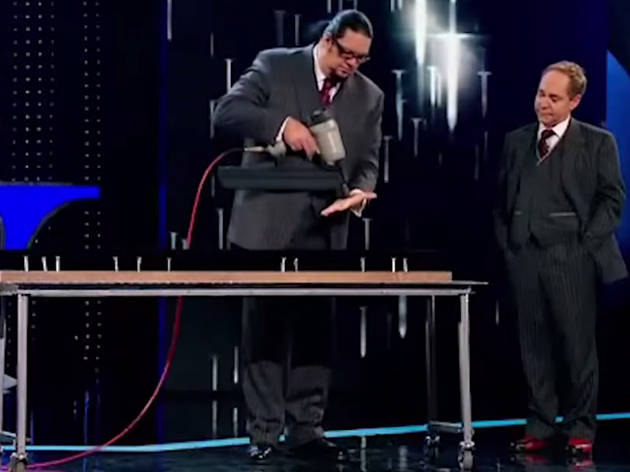 8/8
The Nail Gun In this wince-inducing trick, Penn alternates between firing a nail gun at a piece of wood and various parts of his body, having 'memorised' the sequence of three-inch nails and blanks loaded in the powertool. But, as he makes clear on stage, he's in no actual danger. 'There are a lot of magicians – especially the David Blaine, Criss Angel group – who seem to think that real danger, real pain, have some sort of macho quality to them that I don't find interesting at all,' he says. 'Starving yourself and getting thinner isn't much of a trick. I couldn't believe David Blaine doing that when people have died on hunger strikes – it seemed to show no knowledge of history at all. Therefore, when you're doing something like the water tank, the bullet catch or the nail gun, it's really important to have people enjoy the excitement of it and to know that you're really safe. We're asking you to come and laugh at fake suffering. If you can laugh at real suffering, you're not the kind of person we want in our audience.'
Penn & Teller's best tricks
The Vegas duo tell us the thinking behind some of their finest illusions
The kings of alternative magic,
Penn & Teller
, are back in London with a version of their astonishingly impressive Vegas show. We talk to the cunning conjurers about their greatest illusions.
Scroll through the slideshow above to watch clips of their tricks.
Support Time Out
We see you're using an ad-blocker. Ad revenue is Time Out's main source of income. The content you're reading is made by independent, expert local journalists.
Support Time Out directly today and help us champion the people and places which make the city tick. Cheers!
Donate now