Heads up! We're working hard to be accurate – but these are unusual times, so please always check before heading out.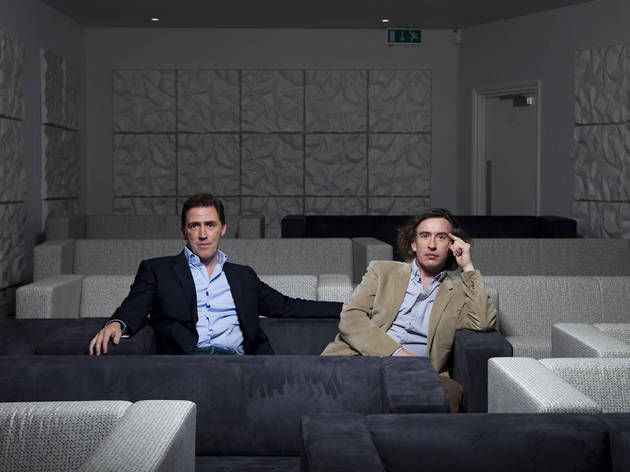 Rob Brydon interview: 'The truth is, Steve and I don't really see each other much'
Rob Brydon is reunited with pal Steve Coogan to sample the culinary delights of Tuscany and Rome in BBC2's 'The Trip to Italy'. We speak to the Welsh wonder about booze, bungee jumping and BBC3
Rob Brydon? Lovely guy. Steve Coogan? Bit of a shit. Watching both men toy with their public images was one of the principle pleasures of BBC2's Bafta-winning 2010 series 'The Trip', in which they bickered and ate their way around the north of England.

Four years later, they're back for a gastronomic tour of Italy, playing 'themselves' but with roles reversed: Coogan is now professionally frustrated but domestically content, while Brydon is restless at home and peaking at work. Taking time out from filming his new BBC1 game show 'The Guess List', can Brydon separate the fact from the fiction?

There are great sequels and terrible sequels, as you and Steve acknowledge in 'The Trip to Italy'. Is it more 'The Godfather Part 2', or 'Grease 2'?
'I'm hoping it's "Grease 2". Something that will only truly be appreciated long after we're dead. With something like "The Trip", it's like a new album by your favourite artist: it takes a few listens, but if you like it, you'll go back to it again and again.'

Is the awkwardness between you ever genuine rather than manufactured?
'It can be genuine. We're pushing each other's buttons and now and again one of us will feel the other's gone too far. But I came away from this feeling like we'd bonded more this time than ever before. The real meals off-camera are far more relaxed: no digs, no impressions. But the truth is, we don't really see each other much. During filming, during promotion, yes, but we don't seek each other out. It's not that sort of friendship. Steve is still a lot more driven than I am. The great successes of "Philomena" and the Partridge movie have really meant a lot to him, to be top dog once again. Specifically with "Mid-Morning Matters", the man is a genius. It's joyously good. I would go out of my way to watch that. All the way over to my computer.'

You have a 'Coogan-esque' one-night stand in this series. Are there Rob Brydon groupies out there?
'Well, I look for them. I've not found any yet, but the search continues.'

Do people mistake your on-screen persona for the real you?
'Undoubtedly. I'm convinced some people thought "The Trip" was a fly-on-the-wall documentary, that me and Steve were just having a little break and the cameras followed us around. The conceit this time is that I've got itchy feet and I'm feeling constrained by family life, while Steve's more content. There's a line in the last episode, after I've got a sizeable part in a Michael Mann film, and I go, "Well, what am I going to do here? More panel shows?". I'm happy with the balance of my work, but subconsciously it must be in there. It's a weird mix of complete truth, half-truths and out-and-out lies.'

You get through a lot of wine on-screen…
'And it is actually wine. In episode five, we're in a terrace restaurant in Ravello after a boozy lunch. If you look closely, we are drunk. My eyes are red and we were struggling. I say "we", I'm being very generous. Someone was struggling to remember a quote. In a way, we're paying homage to Peter O'Toole and Richard Burton. Drinking changes you – makes you looser. You have to do it in very trusted surroundings, but it makes for very interesting results.'

Is there anything you wouldn't trust Steve to do?
'If I was bungee-jumping, I'd want a professional doing all the knots. It's common sense. I wouldn't want to put the pressure on Steve. He has no formal training in that area, and it would be unfair on him.'

You premiered the new series at the Sundance Film Festival. Do you worry that some references will be lost in translation for international audiences?
'At one point, we're in Pompeii and Steve is doing a pitch-perfect Frankie Howerd impression. We sat in the screening at Sundance and this scene was met with utter indifference. You could see the audience going: is he having a stroke? So a lot of those bits are just in the UK cut.'

Where will the next trip take you?
'I think we should leave it a while – do it in ten years time, so we could see a bit of physical decay. I'd hate to get into diminishing returns, where we're going through the motions. I'd like to go to Australia.'

Not somewhere noted for its food…
'That's a good point. Maybe that would rule it out. A lot of people think I should do it in Wales.'

You were superb in 2012 Paralympics drama 'The Best of Men'. Is serious acting something you're keen to pursue?
'Yeah. I get offered some of those things – although not as much as I'd like. Unless you're one of those actors who really varies their roles – and no one could accuse me of that – you get offered the same thing. I've been offered parts that are not a million miles away from Bryn in sitcoms that aren't as good as "Gavin & Stacey", so I pass on those.'

You did a few work-in-progress shows at the Soho Theatre last year. Do you plan to tour?
'Probably next year, yes. I tried some stuff out but ended up talking to the audience. It gets laughs, but I can do it standing on my head and it's not enough for a tour. I need stuff that works on a rainy Tuesday in Grimsby when I've got a really heavy cold. I want to keep the stand-up going – if I fall out of fashion on TV, I'll have my audience out there.'

What do you think about the closure of BBC3, after it spawned your shows 'Gavin and Stacey' and 'Annually Retentive'?
'[Laughs] No one remembers "Annually Retentive"! I don't think anybody's saying, "That's the station that brought us 'Annually Retentive' – it cannot end!" I'm cursed with the ability to see all sides of the argument. I get asked to be on "Question Time", which is a ludicrous notion – I'd agree with everyone! In "Marion & Geoff", I had a line where I said: "If Michael Owen scores a goal, I'm delighted for him. But I will spare a thought for the goalkeeper." That's very me. I find it very hard to be sure about anything. [BBC Director of Television] Danny Cohen has to save money somewhere. I feel like a lot of BBC3 stuff could end up on BBC2, but BBC4 is making shows that no one else would put on. So put me down as a "don't know". Voting is a nightmare. I spend the whole day in the booth, agonising.'

Am I on a hiding to nothing if I ask about the controversy over the BBC banning all-male panel shows and Dara O Briain's comments about it?
'It's tricky. If you now see a panel show with an equal sex divide, you might wonder which of the panellists is making up the numbers. But then my casual impression is that there actually are more male than female stand-ups, so should panel shows reflect that? Some shows, like "Mock the Week", are quite gladiatorial, they're about waving your dick and getting in there. "Would I Lie To You?" has a fairly even split – you don't have to be a stand-up, just a talker. I thought Dara raised some good points. But equally, I do spare a thought for Danny!'

'The Trip to Italy' begins on BBC2 on Fri Apr 4, 10pm.
Support Time Out
We see you're using an ad-blocker. Ad revenue is Time Out's main source of income. The content you're reading is made by independent, expert local journalists.
Support Time Out directly today and help us champion the people and places which make the city tick. Cheers!
Donate now