Heads up! We're working hard to be accurate – but these are unusual times, so please always check before heading out.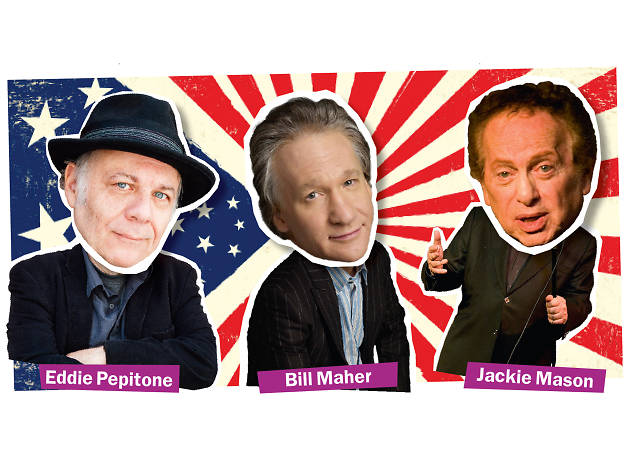 Yanking your chain: three American comedians in London
Three US comedy heavyweights – Eddie Pepitone, Bill Maher and Jackie Mason – make the trip across the Atlantic this month. Here's what to expect from them all
The schtick
This Brooklynite comic isn't nicknamed 'the Bitter Buddha' for nothing. Pepitone's act is effectively a darkly funny nervous breakdown, flipping between philosophical outrage and introverted self-hatred. He's angry, both at the hypocrisy in this world and at his own failure. Heck, he's even been known to heckle himself, brutally!
But there's more to Pepitone than pure rage. He turns his analytical mind to comedy itself to expertly pick apart observational comics' techniques, but he's his own biggest target and often deconstructs his own material.
Plus, under the self-loathing and outrage, Pepitone slips subtle thoughts on big US problems – racial inequality, mental health treatments, corporate greed – into his bitter arguments. They won't stay subtle for long, though. The 56-year-old stand-up furiously overexplains his clever tricks until everyone in the room understands the message, and then he'll explain them some more – and it's ridiculously funny.
Go if you like…
Unhinged, unpredictable, angry anti-comedy.
The schtick
New York's Bill Maher is a big-name satirist across the Pond. He's been on TV for more than two decades, first on Comedy Central's 'Politically Incorrect', and now HBO's 'Real Time with Bill Maher'. Dissecting politics is the focus of his stand-up, but he won't align with either party – he prefers to describe himself as simply 'practical'. This London show is his first ever UK date, and he'll no doubt make acerbic comments about our new government.
Religion is Maher's other big topic. In his 2008 documentary 'Religulous', which examined (and mocked) religious beliefs, he concluded: 'The irony of religion is that because of its power to divert man to destructive courses, the world could actually come to an end. The plain fact is, religion must die for mankind to live.' So expect plenty of cold truths about the harm religion can cause (…with jokes, of course).
But if Maher's comedy sounds a bit heavy, never fear: all this politics and religion-bashing comes served with a healthy dose of dry wit and laidback sarcasm.
Go if you like…
Biting satire, faith-slams and contentious opinions.
The schtick
Three years ago, the veteran Borscht-Belt legend that is Jackie Mason performed a run of 'farewell' gigs in London. Well, apparently it wasn't quite goodbye. Mason's been in the comedy game for 60 years, and he knows how to write a quality gag. Nestled among his stories of marriage grumbles are masterful one-liners. And, even at the ripe old age of 83, his comedic timing is still spot on.
Born Yacov Moshe Maza, at the age of 25 Mason was ordained a rabbi (like his father and three brothers). But at 28 he packed it in to become a comedian. On stage, the Wisconsin-born New York comic sees the world in two distinct categories – Jews and everyone else – and explains, at length, how they 'differ'.
He also skewers celebs, but evidently finds it difficult to keep up with pop culture: his last trip to London was billed as an 'all new show' but featured a big chunk of old gags. This time around he's promising to (slightly) update his targets to include '50 Shades of Grey', Ed Miliband and, er, Madonna.
Go if you like…
Jackie Mason. It could be your last chance.