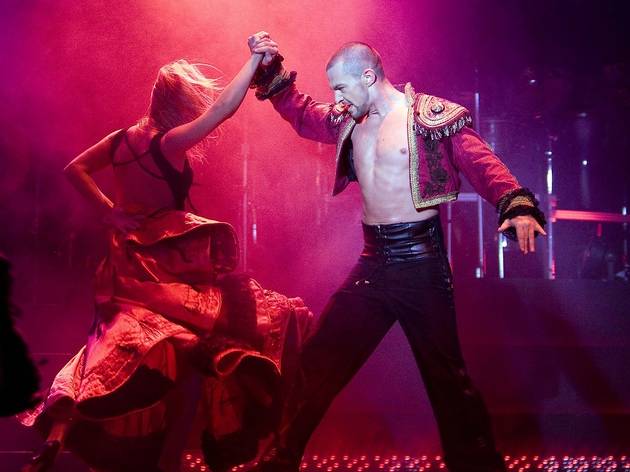 In the decade since the new wave of TV ballroom dance contests unleashed their spangles and spray-tans on primetime audiences, spin-off stage shows of varying quality have become a more or less permanent fixture in the West End.
Of these, 'Burn the Floor' has one of the finest pedigrees. A high-energy medley of ballroom and Latin moves, it high-kicked off in 1999, and so actually predates 'Strictly Come Dancing'. But it shares the BBC show's high production values, gloriously absurd costumes, and, indeed, dancers: 'Strictly' veterans Kristina Rihanoff and Robin Windsor are the star attractions here, alongside newcomer Karen Hauer.
Like its competitors, 'Burn the Floor' essentially boils down to a group of beautiful, scantily clad dancers performing hot moves to a rousing live band. The challenge is to introduce a level of theatricality and storytelling, to keep the audience from growing weary of all the diamante and glitterballs.
Director and choreographer Jason Gilkison rises valiantly to this here, with uneven success. A jive number featuring rival gangs is thrillingly reminiscent of 'West Side Story'; but a rumba in which seven bare-chested male dancers writhe, softcore-style, around a blindfolded Hauer is just toe-curling. It's tempting to imagine how exciting dancers of this calibre could be under the guiding eye of a truly innovative choreographer from the world of pop or contemporary dance – Rafael Bonachela, say, or Wayne McGregor.
But, taken on its own terms, 'Burn the Floor' has charm and quality in spades – and it's impossible not to warm to a troupe of gorgeous, talented dancers who genuinely look like they're having the best time imaginable. Laura Barnett