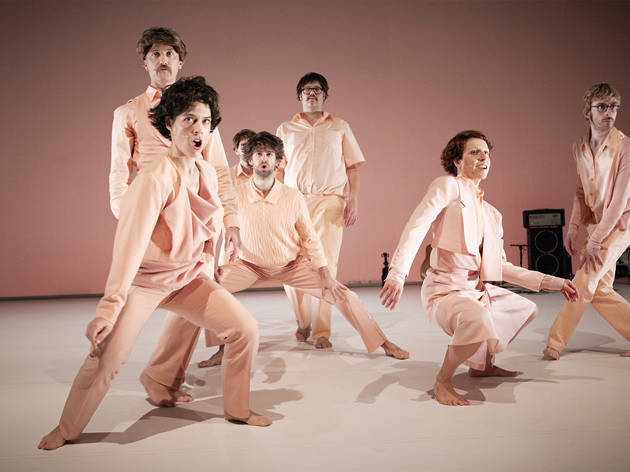 In The Place: the shock of the new
Bored of the same old, same old? Discover a provocative new season at one of London's most forward-thinking dance spaces
Eddie Nixon, who has programmed this piece (
'The Old Testament According to the Loose Collective'
) along with the rest of the international summer season at dance centre
The Place
, was aiming to find something 'very different from what's going on in London'.
The five shows in the season are all 'unique and unusual', says Nixon, and demonstrate artists working in ways he calls 'provocative'. In short, they don't look like anything else you'll see on stage in this city. So along with the Loose Collective, an Austrian group of dancers and musicians whom Nixon describes as 'brilliantly barking', highlights include a Slovenian/Portuguese duo who spend their whole performance shaking and an investigation of time and mortality expressed through the medium of juggling.
Out of the hundreds of works Nixon sees each year, these are the ones most likely to challenge your notions of what you expect to see in a dance theatre. The shaking piece, for example, officially titled
'The Very Delicious Piece'
by Jasmina Krizaj and Cristina Planas Leitao, sees the pair jolting and rattling their bodies to a soundtrack of well-known songs. 'These really emotive pop songs that everyone has associations with in terms of time and place,' explains Nixon. The way you read what the dancers are doing changes depending on the music, and your point of view. 'It looks like lots of different things, from avant-garde dance to lovemaking,' says Nixon. And the idea is that it provokes a wave of physical responses in the audience as well.
Elsewhere in the season there's the 'virtuosic, funny and clever'
La Veronal
, aka Spanish choreographer Marcos Morau, covering topics such as the economic crash and Soviet gymnasts. And you can see work from enigmatic conceptualist Ann Van den Broek, from Belgium (of course: it's the home of enigmatic conceptualism).
Anyone who buys a ticket is also invited to join a special pre-show sharing of some current works-in-progress, a chance to see what UK dance artists are thinking about right now. Should be intriguing, if baffling, stuff.
International season is at
The Place
, Thu Aug 15-Sep 12.