1/5
2/5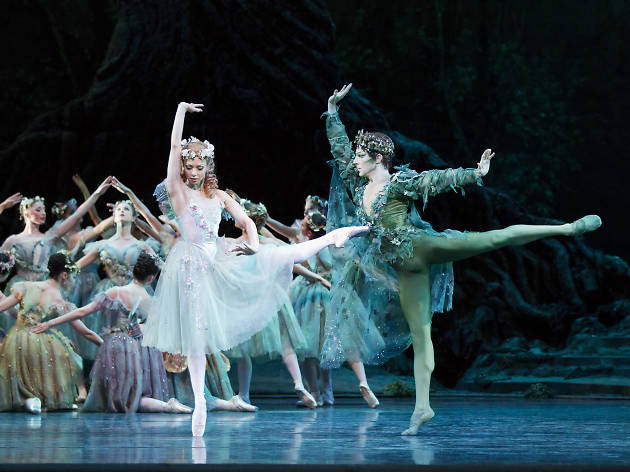 3/5
© Johan Persson
'The Dream'
4/5
© Johan Persson
'The Dream'
5/5
© Johan Persson
'The Dream'
This lively Royal Ballet triple bill is a bit like a bag of Revels: at times you get a soft, pleasing cream; elsewhere it's unexpectedly chewy. And this means there's unquestionably something for everyone, regardless of taste.

The classical ballet box is ticked by Frederick Ashton's 'The Dream', a magical if somewhat shortened interpretation of Shakespeare's 'A Midsummer Night's Dream', first performed in 1964 to mark the 400th anniversary of Shakespeare's birth. Although Ashton's choreography is at times panto-literal, the Bard's mischievous fairy antics populate David Walker's mystical forest set entertainingly.

Contemporary box: tick - Natalia Osipova is sublime as the lone female in Alastair Marriott's new piece 'Connectome'. The opening sequence is still imprinted on my retina: flickering projections passing over a rod-filled stage that Osipova winds through, appearing and disappearing. The piece is inspired by the complex connections of our brain cells which determine our personality. The seven dancers translate individualism and the importance of interaction to stirring effect, while violinist Vasko Vassilev nails Arvo Pärt's achingly poignant score with its melancholy lulls and elating spiritual tones. The only fault for me was an over-egged video graphic backdrop that would be more suited to a trance night VJ set.

Final tick: a good laugh. Giggling at the ballet is a rarity, so it's a breath of fresh air to have a raucous chuckle during 'The Concert'. Jerome Robbins's 1958 spoof even had the youngest audience members guffawing. A comment on the traditions and pretentions of ballet and its audience, all convention is joyously thrown out of the window. The climax comes with the 'mistake waltz', in which six female dancers deploy some killer comedy timing to create a glorious mess and one of the best pieces of 'bad' ballet I've ever seen. The Chopin score is married surprisingly well with the vaudeville-influenced slapstick action and Irene Sharaff's comically accessorised costume designs. A joyous end to an invigoratingly eclectic evening.