'Swan Lake' review CANCELLED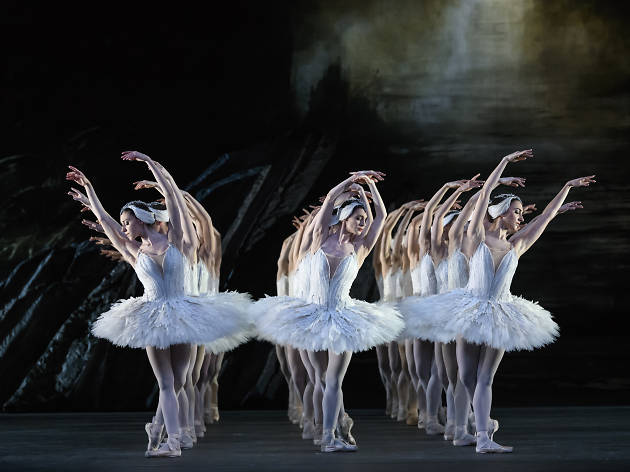 Time Out says
A breathtakingly beautiful new production of the classic from Royal Ballet
Liam Scarlett's 'Swan Lake' was due to return to Royal Opera House in Spring 2020, but has been cancelled due to Covid-19. This review is from its May 2018 premiere.
The Royal Ballet's previous production of 'Swan Lake' had served the company for 30 years. It was time for a refresh – but what a daunting task to come up with a new version of the world's most loved ballet. Luckily, the RB's artist in residence Liam Scarlett has risen to the challenge.
The setting (a royal court in 1890s Mittel-Europe) and all the important bits of Ivanov and Petipa's iconic choreography are left intact – the respect for tradition and Tchaikovsky's luminous score are evident. Scarlett has made his mark with clean lines and clear storytelling. A new prologue explains the princess Odette's transformation into a swan. Act I is divested of happy peasants, maypole dance and comedy drunk. Instead, we have the sorcerer Von Rothbart hiding in plain sight as a Rasputin-like court adviser to the mourning Queen, and her son, Prince Siegfried, consumed with gloom at being forced to marry.
Act II has been restored to every little girl's ballet fantasy by having all the swan maidens in tutus instead of fussy knee-length skirts – what a difference it makes to be able to see the intricacies of leg and footwork of the massed rank of corps dancers. Even the national dances of Act III, properly framed, now make some sort of narrative sense, and when Von Rothbart's dastardly Odile/Black Swan deception is revealed, a phalanx of black swans emerge thrillingly out of the chaos on stage, dancing with malign triumphalism. Most daring is Scarlett's bleak ending – no celestial love boat for this Siegfried and Odette. Take a tissue.
John Macfarlane's sets and costumes are lusciously rich and detailed, and there's a magical camera-dissolve scene change between Acts I and II. The first night cast also dance for the live cinema screening on June 12 – and Marianela Nuñez's Odette/Odile, honed over her 20-year career at the Royal Ballet, is a breathtaking performance. She luxuriates in every moment of playing the evil temptress Odile, then breaks your heart as the bereft Odette. Vadim Muntagirov's Siegfried is her perfect anguished foil; the trio of Alexander Campbell, Francesca Hayward and Akane Takada are light as air and utterly commanding in Act I's carefully preserved pas de trois and in Act III.
Did I come out wanting to put on a tutu and attempt 32 fouettés? Yes, I did. Would I want to watch this production for the next 30 years? I think I just might.
Details