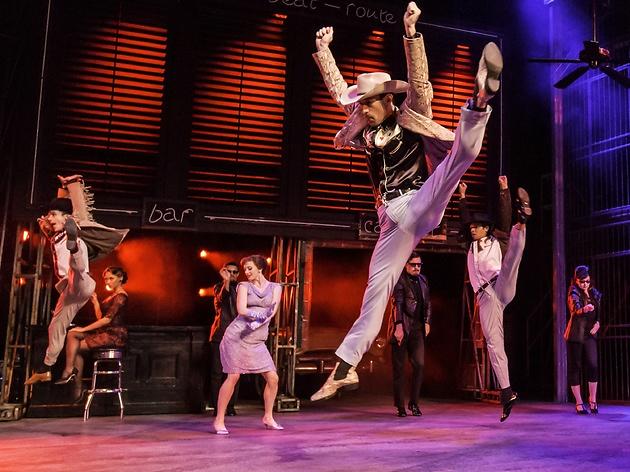 1/9
© Johan Persson
'The Car Man'  
2/9
© Johan Persson
'The Car Man'
3/9
© Johan Persson
'The Car Man'  
4/9
© Johan Persson
'The Car Man'  
5/9
© Johan Persson
'The Car Man'  
6/9
© Johan Persson
'The Car Man'  
7/9
© Johan Persson
'The Car Man'  
8/9
© Johan Persson
'The Car Man'  
9/9
© Johan Persson
'The Car Man'  
Time Out says
Matthew Bourne's classic take on Bizet's 'Carmen' is exceptionally well-oiled.
What a deliciously lubricious spectacle Matthew Bourne's 'auto-erotic thriller' 'The Car Man' is. Created in 2000, this dirty mash-up of Bizet's 'Carmen' and film noir classic 'The Postman Always Rings Twice' has to be one of his strongest works, so it's a joy to see it return to the Sadler's Wells stage (the first time since 2007).

A grubby garage-diner in the ironically named, tiny Midwestern town of Harmony is the setting for this charged, Bard-tinged tale of lust, murder, lies and retribution; here, owner Dino is trying to keep order among swaggering mechanics more interested in brawling and impressing their flouncing floozies.

Enter mysterious drifter Luca, looking for a job; once Dino's frustrated wife Lara claps eyes on him you know there's going to be a world of trouble. The pair are soon ripping each other's clothes off amid a feverish, red-lit, polysexual bacchanal. But Luca's also seeing to bullied, naive hired help Angelo on the nearest available backseat as well…

Bourne keeps up an explosive energy (and a sly humour) throughout, as we hurtle unswervingly towards the inevitable Greek-tragic ending. There are big, throbbing musical style set-pieces and touchingly intimate neo-classical duets; dancers languorously lengthen movements adding moments of cinematic stillness to the hectic pace.

But crucially he shapes his narrative with crystal clarity through scintillating choreography, created to Terry Davies's clever, reworking of Rodion Shchedrin's 'Carmen Suite'. You never doubt an intention or motivation as the story plays out, never wonder what on earth is going on.

The New Adventures cast swap lead roles regularly throughout the run: on opening night, Chris Trenfield's lean, lone-cowboy-like Luca had just the right touch of menace; Zizi Strallen's Lara was a whirlwind of pouty carnal passions; Liam Mower's starry-eyed Angelo was achingly vulnerable. But Bourne's 'Car Man' is so tuned to perfection it will be a great ride whoever's in the driving seats.
Details
Users say