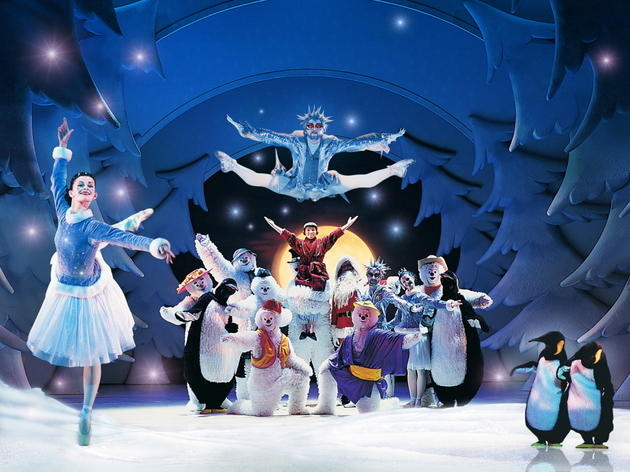 This review is of the show's 2014/2015 run. 'The Snowman' returns for Christmas 2015.
When you've got competition from the likes of Xbox and 'X Factor' it is surely something of an achievement these days to hold a child's attention for an hour in a theatre – even more so if you're using only mime and dance to do so. 'The Snowman' (now in its fifteenth year) largely achieves this and kept the kids (and adults), 'ooh'-ing and 'ahh'-ing in enthralled delight.
Based on the Raymond Briggs book and the animated film of the same name, the story of the flying Snowman and his young friend James has become a bit of a seasonal staple in recent years. It's not hard to see why. The action takes place against an imaginative set, that with its constantly falling snow and curved design resembles a shaken snow globe. Throw in colourfully-costumed animals, fairies, spectacular ensemble dancing from a crew of dancing snowmen and a bounding Santa, a shiveringly menacing Jack Frost character and plenty of humour (there's heavy play on the snowman 'cooling' himself blissfully at the fridge in the first half) and there's plenty here to keep the audience smiling.
The show drags a bit in the first half and feels as if it could do with tightening here with a bit more more dramatic tension. Still, the thing we're really here for is the flying and that remains as breathtaking and beautiful as anything you could hope for.
RECOMMENDED: More Christmas shows in London
Find more festive fun with our guide to Christmas in London
Average User Rating
4.7 / 5
Rating Breakdown
5 star:

2

4 star:

1

3 star:

0

2 star:

0

1 star:

0
Such a good performance. Have wanted to see it for so long but had to wait till both my grandsons were old enough to enjoy it as well. One being seven and one four, this was the year my husband and I could take them and we all thoroughly enjoyed it. Bravo to the young boy, he did a marvellous job.
The Snowman in Peacock Theatre is the ULTIMATE way to embrace the magic of Christmas and lose yourself in childhood dreams. Yes, I did feel like an oversized child but it was so magical, funny and touching! An outstanding orchestra and kudos for the kid who played the little boy; dancing and being that excited for 2 hours must have been exhausting! xx