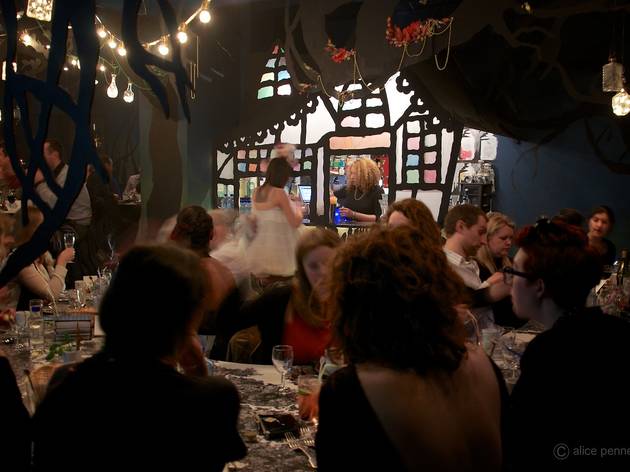 1/8
credit: Alice Pennefather
2/8
credit: Steph Bosset
3/8
credit: Emli Bendixen
4/8
credit: Emli Bendixen
5/8
credit: Alice Pennefather
6/8
credit: Alice Pennefather
7/8
credit: Alice Pennefather
8/8
credit: Alice Pennefather
For a supper club devoted to mystery, Gingerline has revealed its secrets to an awful lot of people. Last year alone, the mother of all pop-up dining events fed 10,000 guests over eight sold-out months – and we're sure they'll have no problem shifting tickets to The Hideout – an event tipped as the guerrilla gourmands' most ambitious to date.
Obviously we can't tell you exactly where this new experience is located – only that's it somewhere on the East London Overground line (coloured orange on the TfL map, hence the name 'ginger line'). Nor can we tell you what's on the menu – just that it's known for being one of the better supperclub meals. What we can report, is that the experience will be unforgettable: not just a quirky night out, but a fully immersive alternate reality, complete with wild art and themed entertainment. In the past, the Gingerline has created a mad puppeteer's workshop in Forest Hill, an underwater world in Shoreditch and a secret cult hangout in a candlelit Canonbury chapel.
Booking ahead is vital, but don't expect details of your night up front. The Hideout's location won't be revealed until one hour before dinner, when you'll receive direction by text message.