Everyman Road Movies at KXFS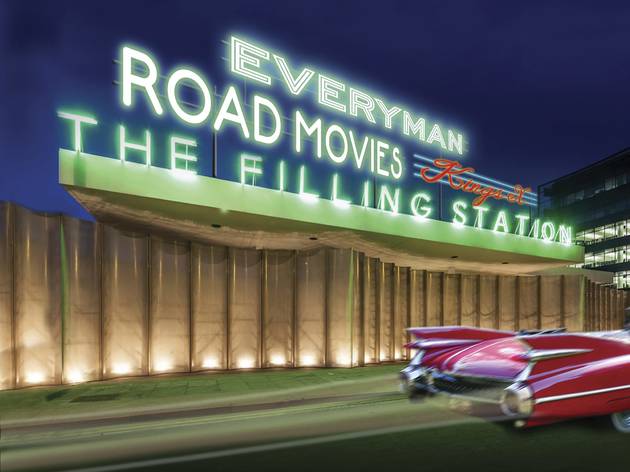 Everyman Cinema takes a road trip to the King's Cross Filling Station – a disused BP garage-cum-cultural space overlooking the Regent's Canal – to screen 16 films with plots driven by cars, escape and the open road. Obligatory classics 'Easy Rider' and 'Bonnie and Clyde' run alongside more contemporary, though no less appropriate inclusions such as 'Drive' and 'Fear and Loathing in Las Vegas'. The animated 'Cars' and 'Cars 2' meanwhile screen for families on Saturday mornings.
Although this outdoor venue provides shelter in the form of an old forecourt canopy, warm weather is far from guaranteed, so pack an extra jumper and blanket. Snacks include American hot dogs, beers, wine, cocktails and bottomless filter coffee. For more information see www.everymancinema.com. Film titles are as follows:
May 2 Paris, Texas
May 3 Drugstore Cowboy
May 3 My Own Private Idaho
May 3 Drive
May 4 Cars 2
May 4 The Graduate
May 4 Thelma & Louise
May 4 Natural Born Killers
May 4 Fear and Loathing in Las Vegas
May 5 Easy Rider
May 5 Five Easy Pieces
May 5 Chinatown
Rating Breakdown
5 star:

0

4 star:

0

3 star:

0

2 star:

1

1 star:

0
Nice idea but, unfortunately, that's all it was. After going to see the magnificent Paris Texas last night, I was left feeling hugely disappointed with the viewing experience. The Filling Station, as quirky a spot as it is, is no place for a film screening. The garage door walls gave you none of the joys of an outdoor screening. In fact, the cold and the noise were the only reminders that you were outside at all. The crashing of bottle bags and laughing of excitable diners at the restaurant behind the cinema often drowned out the tranquil film, and should have been considered by Everyman during their conception of Road Movies. You wouldn't put up with that noise in a cinema, you shouldn't have to after paying £17. The price tag and Everyman's nice marketing campaign led me to believe we'd be treated to something exceptional; an outdoor experience reminiscent of 50s Americana. Yet the incessant police sirens and the bitter cold - neither of which can be blamed directly on Everyman, to be fair - were constant reminders of our Kings Cross location. July would have been a more appropriate month for the event. Even hipsters get cold, you know... I only had myself to blame for paying £10 on bottle of (small) beer and lukewarm hotdog, but you'd think they might not provide another cause for complaint. The occasion did provide me with the opportunity to see Paris Texas on a large screen, for which I'm thankful. The beautiful framing and long close ups of Harry Dean Stanton's tortured face wouldn't have had the same impact on TV. It's just a shame that my overriding thoughts were of Everyman's carelessness and that it left me craving the return of Stella Artois' film festival in Victoria Park.