The best film events in London this week
One-off screenings, festivals, seasons, double-bills and more. Each week we bring you the very best of London's alternative film events
Every week, we round up the best film events happening outside London's multiplexes, from major international film festivals to classic seasons at the BFI, from double bills and all-nighters to one-off screenings and in person Q&As with stars, filmmakers or experts. London also has a thriving DIY film club scene in pubs, restaurants, galleries and pop-up venues, and in the summer months you'll find a wealth of outdoor screenings in parks and gardens across the city.
1
Sadfest: 'The Elephant Man'
Everyone loves a good cry. And the movies have always provided the perfect release, a way to let off a little emotional steam. This three-day celebration of the saddest movies ever made offers a stunning line-up. Forget trashy 'Titanic' and blubbering 'Beaches', this isn't weepie-cosy, Häagen-Dazs in your dressing gown comfort viewing. This is the serious, bawl-your-guts-out heavy stuff. The opening film on Friday night is David Lynch's 'The Elephant Man' starring the late, great John Hurt, which is set and was filmed in and around the East End. There'll also be live music and poetry readings in the bar, and discussions around some of the films.
Genesis Cinema, 93 - 95 Mile End Rd, E1 4UJ.
Fri Mar 3, 6pm. £10.
2
BFI Cult: 'The Exorcist III'
In January, cinema lost an often overlooked hero, William Peter Blatty, author of the original 'Exorcist' novel and the writer-director behind two or the most brilliantly verbose movies ever made, black comedy 'The Ninth Configuration' and this second sequel to 'The Exorcist'. Set 15 years after the execution of a serial killer, Georgetown once again falls prey to grisly slayings bearing his trademark MO. Assigned to the case is world-weary homicide cop Kinderman (George C Scott), whose investigation leads him to a psychiatric patient bearing an uncanny resemblance to the first film's Father Damien Karras, who fell to his death while performing an exorcism. See it for one of the all-time great screen shocks.
BFI Southbank, Belvedere Rd, SE1 8XT.
Fri Mar 3, 8.40pm. £8.35 - £11.75.
3
Cinema Made in Italy: 'The Battle of Algiers' + introduction
The annual Cinema Made in Italy season offers a selection of new movies, many of which have already made a splash at last year's big summer festivals. Choose from the likes of factory drama '7 Minutes' and unusual black comedy 'Ears'. But we've gone for the very first UK screening of the new restored version of Gillo Pontecorvo's 1966 tale of resistance and terrorism during the 1950s Algerian uprising, which becomes more relevant with each passing year. 'The Battle of Algiers' shows the real consequences of defying popular will with institutional aggression and military force.
Ciné Lumière, 17 Queensberry Place, SW7 2DT.
Sun Mar 5, 2pm. £9, £7 concs.
4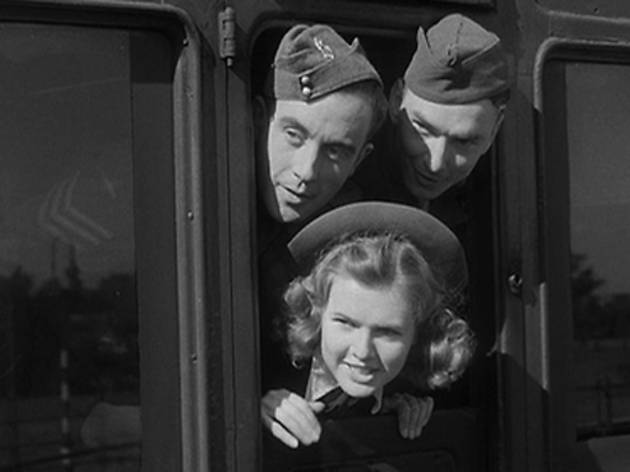 Powell and Pressburger season: 'A Canterbury Tale'
The Deptford Cinema kicks off a short season of films by the greatest double act in British cinema history. One of the oddest movies this nation has ever produced, 'A Canterbury Tale' is an amusing, tragic, inquisitive and profoundly poetic World War Two-set shaggy dog story. It follows three unlikely compatriots – a British sergeant, an American GI and a Land Girl – who are thrown together in the sleepy town of Chillingbourne on the rail link to Canterbury. No sooner have they disembarked from the train than one of their number is stung by a night-time prowler who's getting his jollies by putting glue in women's hair.
Deptford Cinema, 39 Deptford Broadway, SE8 4PQ.
Sun Mar 5, 4pm. £5, £3.50 concs.
Find 'A Canterbury Tale' in our list of the 100 Best British Films
5
'9 to 5' + 'Working Girl'
A cracking double bill of movies about women in the workplace. '9 to 5' was Hollywood's first attempt at a mainstream feminist comedy. Jane Fonda is the new secretary in the office; Lily Tomlin and Dolly Parton are the veterans who teach her to cope with and combat chauvinistic male oppression. 'Working Girl' is even better, a New York romcom starring Melanie Griffith as Tess McGill, who aches to graduate from the secretarial pool to executive level in the brokerage industry.
Phoenix Cinema, 52 High Rd, N2 9PJ.
Sun Mar 5, 1.15pm. £12, £10 concs.
6
GayW3: 'Paragraph 175'
Part of a short season of LGBT events at the JW3 Jewish centre, this is an unadorned documentary account of the impact of the Holocaust on Germany's once thriving gay culture. Paragraph 175 was the clause in the 1871 German Penal Code criminalising 'unnatural sex acts' between persons of the male sex (or with animals). Though it remained unrepealed by both post-war German states for some 25 years, there was a period, amid the determined gaiety and hedonism of the Weimar Republic, when gay and lesbian culture blossomed. Then came the Brown Shirts, and the pink stars, and the camps.
JW3, 341-351 Finchley Road, NW3 6ET.
Sun Mar 5, 4.10pm. £12.
7
'River of Grass' + Kelly Reichardt Q&A
The great American writer-director Kelly Reichardt will be at the BFI Southbank for two introductions and one full-length on stage interview on Saturday. We've chosen this rare screening of her debut feature, which turns love-on-the-run B-picture clichés right on their heads. An average 30-year-old with a couple of children and an absent husband, Cozy lives out the dreariest of existences until one night she sneaks out of the house, hooks up with the extremely aimless Lee and winds up on the lam after the pair think they've shot a local home-owner.
BFI Southbank, Belvedere Rd, SE1 8XT.
Sat Mar 4, 2.30pm. £8.35 - £11.75.
8
Comm.une Cinema: 'Raving Iran'
Join German director Susanne Regina Meures for a screening of her new documentary, a look at (as the title implies) the culture of dance music in Iran. Following Tehran-based DJs, Anoosh and Arash, also known as Blade & Beard, the film explores the persecution, brutality and oppression faced by those who choose a lifestyle not strictly approved by the religious and political authorities.
House of Vans, 228-232 Station Approach Rd, SE1 8SW.
Sun Mar 5, 4pm. Free but booking essential.
9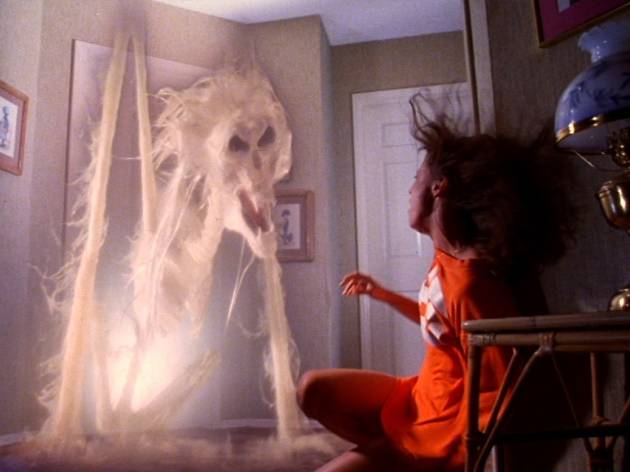 'Poltergeist'
Not the disappointing remake, but a 35mm film print of the Spielberg-produced 1982 original. It's a barnstorming ghost story set in one of the small suburban houses Spielberg knows and loves, where the family canary is called Tweety, and the kids read Captain America comics and eat at Pizza Hut. Gradually this impossibly safe world is invaded by something inside the family television. Soon the plot takes off into a delirious fight with demonic forces suggestive of nothing so much as a Walt Disney horror movie.
Prince Charles Cinema, 7 Leicester Place, WC2H 7BP.
Sat Mar 4, 8.45pm. £12.50.
10
'Weekend'
An original 35mm print of Jean-Luc Godard's vision of bourgeois cataclysm. A savage Swiftian satire, it depicts a collapsing consumer society as a married couple set out for a weekend jaunt, passing through a nightmare landscape of highways strewn with burning cars and bloody corpses (a stunning ten-minute take) before emerging into a brave new world peopled by Maoist revolutionaries living like redskins in the woods off murder, pillage and rape. His hero and heroine emerge as oddly tragic figures, modern Robinson Crusoes wandering helplessly in limbo because, even if they could find a desert island free of abandoned cars, they are incapable of surviving without consumer goods.
Regent Street Cinema, 309 Regent St, W1B 2UW.
Wed Mar 1, 8.15pm. £12, £11 concs.
See what's on at the cinema this week