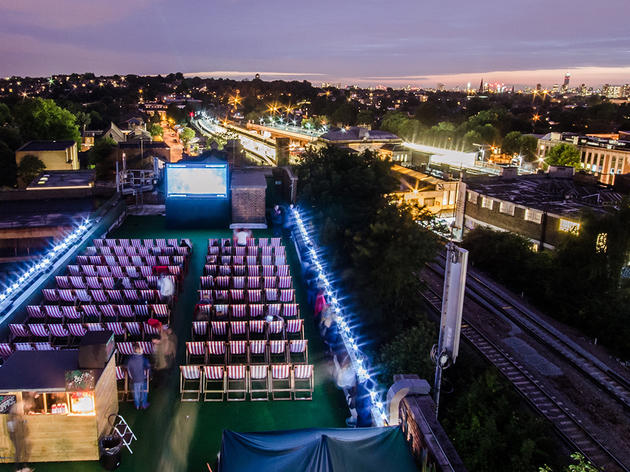 1/2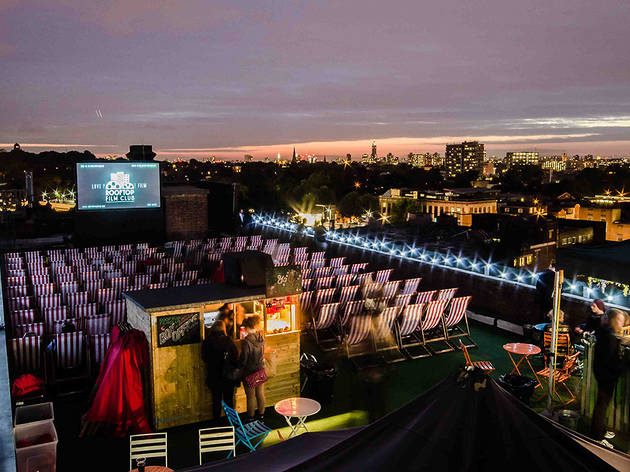 2/2
Catch a movie in the clouds at the top of the Bussey Building in SE15, with a panoramic view over the city
It can be hard to keep your eyes on the films at the Rooftop Film Club in Peckham, what with the knock-out views over the city. The sunset panoramas will have you reaching for your cameraphone as soon as you arrive.
Like all the Rooftop Film Club venues this is state of the art outdoor cinema, with comfy director's chairs, blankets and wireless headphones. Film-wise, it's a mix of recent hits (like 'Room' and 'The Danish Girl'), '80s classics ('Top Gun') and golden oldies ('Casablanca').
The roof space and bar open at 5pm and screenings start at sunset (check your ticket for the exact time). Food and drink are available, provided by local pop-up Italian supperclub Forza Win and Spirited Mixers.
And check out the Rooftop Film Club's venues in Shoreditch, Stratford and Tobacco Dock.
For full details visit www.rooftopfilmclub.com/london
Average User Rating
4.8 / 5
Rating Breakdown
5 star:

10

4 star:

2

3 star:

0

2 star:

0

1 star:

0
Watched "Stand By Me " on a gloried even care of those wonderful folk at Time Out Card ! Great film and truly amazing venue ! Amazing 360 views of our great city . Pilgrim Pizza and extraordinary cocktails . A very special evening . Great film great location. Great night ! Thank you Time Out Card !
What a wonderful way to start the week! First time at the Rooftop Film Club for me and Emma W - but would definitely go again. Bar was fun, blankets were a necessity (it does cool down!). But as the temperature dropped with the sun, the views got better and better. The natural sound effects of planes overhead and trains down below only added to the nostalgic soundtrack of 'Stand By Me' (goodness, was it really 1986 when I last saw this gem?!). A last lingering look out over the Londinium skyline before leaving reminded us just what a wonderful place it can be. (the moody pic is EW's!)
We had such a great time at the Rooftop Film Club in Peckham Rye last night! The venue is full of wonderful patina, the views are stunning, the food (wood over pizza!) and drinks are reasonably priced.
We started off gazing at the Shard in the distance and sipping on a cider. After ordering some pizza and claiming some blankets (2 each - it was a chilly night), we took our seats and chilled out with a pint in our hands watching a beautiful sunset. whilst waiting for the film to start. By the time the film started, I felt like I had already enjoyed myself much, much, more than on your average cinema excursion.
Rooftop Film Club is a cinema experience like to no other and you'd be a damned fool to miss it!
Went for the Time Out Cardholder film screening and had a great time. This was the first time we have been to a Rooftop Film Club and we thoroughly enjoyed the experience. The sound and image quality were fine, it wasn't particularly chilly but the blankets were welcome. Blend the great views and the rich colours of the twilight sky framing the screen and all round this was a special experience.
Great night out. Arrived early, in time for drinks and food. Delicious pizza made in wood oizza oven. Chilly evening, though blankets handed out, which helped. Fabulous views of London by night. Would definitely go again.

What a GREAT night. Although there was a chill in the air, I wrapped myself in the blankets provided by British Airways (I asked for more than one) and sat back to enjoy Sunshine on Leith. The whole experience was uplifting. The venue, the movie, the views, the bar and delicious hot dogs. As planes flew overhead I could not help reflecting on the wonderful freedoms we enjoy in London, and feeling sad for those in Syria and other parts where the sound of aircraft bring fear. Rooftop Film Club is special.
fantastic views... it is right next to the franks cafe... the food is good and ofcourse beers (and drinks) are available they provided us with blankets as it did get a bit chilly in the night would recommend to go there better than shoreditch one as you get much much better views of the city