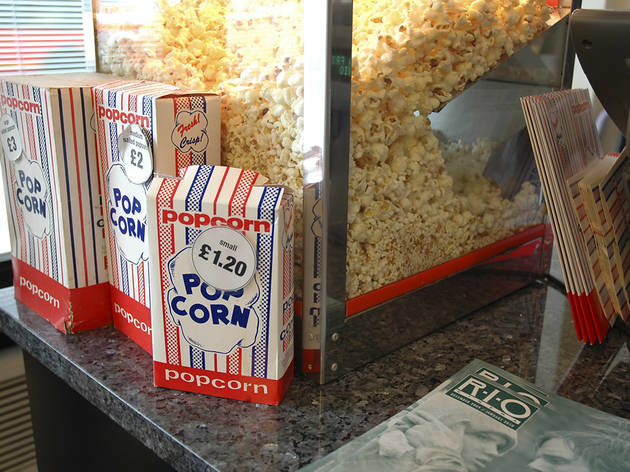 Zero-hours contracts in cinemas: exploitation or necessary evil?
We speak to cinema managers, a former employee and a campaigner for living wages about the recent outcry around employment contracts for cinema employees

In recent weeks there's been a flood of articles in the mainstream news media about the practice of using zero-hours contracts: a method of working which allows employers to give contracted staff as few or as many working hours as they see fit – with few or no benefits. Companies such as Sports Direct, McDonald's and Boots have all been the subject of negative reports. Many UK cinemas have also been criticised for utilising these contracts, with the Cineworld chain in particular coming under fire in a piece in The Guardian.

But what's the reality behind these working practices in our cinemas? Are the screens we visit every week – both big chains and independent arthouses – exploiting their staff for financial gain? Or are zero-hours contracts a necessary evil if cinemas want to remain solvent in tough economic times and we want to continue paying the prices we do for tickets?

We spoke to five interested parties – cinema managers, employees and concerned citizens – to get a measure of how zero-hours contracts affect those who work in London's cinemas. Our focus is on independent cinemas, and although we contacted a number of the larger chains for comment, they did not respond to our queries.

Independent cinema manager (anonymous)
'A lot of people in the cinema I work for are on zero-hours contracts and it's rubbish, no one likes it. There's no protection, no sick pay. Cinema staff have never been adequately protected, but it's getting worse. A lot of staff don't have unions anymore. There's a massive gap between the floor staff and those who have made it into an office.

'Cinema itself seems to be doing okay, despite the fact that there's a great depression and everybody's broke. People are still coming to the movies. But jobs are still being cut back. Projectionists are getting laid off, marketing managers are being made redundant and front of house staff are expected to be projectionists, they're expected to do marketing.

'People are trying to do too many things, and the quality suffers. But you have to be seen to do more than one job if you want to be kept on. It's quite ruthless.'
Charles Rubinstein, general manager of the Rio, Dalston
'Each cinema has unique staffing needs, and those change week by week according to how busy they are, how big the film is. We have a number of full-timers – and we'd lose our projectionists over my dead body – but a few staff are on zero-hours contracts, with the option to progress onto other contracts in the fullness of time. And that suits, because there are a lot of students looking for fluctuating part-time work so they can travel for a few weeks in the summer or they can revise before exams.

'It's a logical, sensible way of meeting a certain situation. If we laid on staff every day as if we were expecting a big blockbuster success, we'd be paying so much out in wages we'd be out of business in a very short space of time. Staff costs are the single biggest item of expenditure.

'I know there's been a lot about this in the media, but a newspaper doesn't have the same issues employment-wise because they need a steady amount of people. If there's a dramatic event in Syria, does The Guardian take on more staff?'
Former employee of an arthouse cinema (anonymous)
'I was offered part-time work with a zero-hours contract. It was all down to the whims of the managers whether or not you got work that week, which is just impossible to live with.

'They were very manipulative. And they employed so many people that we ended up getting about three hours a week. It seems as though zero-hours contracts are being used more and more at the moment. The staff are getting younger and less experienced, but they're expected to do more.

'I know a lot of cinemas say that if they didn't use these contracts they'd go out of business, but I bet if you looked through the finances of the cinema I worked for you'd find that isn't the case.'
Fred Paxton, the Curzon Living Wage Campaign
'I was just a customer at the Curzon, and I read a piece in the New Statesman about the working conditions [relating to zero-hours contracts]. I had the idea of Curzon as being quite progressive. I thought the least I could do was start a petition.

'The response was great, it grew very quickly – Ken Loach came on board. Although the Curzon management responded with promises to improve conditions, little progress has been made since then.

'I can see the advantages of those contracts for some people, for students or young people who might want a job they can drop in and out of. But the wages they were receiving were unacceptable for a job in Central London, and there needs to be a route into full-time contracts for those employees who have proved themselves. The management need to be receptive to that.'
Rosie Greatorex, manager of the Lexi, Kensal Rise
'I don't think the problem of zero-hours contracts can be looked at in isolation from the wider question of how cinemas and film culture are funded. When you meet cinema managers from the rest of Europe, their venues all receive public money and the result is a thriving cinema culture.

'I've worked in cinemas which utilise zero-hours contracts and I know they can be difficult for some staff, especially those with families. But it's often the only way a small indie cinema can keep going.

'The Lexi is run by a small staff team and a large number of local volunteers – they all give about three hours every two weeks to work on the box office or the bar, and 100 percent of the cinema's profits go to charity. But of course volunteers aren't the answer. What cinema needs is to be valued, and properly funded.'
More Time Out film features