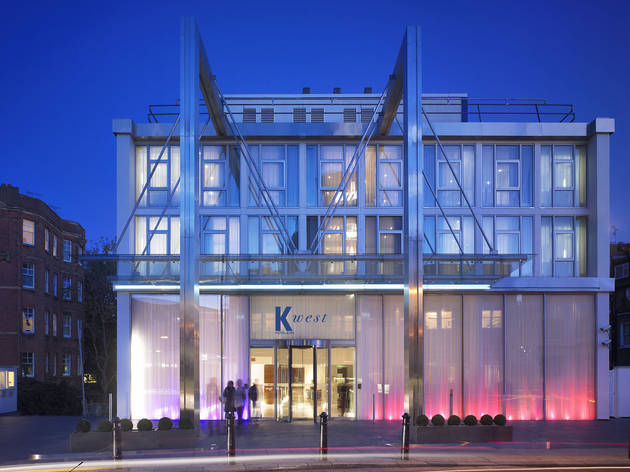 1/7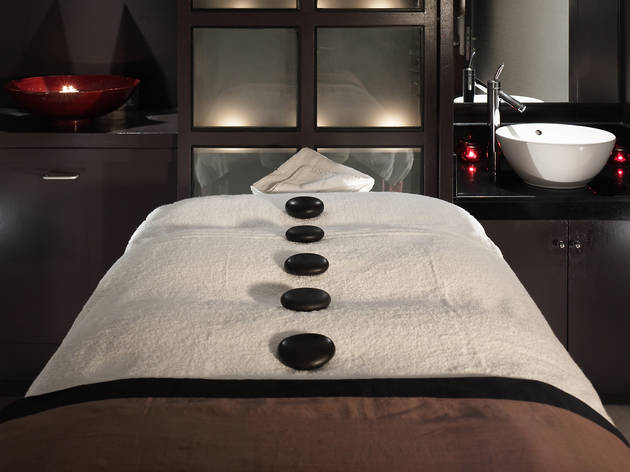 2/7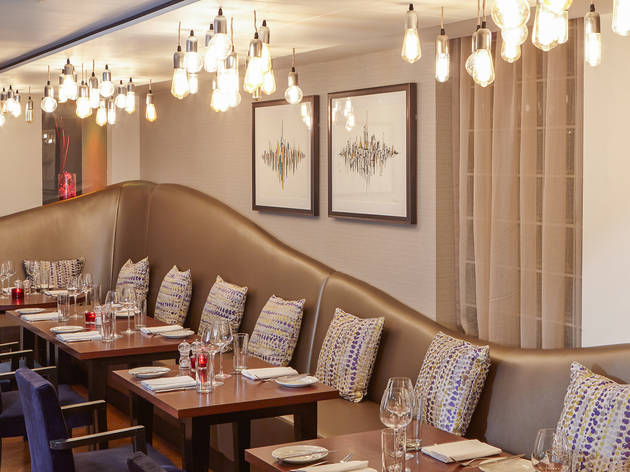 3/7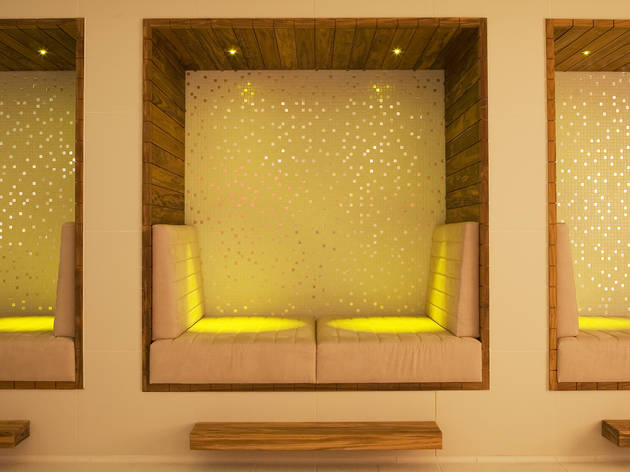 4/7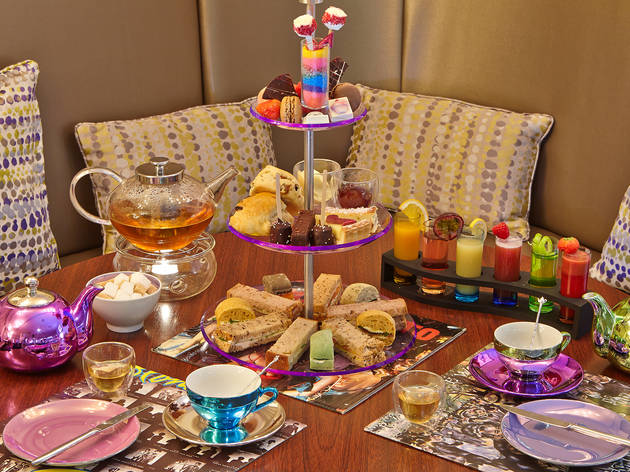 5/7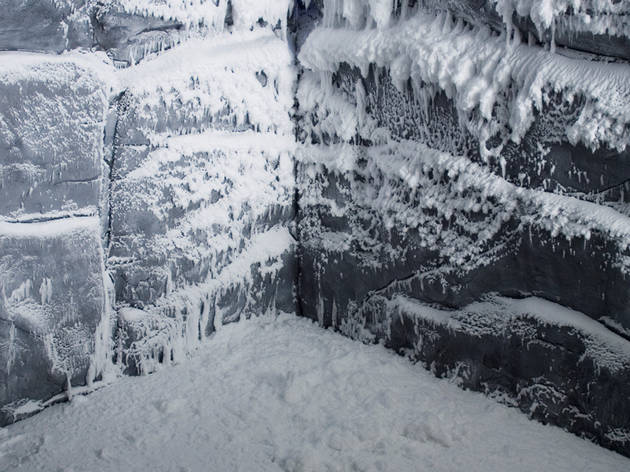 6/7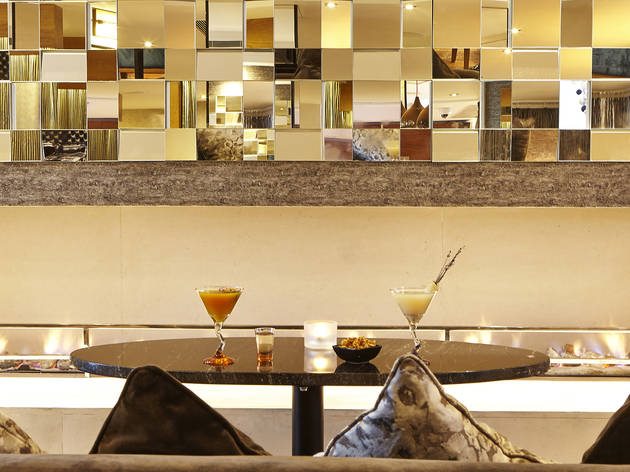 7/7
A brilliant base for exploring London, with a super-swish spa
Nothing to do with Saint Pablo or his selfie-snapping wife, the K-West hotel is a thoroughly modern hotel with musical history. An old BBC building that Bob Marley once played in, the sleek glass façade front is an accurate representation of what lies behind it – not a stuffy, intimidating grand old hotel, but a place with a sense of fun; an in-house DJ spins until the wee hours every Friday and Saturday, for example. Which sort of says it all; this hotel is less about the experience of being in the lap of luxury and more about it being a really excellent place to crash. Which isn't a criticism, the staff are wonderfully attentive, the rooms clean and smart, and I got one of the best manicures of my life in the well-equipped (there's even a Narnia-esque snow room down there) basement spa.

Great value for money, each airy, sizeable room comes with its very own smart tablet and, even more helpfully, smart phones that come with unlimited data browsing so you can go off into London and explore the city. And while Shepherds Bush might not be the shiniest jewel in London's crown, the hotel is incredibly close to the now 24-hour Tube. It also has Westfield on its doorstep if the thought of Oxford Street shopping is a bit much. Near also to the Hammersmith Apollo, this hotel is perfect for active visitors who want to wring as much out of London as possible. And despite the DJ, the bedrooms are quiet and peaceful, so you can catch plenty of zzzs in the huge, comfy beds, ready for the next day of adventuring.
Time Out tip
Less than a 10-minute wander round the common is the Dorsett Hotel, home to handsome Chinese restaurant Shikumen – skip breakfast one day and go there for delicious dim sum.
Venue name:
K West Hotel & Spa
Contact:
Address:
Richmond Way
London
W14 0AX

Price:
£103.51 to £205.00 per night
Menu:
View Menu
Do you own this business?
You may be interested in:
Rating Breakdown
5 star:

5

4 star:

0

3 star:

0

2 star:

0

1 star:

0
Great hotel in West London, hotel was clean and spacious enough. All staff wwere friendly, opended doors and answered my question with a smile. Perfect place to stay in London http://goo.gl/Yx87cY
Despite living in West London for four years now, mysteriously this was my first trip to K Spa at the K West Hotel five minutes walk from Shepherd's Bush Central Line and Overground station. The hotel looks funky and rather avant-garde on the outside, and professional, contemporary and classy on the inside, so I was unsure what to expect of the spa. It is to be found on Level 1 (the basement), where the lift arrives opposite the spa reception-cum-shop, where a member of staff was present to check me in. She volunteered all I needed to know, before I was directed down the very hotel-feel corridor, past all sorts of closed doors housing exotic-sounding treatment rooms, a sun meadow and a relax room. Changing rooms (5 out of 5) Are accessed via a keycard, which lets you into them, but also through to the spa on the other side – I guess this prevents non-paying guests from entering. The rooms are very good, roomy, with good sized lockers available with keys from reception, so no need to bring a shower. The gents' contained four showers with Aromatherapy Associates wash, shampoo and conditioner. A large and small towel are provided, as are flip flops, but no robes (perhaps these are only for spa days?). The overall impression is very clean and modern, definitely in keeping with the spa environment. A spinner is provided for wet costumes. Hydropool (4 out of 5) The hydropool has centre stage in this compact but well laid out spa. It contains two bubble beds (unfortunately raising the body a little too high out of the water), a more comfortable bubble couch seating three, and a swan neck water fountain. Unfortunately the swan's neck was broken, which didn't impress, and neither did the tidemark around the pool, suggesting a clean was long overdue. The pool is a nice temperature, slightly on the cool side for a spa pool, and over-chlorinated. The pebble-effect floor is nice, and a glass panel at the front is an interesting feature, but more for the observer than the occupant. There are twinkly starscape fibre-optics above. There's no swimming pool here; we thought this spa pool could have been extended a bit to make room for a jet to swim against, but this would have taken the focus away from relaxation, which is definitely the vibe in this chilled space. Sauna (5 out of 5) The sauna and sanarium are to the side of the hydropool. The sauna has three decks and a bucket for hotting things up even more than it already is! It's lit with a warm lightbulb-yellow glow. It's clearly very recently fitted, and is flawless. Sanarium (5 out of 5) The sanarium also has three decks, with dark orange lighting to complement the light bulbs, and a lovely refreshing mint aroma. It's at a perfect temperature for me, as I often find the traditional saunas too hot to handle. In fact, I got chatting in the sanarium to a young guy and was able to spend around 20 minutes before needing to leave, and not just because he was trying a religious conversion job – in his pants, no less (did you forget your trunks?)! The sauna and sanarium are linked, and both have the entire front and part of the side glassed to allow a view right the way down the spa, and lots of light in. Steam (5 out of 5) The steam room is smaller than the sauna and sanarium, with two corner tiled benches, gently heated, to seat four. A novel secret feature is buttons that shoot hot air down to each seat position! The steam vent is at shoulder level, which avoids burnt feet but Kneipp hoses to either side mean you can cool off and stay as long as you like. The steam room is lit by pale yellow lighting, a supposedly scented with a herbal fragrance, which smelled rather soapy to me. Snow paradise (4½ out of 5) This really was a first for me – a chamber where pure snow collects attractively on the walls and falls from the ceiling as soft icicles. It tries hard to be not too much like a hotel walk-in freezer, and I had to fight the urge to build a snowman. Underfoot, the snow looks icy rather than powdery, which prevented me from rolling in it. However, it's very effective when applied to the body after one of the hot rooms. Some kind of seat would be nice, but once you've rubbed the snow in, your hands are too cold to stay more than a minute or two. Ambiance (4½ out of 5) The spa has an exclusive feel to it, a very contemporary design, and some innovative features. There is limited seating, in the form of cosy suede lined "Kuddles" nooks (attractively lit by green lights, which didn't make reading very easy). On the down side, there is only enough space for three couples, people tend to 'reserve' them with their towels, and there is nowhere else to sit away from water, heat or cold. There are two footbaths, little more than sunken sinks – no massage jets or even textured bottoms to the basins. There are two great experience showers with adjustable temperature, three options for overhead shower, and two directable body jets. Iced water and beakers are constantly replenished. There is music in the spa, but a little too gentle to hear over the noise of the hydropool or in the heat experiences. The low basement ceilings meant noise carried easy, but most guests were invested in appropriate volume to keep the space quiet and chilled. Overall levels of cleaning are good, but the tiling is starting to wear on the edges. Treatments There is an extensive menu and they're not cheap. I haven't tried any but I want to. Overall score 94% (33 out of 35) Almost perfect. This is a real sanctuary, and the £25 charge for hotel guests and visitors booking less than two hours' treatments (or £50 to use the spa alone) means there are no kids, it doesn't get too busy (even at the weekend), and everyone seems invested in keeping quiet. I'll definitely be back. DoctorSpa's top-tip Give this spa a whirl for the bargain price of £30 at payasugym.com.