The Four Seasons at Ten Trinity Square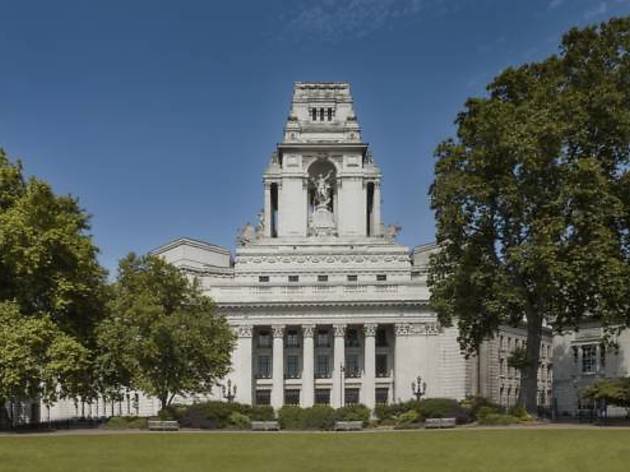 Time Out says
The old Port of London Authority building get a new lease of life… and what a wonderful life it is.
The sense of grandeur as I enter Edwin Cooper's imposing but beautiful 1920s building, remodelled as yet another plush five-star London hotel earlier this year, steels me for a Maggie Smith style encounter a la 'Downtown Abbey', but this being a Four Seasons, instead I receive the courteous professionalism I'd expect - with just the right sprinkling of bonhomie. It's a staffing style that spreads to 4BI & Associates' interior design too; yes, the building's skillfully crafted wrought iron and majestic rotunda are sights to behold, but they're matched by equally arresting modern delights – a Cerith Wynn Evans light sculpture in the lobby, for example, and a diminutive but eye-catching bar in the aforementioned rotunda, where multi-coloured bottles sparkle like jewels in an otherwise muted space.

Subtle nautical themes run through the public areas, notably in the rotunda, where bas-reliefs reference natural elements and columns look for all the world like fat pillars of rope, and also in the lovely pale grey marine life padded-reliefs of the restful La Dame de Pic restaurant (one of two, with an Asian restaurant opening later this year). In the perfectly appointed rooms, despite the opulence (gold mosaics, acres of marble and glistening chrome in the bathrooms), comfort and mod cons are ramped to the max in an easy-on-the-eye, internationally corporate style at its most manly and sumptuous.
If there's a disappointment in Ten Trinity Square it's in the sense of being anywhere in the world, which is a shame when you're an arrow's shot away from the Tower of London – literally; there's a marker just inside the threshold which the Tower's archers had to be able to reach. Rooms, bar and restaurant all look away from the river, so if you want a view, you'll have to swing for a suite, sneak a peek into the stunning UN ballroom, or check into the CitizenM hotel next door. While this latter solution has the upside of leaving you plenty of money to spend on one of the fabulous cocktails (which might include sandalwood, oolong tea or tonka beans), not to mention a truly first-class meal devised by three Michelin-starred chef Anne-Sophie Pic, really, this is a place for cossetting yourself away from the cares of the world, from dinner through to breakfast. So eschew the view and splurge in style.
Time Out tip
A ten-minute walk east brings you to the famous Cable St, home to the gorgeous Wilton's Music Hall. This Grade II-listed nineteenth century music hall hosts a wonderfully eclectic range of events; catch a magician, band, play or even a freakatorium, or just check out the lovely café and bar.
Details