Heads up! We're working hard to be accurate – but these are unusual times, so please always check before heading out.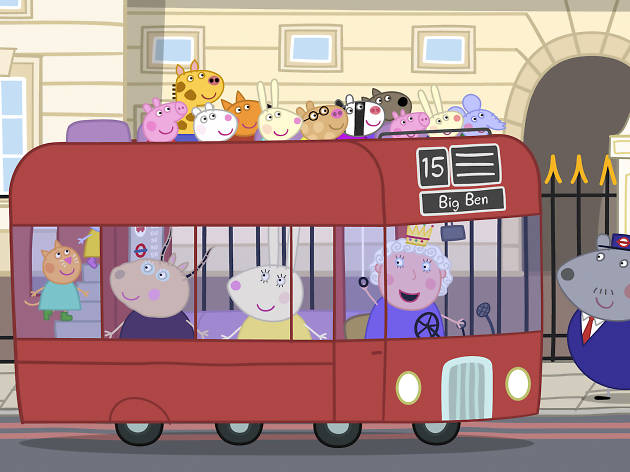 Seven questions every parent probably has about Peppa Pig
Before 'Peppa Pig: My first Cinema Experience' hits cinemas in April, we take a look at the big questions which puzzle every parent who's endured a Peppa episode for their kids
When my wife fell pregnant the baby books we'd dutifully read semi-prepared us for pretty much every big milestone in our son Janek's early life. Or they did until the day he came home from nursery chuntering about something called 'pehpeeg'. We had no idea what he was banging on about until we went to the supermarket and he lunged at some pasta branded with Peppa Pig, the eponymous porcine heroine of a kids' cartoon that we were aware was enormously popular and addictive, but had never in fact seen. Was it so addictive that Janek could literally become a fan without actually even seeing it?
Obviously not: it turned out his nursery had taken to playing an episode to chill the tots out when they started getting antsy around home time. I won't bore you with our dreadful middle-class fretting about whether it was appropriate to watch TV at nursery, but will rather skip to the bit when he was having some tantrum or other and we decided to boot up Netflix and put the show on.
The effect was remarkable: he immediately stopped grumbling, sat down, and stared intently at the crudely animated adventures of Peppa and her family. I don't really see why it is so vastly more appealing than any other cartoon: clearly Janek only has the vaguest idea what's going on, and he seems less entertained, more deep in study. It's weird, but he loves it.
The irony of Peppa is this: it's actually pretty good. The show – created and produced by animation studio Astley Baker Davies – may be aimed at pre-schoolers, but it has a brutally unsentimental streak and surreal sense of humour that occasionally gives it the quality of a U-rated 'South Park'.

It sets me a quandary this Easter holiday, when the snappily named 'Peppa Pig: My First Cinema Experience' hits the nation's picture houses. It's not a feature film, but rather nine new episodes of the show, bundled up together and released exclusively on the big screen. On the one hand, it's a rock solid morning's activity. On the other, Janek will probably try to demolish the place when it ends. And of course, my son – being two – has absolutely no idea that it exists and thus there would be no reprisals if we didn't go. I am still genuinely in two minds, then, but the awful truth is this: I'd quite like to see it myself. In the meantime, here are seven questions that every parent probably has about Peppa Pig
1. Why does everyone live on a hill?
Even the local playground is on top of an improbably vertiginous peak.
2. What on earth's the deal with Miss Rabbit?
Not to be confused with her identical twin, Miss Rabbit seems to work literally dozens of jobs. In 'Miss Rabbit's Day Off' society virtually grinds to a halt.
3. Why does everyone have alliterative names?
When Pedro Pony suggests that Richard and Rebecca Rabbit's new sibling could be called Michael, it's a tumbleweed moment (despite Peppa's brother being called George).
4. Is Daddy Pig an imbecile?
Despite being a sort of architect and all-round nice guy, DP often entertains Trump-ish delusions, like saying he can speak French when he definitely can't.
5. Where does Grandpa Pig get all his money from?
The retired sea captain has an endless supply of expensive vehicles and gadgets.
6. Why does Peppa only have one set of grandparents?
It's established that Grandpa and Granny Pig are Mummy Pig's parents, but there's no reference to Daddy Pig's folks.
7. Is Madame Gazelle... a vampire?
In 'Pumpkin Party', Peppa's teacher sighs nostalgically about vampires and has no reflection. Still, she's obviously passed her DBS check, sooooo...
Take the kids to see some real-life pigs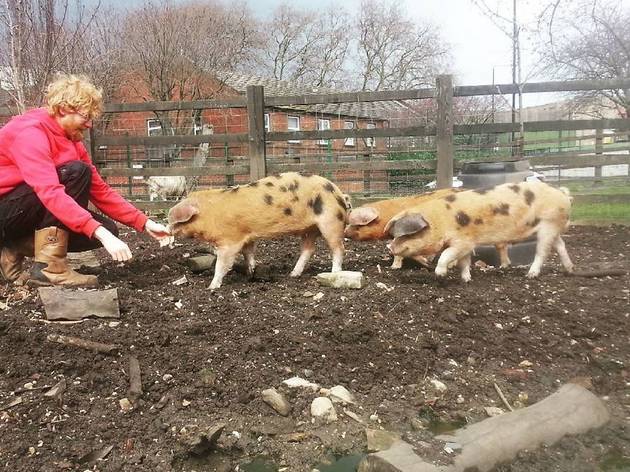 Forget Peppa Pig for a minute – here's where to see the real thing. And if the kids tire of pigs, London's city farms have plenty of sheep, cows, llamas, rabbits and all kinds of other fantastic creatures too.
Support Time Out
We see you're using an ad-blocker. Ad revenue is Time Out's main source of income. The content you're reading is made by independent, expert local journalists.
Support Time Out directly today and help us champion the people and places which make the city tick. Cheers!
Donate now