Coffeesmiths Collective
From latte art to well-pulled espressos, Time Out tests a coffee-making course in the City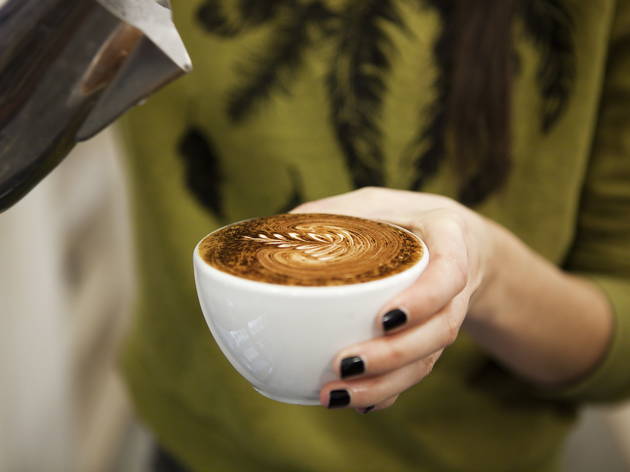 Roopa Gulati
reports from the coffee front line
The Class

'The Coffeesmiths Collective – The Art and Science of Espresso'.


Star rating

4 stars


The aim

To brew espressos like the professionals (and make pretty patterns over flat whites) after one evening class in the City. But to practise at home and get real benefit from the course, you'll need your own espresso machine, or access to one.


Cost

£45, for one session of two hours.


They claim

'Designed for people who have an interest or a passion for coffee and want to learn the key principles and techniques of espresso coffee making. After covering foundational theory (sic), you'll develop your espresso technique under the personal instruction of our skilled baristas.'


What we did

Four espresso virgins met in the brightly-lit café; two hours later, we were talking pressure bars, 30 second runs, and stretching milk as if we were born into it. All thanks to the expertise of
Coffeesmiths Collective
co-founder, Kiwi Chris McKie. He's a pro at assessing a good grind (lots of rough edges on the beans to extract maximum flavour), the precise coffee weight needed for an espresso (20.4g), and he runs this hands-on masterclass on key techniques. Flying the flag for New Zealand, we also learn how to froth milk for flat whites, using the espresso machine's steam spout until the dairy becomes stretchy and meringue-like. And then there's the drama of creative artwork. I made a sci-fi Klingon – an original.


Who goes

Coffee geeks of all ages and backgrounds who already own, or use, espresso machines.


Takeaway

The gift of being totally 100% wired after a two-hour evening session – four flat whites and two espressos later, it was a legal high.


Best tip

One of life's lessons: 'Just because an espresso has a mile-high crema, don't expect it to be a memorable experience'.


Commitment

This course is great if you want to refine your espresso technique. The catch, of course, is that you need an espresso machine, and good ones cost hundreds of pounds. Mine might have to wait until that lottery win. But many of McKie's top tips are handy even when making regular filter coffee with stovetop makers and cafetieres, as so much depends on the grind and the temperature of the water.


Where do I find it?

The Coffeesmiths Collective, c/o The Liberty of Norton Folgate,
Units 8 & 9, 201 Bishopsgate,
 EC2M 3UG;
http://coffeesmiths.co.uk/home-barista/coffee-school
.
Shoreditch High Street
Sponsored listing
Hodge Podge
Tiny Hodge Podge is nestled just off Stroud Green Road, near great delis and supermarkets, a place filled with culinary creativity – and it's opposite local ledge Max's Sandwich Shop. The simple decor and spindly tables and chairs don't match a spot named after mess and miscellany. The menu also appears straightforward until dishes arrive, each with a mishmash of surprising flavours, and a kind of hodgepodg-iness starts to surface. 'Tuna and toast' was triumphant: a plump pile of tuna ceviche sitting on zingy lime and coriander salsa, paired with a generous smear of avocado and a crisp take on prawn toast. Equally brilliant was the 'aubergine and miso'. This – aubergine ravioli with apple and miso stock, pickled radish and watercress pesto – was light, delicate and intriguingly moreish. The strange delights continued. 'Hake and stew' was rich and sweet: a perfect seasoned fillet on a pile of fine fennel curls with a smoky tomato and mussel base. While buttery-soft short rib with a peppy oyster and parsley mayo was one of those dishes you eat in smaller and smaller mouthfuls to ward off that moment when there's none left. Hodge Podge is a good word to say. But it sounds heavy and stodgy, which this fun, optimistic spot is certainly not. It can also mean a muddle or a confusion, which doesn't sit quite right either. Hodge Podge's dishes are a jumble of flavours, but nothing about this place is a mess.