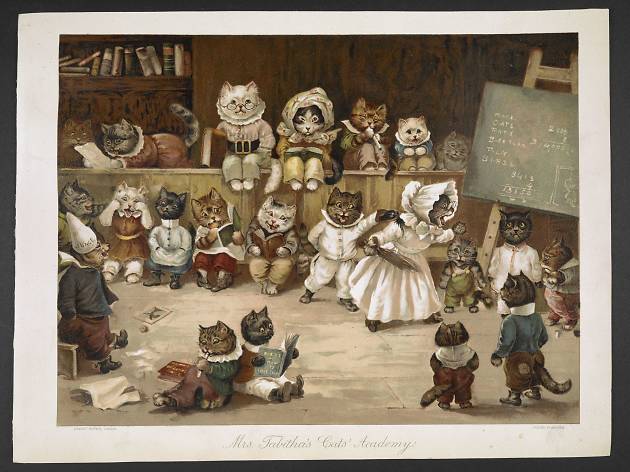 Confession: I'm a dog person. So it's not partisanship at work when I say the British Library are the cats who scored the exhibition cream with this free display of the best of felines in literature.
That's right: cats in books. It's easy to overthink museum shows, coming up with a bizarrely complex theme that ends up lost in translation to the visiting public or dredging up artefacts from storage vaults, only to find that sometimes the bric-a-brac of yesteryear was forgotten for a reason. This, in contrast, is simply a brilliant idea turned into a brilliant show. Cats! In books! Visit it and you'll end up grinning like Alice's invisible tree-dwelling friend.
The small show of illustrations, poems and sound clips is divided into themed sections. There's 'The Mystery of Cats', 'Traditional Tails', 'The Purrfect Crime', 'Mewsic and Mayhem', 'In the Company of Cats' and 'Comical Cats'.
Arguably, though, nearly everything here could be put in the last category, because it's exceptionally rare to find a picture of a cat – especially in children's literature – that isn't to some extent inexplicably hilarious. That's why we invented cat memes and never looked back.
This basic rule (cats = funny) is true to the power of ten whenever historical dress of any kind – particularly bonnets – is added to the equation. Like in 'Mrs Tabitha's Cats Academy', a 1892 drawing by Louis Wain, where the poor pussy schoolmistress tries to keep her class of mischievous kittens from causing havoc. Observe their little ears flat against their heads, and their itsy-bitsy downturned mouths, as she gives them the Alex Ferguson hairdryer treatment, then throw back your head and laugh, laugh, laugh. Laugh until you thoroughly disgrace yourself in the entrance hall to the British Library.
But the best part of this exhibition is that everyone (paid-up members of the Kennel Club included) had a favourite book-based cat as a child. And they're all here, crammed whisker to whisker in a celebration of every soft-pawed protagonist created. 'The Cat in the Hat', 'Old Possum', 'Mr Pusskins', 'Gobbolino', 'Puss-in-Boots', 'Tom Kitten' and, last but not least on the catwalk of fluffy-faced glory, Judith Kerr's 'Mog'. Lovely, lovely, Mog. Only a very bad human couldn't love Mog. With everything that's going wrong in the world, Mog's probably the only thing that can properly cheer us up.