Tutankhamun: Treasures of the Golden Pharaoh review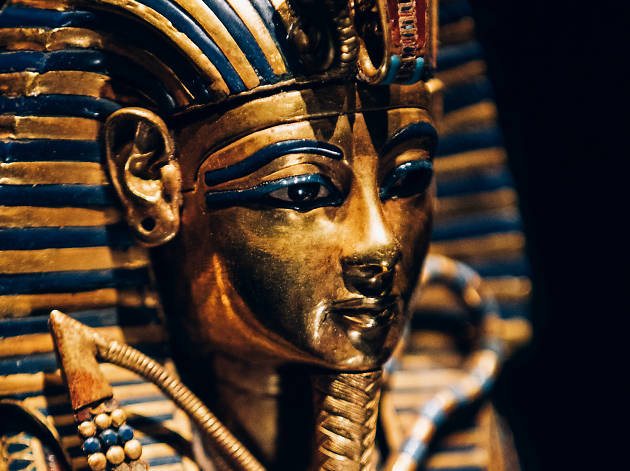 Time Out says
From its Discovery Channel-style intro to its blingy sort-of catalogue, this show of 150 artefacts from the tomb of Tutankhamun feels like it would be more at home in the Bellagio in Vegas than in the venerable British Museum. And that's okay. There's not a whole lot of new scholarship here: this is the greatest hits. A century after the discovery of these extraordinary objects by archaeologist Howard Carter in 1922, this world tour will be the last time they will be seen outside Egypt. Time to get booking and gawping.
Usually the alien sumptuousness of ancient Egypt is diluted by a lot of historical/political/geographical chat. Not here. Here you just get the journey of the young dead pharaoh Tutankhamun into the afterlife with its attendant rituals. Reduced to that simplicity, it's suddenly quite human, childlike almost. From a small gilded bed to a doll-like entourage of workers to accompany him into the hereafter, everything seems in inverse scale to the gigantic power the pharaoh wielded. In death as in life, Tutankhamun is presented as boy warrior, boy explorer, boy hunter, boy king, fearlessly navigating the netherworld, his tomb a teenage bedroom full
of charged symbols.
It's not all sparkly stuff. Yes, the golden statuettes, jewellery and other grave goods retain their amazing power, a power that saw Carter damage the pharaoh's corpse in his haste to prise them off him. But there's more humble stuff: a delicate case for pens and a selection of clubs and boomerangs seem inadequate provision against the perils of the afterlife. Their arid entombment has left these objects amazingly undamaged, but also preserved their shattering strangeness. The corpses of two stillborn babies were buried alongside Tutankhamun, offspring from his marriage to his full sister. If there's one thing this show tells us, it's that if we think we truly understand it, we're kidding ourselves.
It's also sending a message. The cult of ancient Egypt is entering a new dynasty, one in which you'll have to go and see it in person, or experience it virtually. After a century of worshipping this 'treasure' while also sort of considering it everyone's cultural property, that feels like a line in the sand.
Details
Dates And Times
Average User Rating
1.7 / 5
Rating Breakdown
5 star:

0

4 star:

0

3 star:

0

2 star:

2

1 star:

1
Underwhelming. Far too overcrowded. Queued outside for an hour despite turning up bang on time as instructed. People pushing in all over the place and not enough staff to stop them. Once inside. Artifacts were not premier league in my opinion. Hard to see them through the crowds. If you want to see the famous death mask go to Egypt because it's not here despite the advertising showing it on the posters. The Dior exhibition at the V&A earlier this year put this to shame.
In total agreement with the first reviewer. What an absolute waste of money. It becomes very clear from the moment you are pushed into the gallery that this exhibition is a money-making exercise, with little care for the actual visitor experience.
The crowd management is non-existent, and as a result so was the experience of seeing anything in room 1 and 2. Simply too many people crammed into the room. Don't try waiting for the crowd to subside in the hope of being able to actually access any of the artefacts, it does not happen. The organisers just keep on shoving more people into the room regardless of how busy it is.
And to put this into perspective, we went mid-week, and it was clearly not peak capacity, as punters were encouraged to buy tickets whilst we were waiting.
And yes, you have to double-check that you have not had a momentary lapse of judgement and found yourself in Madame Tussaud by mistake, when you find yourself being told to stand in front of a green screen to have your picture taken before you can even access the gallery.
So as a summary:
It's pricey.
For that money, you get to see very little unless you fight people to the front of the crowds.
You get the opportunity to spend even more money for a tatty picture. Or if you want to leave your bag in the usually free cloakroom. Or buy cheap looking pricey gift from the gift shop.
A bit of a waste of money for a thoroughly unpleasant experience. Very little thought being put into all this.

A bit disappointed Saatchi is letting this happen to be quite honest.
overpriced, set up like a tourist trap, no thought into how the adverse weather (aka british winter) will be handled for those forced to queue outside for 20minutes, little detailed history into objects or broader history on the topic for those that may not be as familiar with the period, and an entire 'gallery' that's actually just the gift shop. don't get me started on the 'theme park' esque forced green screen photos at the start. also please don't go thinking the death mask will be there (due to their advertising). this is too fragile to leave Egypt.
advice: save your £49 and go to the british museum for free.
Snap up exclusive discounts in London
Time Out's handpicked deals — hurry, they won't be around for long...