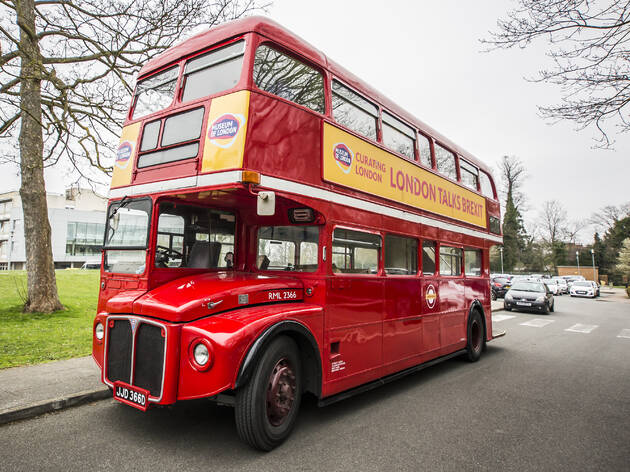 We hopped aboard a 'Brexit bus' going around London – here's what happened
The Museum of London is going around town on a bus to collect people's opinions about Brexit and the capital. Chris Waywell joins them in Bromley
'I am a Londoner.'
'When we visit Wales, we call ourselves Londoners.'
'London's one of the best cities in the world.'
'I do consider myself a Londoner.'
Guess how these people feel about Brexit. Okay, you can't, though actually number one is a woman who came to the UK from Iran 44 years ago and she is a hardline, no-deal Brexiteer, two and four are remainers, and number three voted leave ('before I knew the implications').
They are all giving their thoughts as part of a project called 'Brexit Talks'. On a bleak March afternoon on Bromley High Street, a week before the UK is due to leave the EU, they're being videoed by Museum of London curators answering three questions: 'Do you consider yourself a Londoner?'; 'How has Brexit affected your relationship with London?' and 'How do you feel about Brexit in general?'. The answers are – inevitably – all over the shop.
'I don't call myself a Londoner; I live in Kent,' says 81-year-old Bromley resident Angie, from behind a stall full of potted pansies, before adding: 'There's nowhere on earth like London.' Sam, who grew up in Hampshire, considers that he is just 'passing through' the capital, even though he's been here 12 years. Remainer Fayida takes a whole-nation view: 'I've lived in other places and they don't get the opportunities. I believe that London is very privileged: it gets all the opportunities. Places up north are not so lucky.'
I'm not surprised by this variety of standpoints and identification (or lack of it) with the capital. I grew up in Bromley. I know its Janus-like duality: half the residents face towards London, feeling its reverberations along ancient commuter tracks. Others turn their backs on the capital, cleaving to Kent, or comfortably minding their own business in suburbia. In the 2016 EU referendum, the borough was marginal: 92,000 voted remain; 90,000 leave. It should offer a welter of views, and it does.
'We want to interact with as many Londoners as possible'
'Brexit Talks' has deliberately been conceived to get opinions from places like this. 'We've been to Havering, which voted leave,' says Museum of London assistant curator Matt Williams. 'Newham, which was remain (just), Bromley, Hillingdon and Hackney. We wanted a real mix of views and mix of Londoners.' On the ground, the project's focus is a Routemaster bus – that ever-leverageable symbol of London identity and Britishness. Citizens are invited aboard to share their views, stories and Brexit artefacts. Williams has been surprised by what they've found. 'We went to the market in Romford,' he says. 'Romford was famously really strongly leave. But in a borough you expect to be super-leave, there's a huge range of opinions.' Jen Kavanagh, curator of 'Brexit Talks', agrees: 'There have been some really interesting views about how leaving the EU could benefit businesses; younger people thinking leaving could provide more opportunities for them. Really diverse opinions that I hadn't anticipated.'
Beyond that, though, 'Brexit Talks' is an exercise in oral storytelling and collection. It's part of a four-year Arts Council-funded initiative called 'Curating London', which examines people's lived experiences in the capital, looks to expand the scope of the museum and include the idea of social justice within it. The project aims to avoid the sad truth about history being written by 'the winners'. Not currently having any obvious winners, Brexit seems like a good place to start. 'We want to diversify,' says Williams. 'We want to interact with as many Londoners as possible, especially people and communities who maybe don't feel that museums reflect them. The museum wants to get away from being somewhere that just reflects the past to being somewhere that reflects modern London: what it means to be a Londoner, what it's like to live in a megalopolis.'
The static pedestrianised bustle of Bromley High Street is no one's idea of a megalopolis, but it's clear from a couple of hours here that this approach to information-gathering is a rich one. Without the filter of social media, without the tabloid hectoring and political grandstanding, the real breadth of everyday people's thoughts and anxieties is allowed airtime. Preconceptions are destroyed. A jolly older lady in a full home counties ensemble extols London's diversity: 'London means being part of a very big community, a very mixed community: multicultural, multi-faith.' A happy-seeming young woman who works in the HR department of a college says: 'We should just leave, regardless of if we have a deal or not. I think leaving the EU will benefit us – we're not tied down to so many things.' These are voices from a London that gets lost, lumped together, generalised or ignored amid more media-tasty opinion-forming, and they're fascinating.
'I notice tension between people'
Two things come across above all others. One is that people have had enough. Pro or con, they've got Brexit fatigue and they want it to end. 'I just want out. I'm sick to the back teeth [of Brexit],' says Angie. 'We'll be glad when it's all finished,' says a man called Alan. 'When it's sorted one way or the other.' The other thing is that people are questioning their place within the city as a result of Brexit. A busker called Oliver, who's been soundtracking the afternoon with acoustic Red Hot Chili Peppers tunes, says he sees it first-hand: 'I notice tension between people. [But] you can change a mood yourself: make someone else's life a bit better. At the end of the day, we're all individuals, but we're also a community and if we're all shit to each other, the community's going to be shit.' Sam from Hampshire is feeling something similar: '[Being a Londoner is] being part of this enormous network of people, connected in some way but not knowing each other. You feel part of something and not at the same time.'
'Curating London' wants to preserve these ambiguous, endlessly diverse feelings about our city and the people we spend our lives among. To some extent, 'Brexit Talks' just uses Brexit as a way to get people to analyse their identity. Sure, this is a historically significant moment, but for those of us who live in the capital, that moment is still part of something greater: London. Or, perhaps more importantly, what it means to be a Londoner.
'I've had challenges moving from another country, but London has also meant opportunities'
I'll leave it to Greta, a 26-year-old journalism student who has come from Sicily to do her Masters degree in the capital to sum up. 'London is my second home,' she says, on board the slightly comedic (and now very chilly) 'Brexit Talks' Routemaster. 'I consider myself a Londoner. I've had challenges moving from another country, but London has also meant opportunities. I've met people from all over the world. It's made me grow.'
Photos: Rob Greig
Support Time Out
We see you're using an ad-blocker. Ad revenue is Time Out's main source of income. The content you're reading is made by independent, expert local journalists.
Support Time Out directly today and help us champion the people and places which make the city tick. Cheers!
Donate now