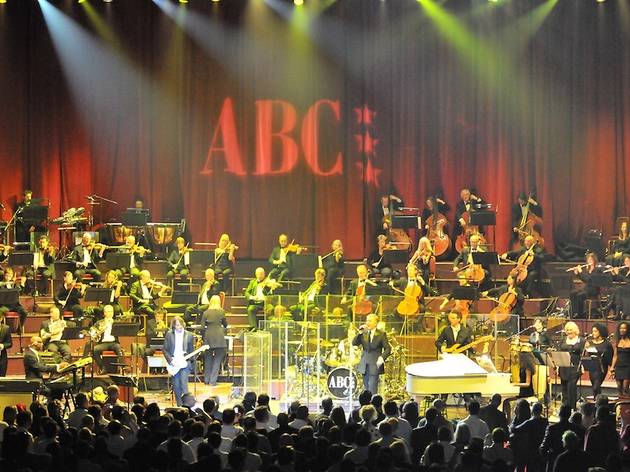 The '80s pop band perform their album 'The Lexicon of Love' plus new material.
Martin Fry's Sheffield new romantics are back again, with another round of performances of their excellent debut album 'The Lexicon of Love' backed by a full orchestra, plus songs from its all-new sequel, 'The Lexicon of Love II'.
Rating Breakdown
5 star:

1

4 star:

0

3 star:

0

2 star:

0

1 star:

0
ABC, Royal Theatre, Drury Lane London, Sunday 30 March 2014.
As a 15 year old growing up in Milan, 1982 was a really special year for pop music in general, all my pocket money was spent on records and clothes, the way you looked and the music you listened to basically defined you as a person, Britain was pretty much leading the whole thing. It is fair to say that one of my best ever purchases happened that year and in my humble opinion remains one of the best album ever produced, ABC's The Lexicon of Love.
Martin Fry has always been a hero to me, super smart presence, great vocal range singing 3 minutes wonders with arrangements mastered by a British version of Phil Spector, in terms of production wizardry Trevor Horn. I'd like to think that to them it was not just pop music, it was art, so producing "Mantrap" a small film directed by Julien Temple increased my admiration for ABC, despite taking the best part of my pocket money from the purchase of the VHS.
Fast forward 32 years and delivering The Lexicon of Love live it's a big big task, very risky, but it turn out to be a winning bet for Mr Fry, his management team and all the line up involved: the Theatre Royal in Drury Lane was packed with people my age, but also lots of youngsters, which must mean that to date hits like "Show me", "Poison Arrow" and "Look of Love" are still proving to be pop masterpieces.
Martin Fry's voice is still excellent, he did not hold back reaching high octaves in "Tears are not enough" or warmer tones, like in "All of my heart".
ABC's line up is composed by hard working musicians, focussing on producing a good sound rather than showing off and they blended extremely well with the orchestra and the backing vocalists, which provided overall a really remarkable sound, many bands tried and failed this kind of experiment.
Everybody in the packed Theatre were up on their feet pretty much from the start, where after the "Look of Love" orchestral intro, Martin entered the stage to "When Smokey sings", followed by numbers from later albums and i do not recall many gigs where the performers and the audience were united in enjoying the event as one, with Martin Fry always acknowledging the loud cheers and applause.
I have been to a lot of gigs in my time, both as a specator and as a performer and this goes right up to the top of my list. It was a Christmas present from my wife to me and what a present it was...