'Are you whisking the bloody eggs?!' It's not something I've ever been asked during an interview (especially as I'm supposed to be asking the questions), but as we all know, these are unprecedented times. Which is why I'm in my kitchen having a chat with Jessie Ware via Zoom, with my laptop propped up on my food waste bin. Like I said, unprecedented times.
Back to the eggs. The south-London-born singer is showing me how to make brownies from the recipe book she wrote with her mum Lennie. The two host the hugely successful podcast 'Table Manners', where they invite celebs over for a home-cooked dinner and a good old chat.
As we speak, Ware is in her living room at her home in New Cross where she's been in lockdown with her husband and their two children. Her 15-month-old son is napping ('it's that magic two hours') and her three-and-a-half-year-old daughter is watching something on Disney Plus. Meanwhile, Ware is chucking her daughter's toy dolls off the sofa and trying to find something on which to prop up her iPad. 'These angles are killing me. Fucking iPads, they tilt up! This is the bane of my life. I can't wait until I don't have to do this. I'm so shit at it.'
Ware's output over the last few months would suggest otherwise. While most of us have been using video calls for pub quizzes and remote piss-ups, Ware has been finding wild ways to use technology to remotely promote her fourth album, 'What's Your Pleasure?'. Out this week, it makes you long to be on the dancefloor at a sweaty disco night. During these Very Weird Times, she's filmed a music video in lockdown, performed (virtually) on 'The Graham Norton Show' and 'The Late Late Show with James Corden' and continued to record episodes of 'Table Manners', scoring interviews with John Legend, Florence Pugh and everyone's favourite YouTube PE teacher Joe Wicks, all via Zoom, with her mum dialling in from her home.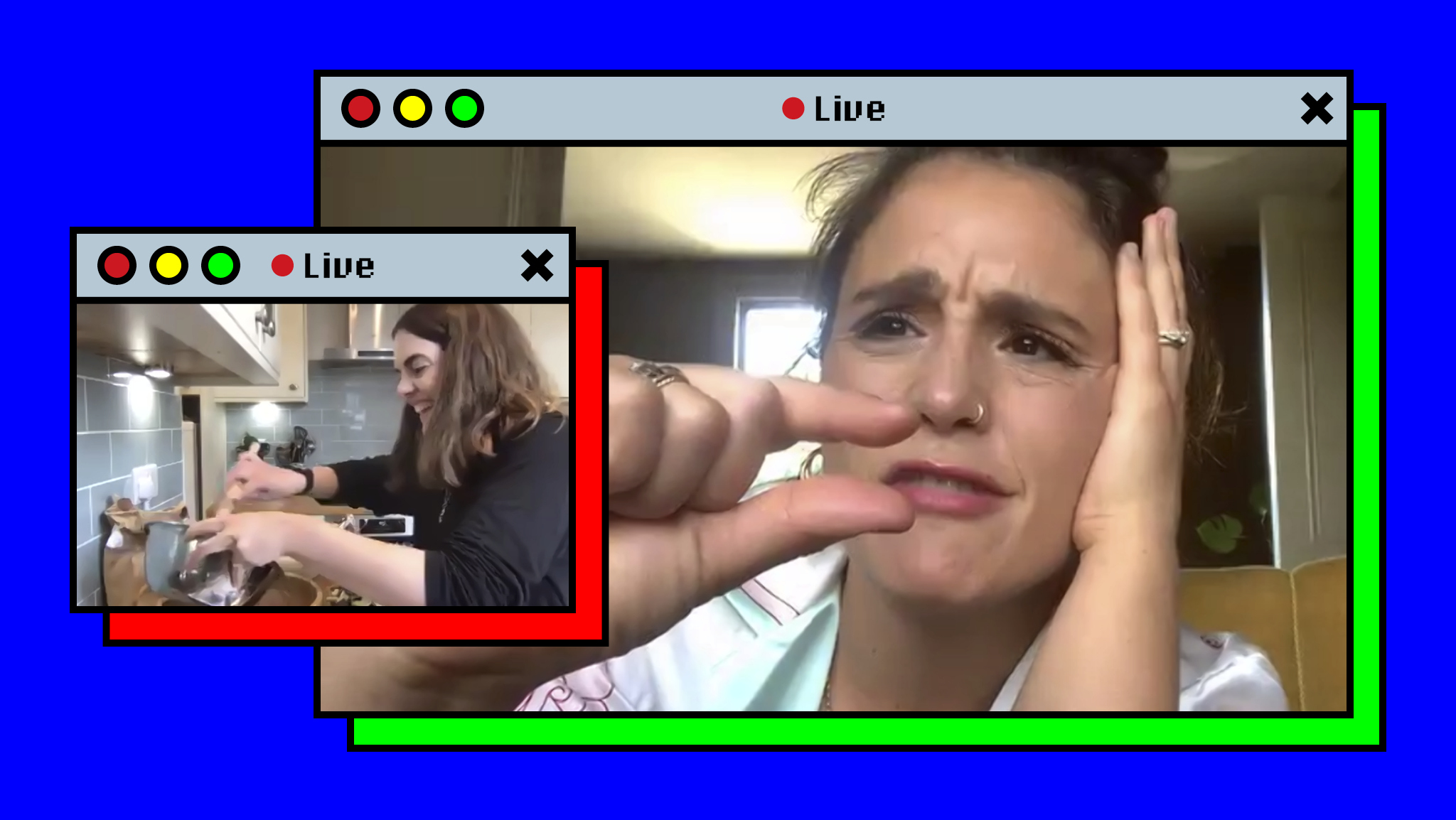 With Ware settled on the now doll-free sofa, I start chopping up slabs of chocolate, feeling like I'm hosting an amateur version of 'Sunday Brunch'. The constant video calls involved in promoting an album from home must be exhausting. Does she get Zoom fatigue? 'Yes, my eyes hurt from using a screen so much,' she says. If she is tired, though, she doesn't show it. She's full of energy. When she gets particularly animated, she gesticulates and gets closer and closer to her iPad's camera. She's easy-going, a bit sweary – the kind of person you'd want to go on a night out with (when that was a thing we could do) or have a DMC with over several bottles of red wine (as I'm sure some of her 'Table Manners' guests can attest to).
What's it been like preparing to release an album in lockdown? 'It's unusual,' says Ware. 'I'm trying to make the best out of a peculiar situation. I feel like we've had to be even more creative and I'm enjoying that.' Obviously it's not ideal timing when you've worked on an album for two years, but she's practical about it. 'There are plenty more things to worry about.'
But there have been some benefits to promoting her album from home. For example, those big TV performances are way less nerve-wracking. Ware says they feel like an audition tape or singing in the shower. 'I would be far more petrified doing Graham Norton or James Corden if I was in the studio.' Her Graham Norton performance was done in her daughter's room. Between the smoke machine and the lights, her kids thought it was 'the best sensory room ever'. 'It made me laugh, the drama of me singing "Spotlight" while my husband is giving my daughter crisps to try and make sure she doesn't run over and jump on me.'
In fact, in some ways being in lockdown has simplified things. 'I've really appreciated the time I've had with my kids, especially during promoting a record when usually I'd be extremely stressed,' she says. 'And I can make a music video in three hours now as opposed to a full day.'
The music video she's talking about is for 'Save a Kiss', the second single from the album, released at the beginning of May. With people around the world unable to see their loved ones, the lyrics have resonated in a new way: 'Save a kiss for me tonight/Wait for me, no compromise/Promise you, it won't be long/Just save a little bit of your lovin', baby.' 'It's definitely taken on a new meaning during this,' says Ware. The video is made up of clips of fans and professional dancers around the world, following the same choreography. Was it a logistical nightmare to organise? 'I'm sure it was a bugger for the person editing it,' says Ware. 'For me, the only faff was moving the furniture.'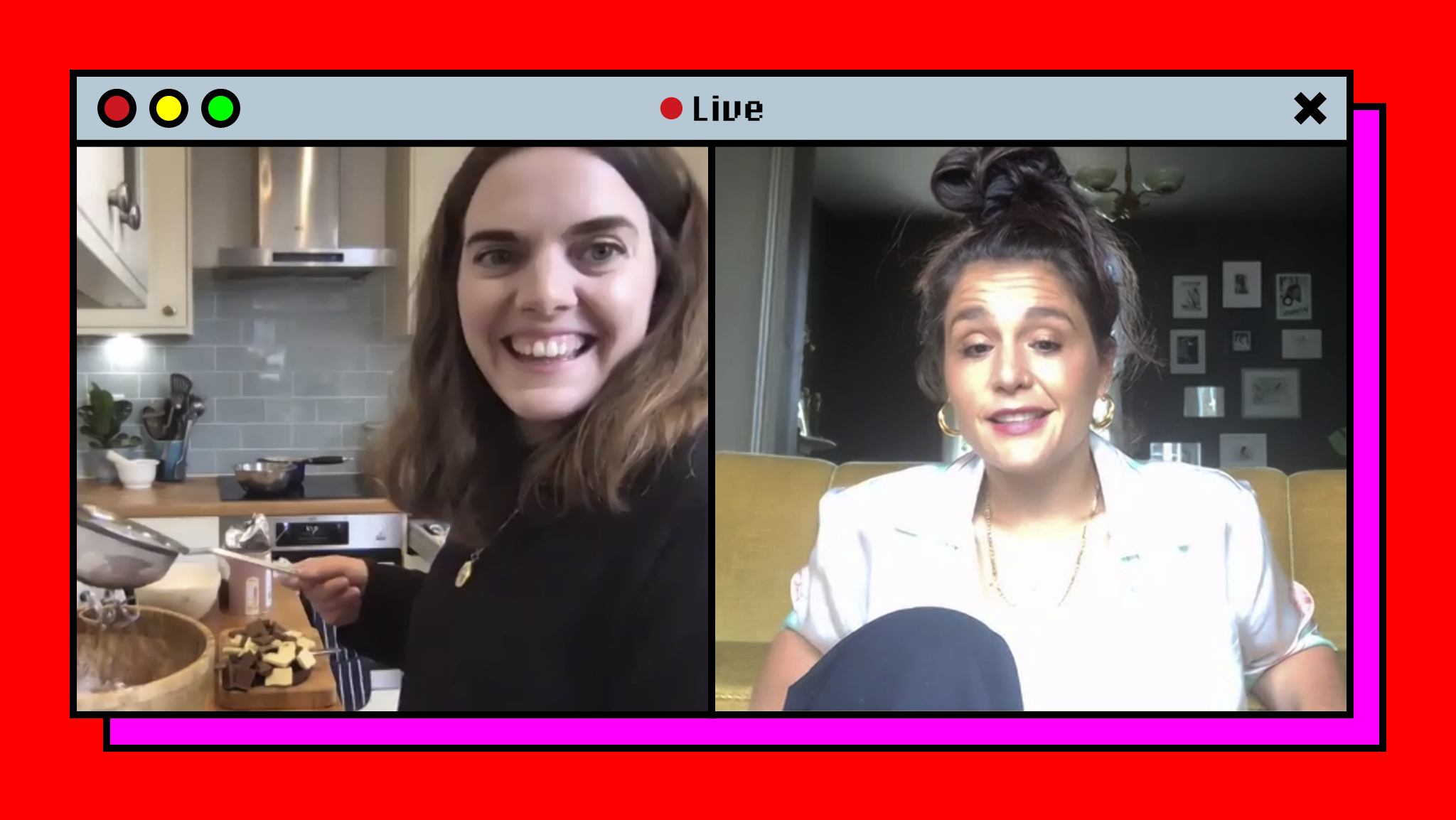 'I can do a music video in three hours now'
Speaking of logistical nightmares, I need to get a move on with my brownies. I start whisking the eggs, which I've been putting off because using an electric whisk isn't really conducive to having a conversation. 'I'm going to be the backseat driver, directing you now,' says Ware, kicking into gear. She leans into her webcam to get a good look at what I'm doing. 'You need to do it so it doubles in size, so fucking give it some welly.'
I'm debating whether to shout questions over the whirring of the whisk when Ware has another thought: 'How's your chocolate and butter doing? Make sure it's not burning!' I'm running between the hob, where my chocolate and butter is melting over a pan of boiling water and my bowl of eggs and sugar, which definitely isn't doubling in size. 'Is this looking all right to you?' I shout over the noise. 'No, you need to do it for much longer.'
I start mixing things together a bit absent-mindedly as we chat. What inspired the album?
'Hold on a minute. Have you just put the flour in with the eggs?'.
'Is that a mistake…?' I ask.
It's clear from her expression that the answer is yes. Then my camera freezes. I'm frozen. Ware is frozen. And I've managed to mess up some pretty simple instructions. I feel a new-found respect for Simon Rimmer.
Thankfully, once our faces unfreeze, Ware is full of no-nonsense encouragement. 'Fuck it, it's all going to go in. Just bung in the chocolate too otherwise you're going to be here all bloody day, babe. Let's get this show on the road!'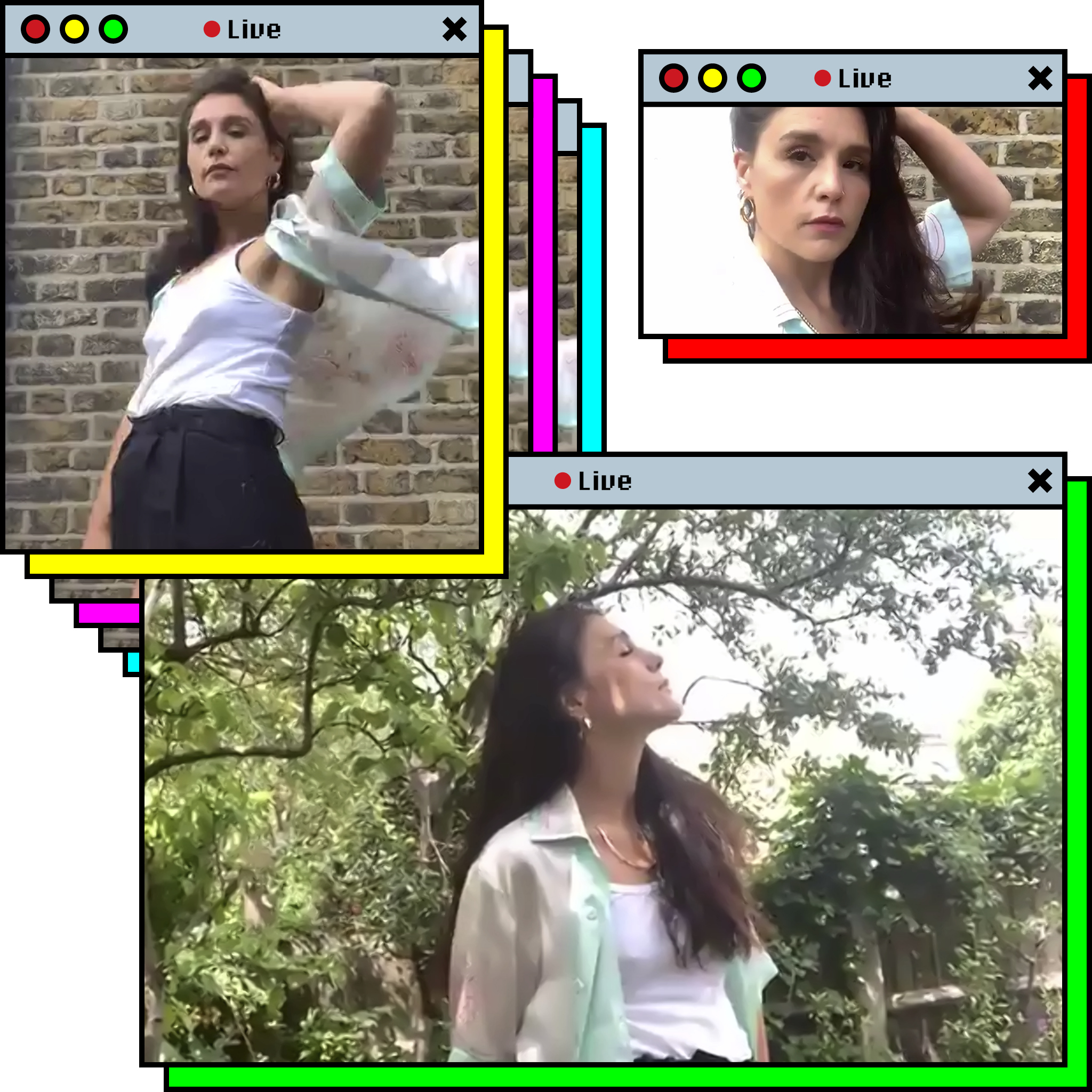 The brownies go in and we talk lockdown life. Has she found time to make banana bread and bake sourdough in between album promo? Actually, yes.
'I killed about four starters. Then my mate gave me his starter which was alive and kicking. We baked bread together: he had to hold my hand remotely through a Zoom call.' Now, in her new home, the mini oven she's working with has put another spanner in the works. 'I can't fit a loaf in there so I had to ask my neighbour to bake it for me.'
Aside from the inevitable baked goods, Ware's been doing lots of barbecues (halloumi with sesame seeds and honey is her current go-to dish), she's made kimchi and apricot compote, both of which are in her fridge. What else is in there right now? 'Some seabass from the local fishmongers – my daughter and I went there the other day and she said: "I want a whopper!" I've got some wild garlic that's on the turn too.' The fruits of some local foraging? 'Hell, no.'
We move on to lockdown habits. DIY? Nope. Gardening? Nope. 'My thing is the food. And drinking. Wow, I've drunk a lot.' She recalls one night where she and her husband tuned in to Annie Mac and Toddla T's DJ set from their garden shed. 'I got margaritas ready and my husband started free-pouring them. I can't ever remember such a bad hangover as the one I had the next day.' She's glad to see the back of virtual quizzes too. 'That was a really bad time for many people, I feel. We always came last, that's probably why.'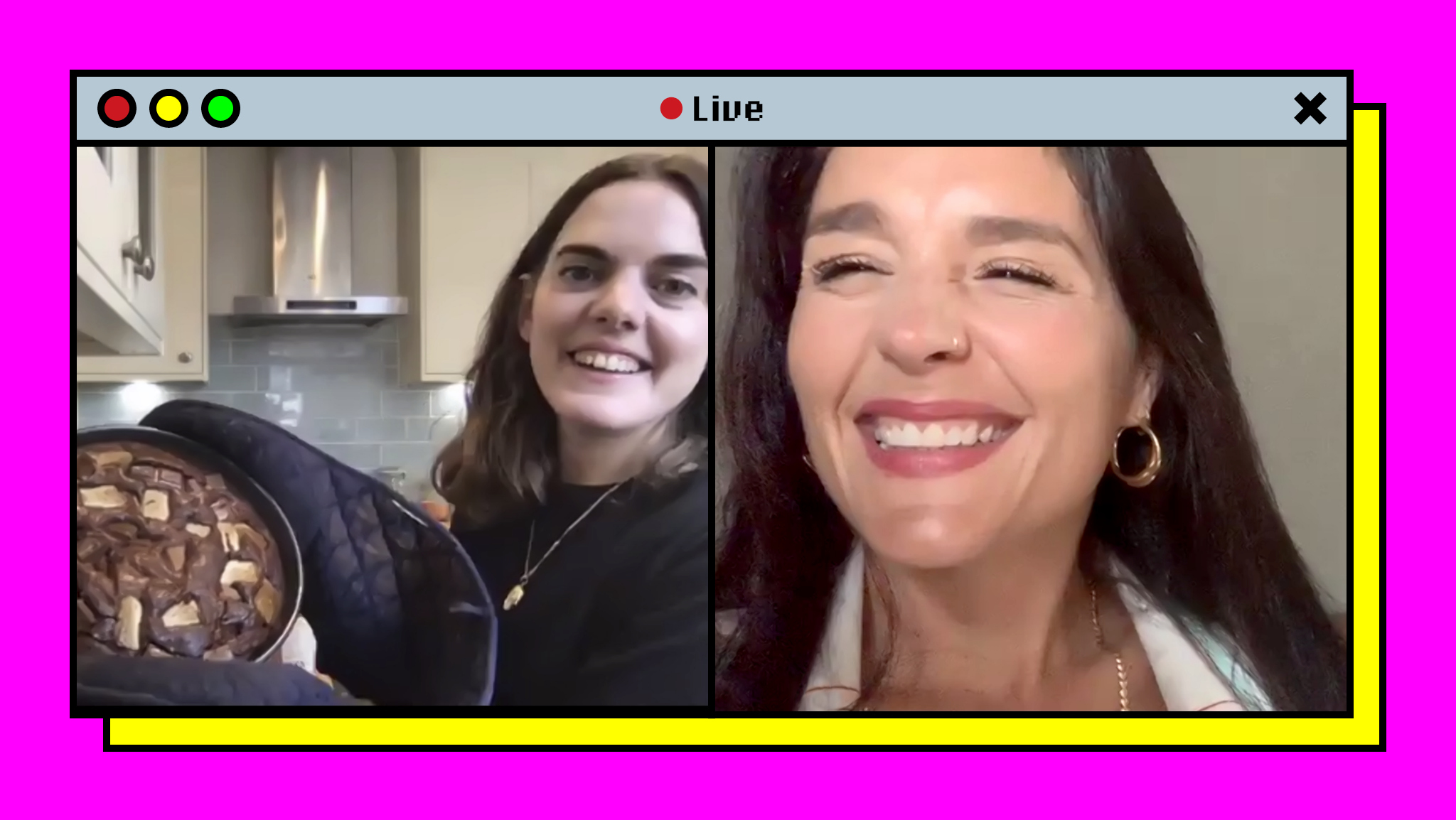 'It's fucking chocolate, butter and sugar – it's going to be great'
But video conferencing has come in handy for keeping 'Table Manners' going. Making the podcast remotely means they've been able to book guests who normally might not be able to schedule in a dinner at Lennie's house. Who's on their dream list right now? 'We'd love to have Tracee Ellis Ross and Bette Midler. I think everybody wanted Paul Mescal and Daisy Edgar-Jones: "Normal People" was so brilliant.' Ware loved the angst-filled BBC TV show so much that she watched the first four episodes before going back to the beginning so her husband could watch it with her.
We start swapping TV recommendations (I tell her to watch 'Succession' and she suggests I watch 'Dave'). I've pretty much forgotten about the fact that my slightly haphazard brownies are in the oven, but Ware is on it. 'How are they doing?' she asks. I disappear off-screen to get my wonky creation out of the oven and... actually, they look pretty good. I hold them up to my laptop's camera for her to see. 'Fuck me, I want one now! That looks excellent.' I feel a pang of pride – a feeling that's been somewhat lacking over the last few months of wearing nothing but loungewear and making average banana bread loaves. I'm not sure I can take all the credit, though – as she pointed out earlier: 'It's fucking chocolate, butter and sugar – it's going to be great.'
I feel a bit bad that I've got a tray of brownies and Ware hasn't. 'I'm going to have my fucking green juice, so kill me now,' she laughs. While eating a tray of brownies to myself does sound like the best kind of Friday night lockdown activity, part of the fun of cooking is sharing it with your pals. Is she missing that? 'I think we're all really longing for that. I can't wait to cook for people and get drunk with "Table Manners" guests and have them stay for hours on end at my Mum's house. I can't wait for a bit of normality.' Until then, the new normal seems to be working for Jessie Ware pretty well.
'What's Your Pleasure?' is out on Fri Jun 26.