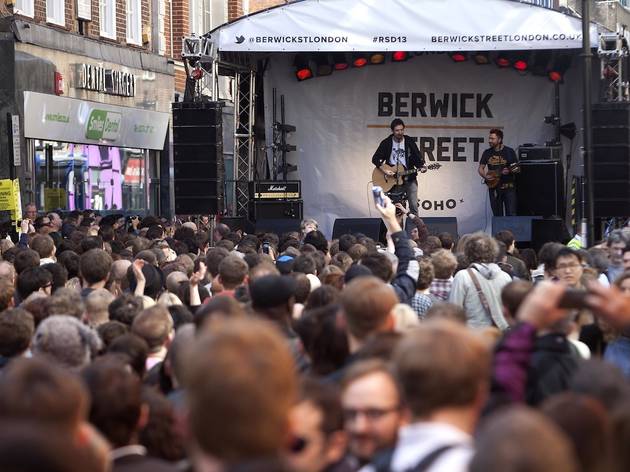 Despite the best efforts of iTunes and Amazon, the area around Berwick Street in Soho – famously portrayed on Oasis's '(What's the Story) Morning Glory?' album sleeve – is still home to the biggest concentration of indie record shops in London. That makes it a fitting place for a free mini-festival on Record Store Day (Saturday April 19), wouldn't you say?
Like last year, an outdoor main stage will host live acts all afternoon: the line-up is still under wraps, but performers last year included Frank Turner, Matthew E White, Wire and Steve Mason. More live artists and DJs are scheduled to play smaller stages around the area, with DJs, music quizzes and parties in shops.
It's not all about the music, either. There's plenty on Berwick Street besides record shops: there's a fruit and veg market, some acclaimed fabric and crafts shops, a handful of hip new clothing boutiques and more besides – and they'll all be getting in on the act. Special events on the day include a street food market, special Record Store Day discounts on clothes, and art and design sessions. All in all, there's a lot going on, and the area will be much busier than usual, so arrive early if you don't fancy contending with the crowds.