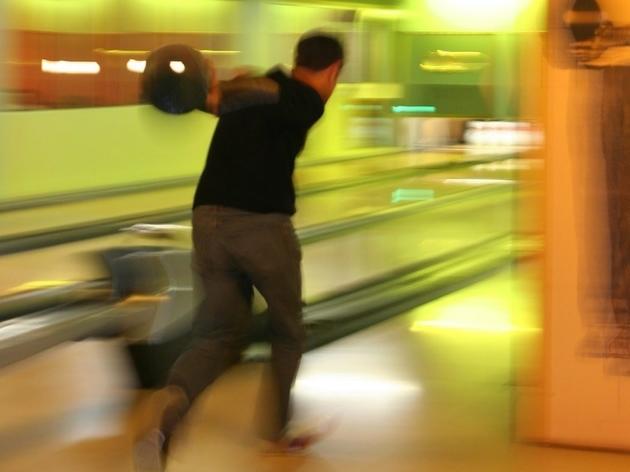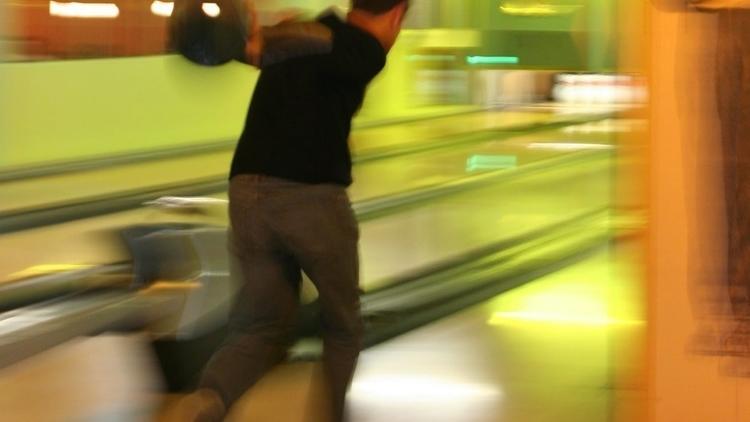 About
Bloomsbury Bowling Lanes says
We are London's ultimate adult playground with bowling lanes, karaoke booths, pool & table tennis tables and, not to mention, our very own Ray's Pizza cooking up gigantic servings. We have a vast array of live music & DJ club events for whatever your persuasion. Click the links & come join the fun!
Details
Address:
Tavistock Square
Bedford Way
London
WC1H 9EU

Transport:
Tube: Russell Square
Do you own this business?
Average User Rating
3.3 / 5
Rating Breakdown
5 star:

6

4 star:

8

3 star:

4

2 star:

2

1 star:

5
Went her for a staff party. What a laugh we had. Very reasonable
Very fun party in the private room at bloomsbury bowl this week Our team loved all the extras such as arcade games, cricket and sound system. Slick operation, quality beer list and massive pizzas. Nice and close to a lot of public transport helps.. There you go. CJ
Always fun at Bloomsbury. We have held our office gigs there for a few years. Appreciated the 'upgrade' to the private room last week, which has a cricket net. Crazy fun
Extremely disappointing customer service!!! I called up the Bloomsbury Bowling Lanes booking service to arrange my company's X'mas party with them. The person I spoke to was called Anna, and she was very rude and unhelpful. I initially asked if my company could be invoiced for the cost of the party as this is the only way my company can make the payment. Anna told me Bloomsbury Bowling Lanes does not do invoicing, and I was wasting her time asking for one. Anna sent me a booking confirmation email which looked very similar to an invoice. Unfortunately, it didnt have my company's name on it and the total cost had not been calculated, despite having a section for this on the confirmation. I called Anna back and kindly asked if the confirmation can include my company name and a total cost, so that my company could use it as an invoice to raise payment against. Her response was "Listen...if you don't understand that we (Bloomsbury Bowling Lanes) don't do invoicing, and you keep asking for one, then you can go somewhere else!" I was shocked that as a customer with a large booking to make that my request, which I don't feel was unusual, was dismissed in such a rude and unprofessional manner! Its such a shame because the venue has such great reviews, and I know my team would have had a great time there, but due to the poor customer service experience I received we will not be using the venue, and I will not be recommending the venue for any future parties held by our company.
I am horrified and offended by how I was treated by one of the employees while at this Saturday's 50s party. Was having a great time when a man taking pics nearby suddenly turns to me and tells 'You need to fucking cut it out!'
'Excuse me?' I reply.
He continues to curse at me that I F* elbowed him, he F* saw me do it, he worked here and had a mind to F* get security if not 'throw down right now! I hadn't interacted with this man, let alone touch him!
If that wasn't enough when I complained the general manager didn't do anything but move the employee to another location. Would have been nice to feel safe and not assaulted.
One of the Best Pizza Ever. And it's HUGE
It's big playroom for adults: bowling, pool-table, table football, karaoke and booze! It has all the elements needed for a silly night out with your mates… or a good office Christmas party… The food can be a little greasy and service is on the slow side, but the prices are reasonable and the central location is great… Enjoy!
Went there with a big group of friends! It was such a good night! Pizza are really good and we had a lot of fun playing bowling and I WON!

I always have fun at this place. More 'preserved' than 'retro' and every time there is a group gathering this venue gets my vote.
Vulgar, Abusive and Distasteful Management AVOID AT ALL COST! Management need to understand the way you treated costumers reflects the way the business is run. Avoid this place! There are enough places in London where you can have a good night and without the risk of being treated so distastefully.
Bloomsbury Lanes - Letter of complaint.
It is with great regret that I have to write this letter to make a complain about the way my girlfriend was treated yesterday Friday 8th of August at your venue by the manager on shift.
Last night we were celebrating my girlfriend's younger sister's 18th birthday. Due to the rain we were held up and arrived 15 minutes late and I was little anxious and eager to get started. Once at the front desk, my girlfriend approached me with the news that we couldn't get in because her sister's friend was 17. Couple of staff members suggested we could talk to the manager and maybe even convince him to let her in. So when he came out I explained the situation, admitted that it was my mistake for not having confirmed her age and he went on to explain how he would lose his licence if he had let her in. So I asked him for a refund and after he used my own phrase to remind me that it was my fault for not having checked her age before the booking I walked off. Please know, I am not after a refund, neither am I writing this to complain about his sly way to keep my money.
The problems occurs after I storm off from the premises, my girlfriend stayed behind to try to convince the manager that we at least should get our money back and explained that her sister was here on holiday and that it was her 18th birthday but he smugly kept on repeating that I had admitted to the my mistake and that he would not refund the money back. After having exhausted her efforts, she gave up and upset, as she walked away he said to her, "wish your sister a happy birthday".
Needless and for the manager to make a comment on something that was of obvious discomfort to my girlfriend and in a way that can only be described as improper, rude and distastefully vicious I feel that he should get sacked. Obviously you will not take action on this and as fruitless as this might be I am writing it, posting it, publishing it for people to read.
We had planned this evening for while, it was important for us that everything went well. Like I did on the night, I accept that I had made a mistake with the booking and I understand the law and it's implications so I know we were not going to get in. Having said that, I feel that I was within my right to feel annoyed that I had paid for something we didn't get to do as anyone else would in my position. So that's why i didn't want to waste my night and money in that place.
An apology should be given by this manager to my girlfriend and his questionable hospitality skills need to be revised. No one deserves to be treated in that way and please do not try to offer us anything but an apology! We will never be setting foot I'm your place again.
Diego Ochoa
I was outraged by the way I was treated here by the bouncers and management last night. My friend and I had a really fun night at the Big Lebowski party - fantastic tunes and lovely bar staff.
However, out of the blue, an unhinged girl on the dance floor assaulted me, strangling me and pushing me into the DJ booth and shouting in my face.
What then shocked me was the way the bouncers and subsequently the manager treated me when I spoke to them about it. I was visibly distressed but managed to stay calm and rational but the bouncers were rude and patronising. The girl was still there but they refused to at the least speak to her, kick her out or check CCTV footage, let alone detain her and contact the police. Instead they were rude, told me I should have come to them sooner (when I had been in shock), told me there were no witnesses (there was a dance-floor full of them, including my friend who was with me at the time) and insisted it was "between us" (the stranger and I) so there was nothing they could do.
I eventually persuaded them to at least talk to the girl. They returned within about 20 seconds saying "Well, she said you were dancing with her boyfriend, so..." I feel I should point out this isn't even true but that's also irrelevant because dancing with someone is not a fair provocation for violent assault. I felt they were slut-shaming me and implying that in fact it was a fair retaliation. They then even tried to make us leave the club and not the girl.
I went to the manager because I found this a disgusting, misogynistic slut-shaming response. He again took no responsibility for ensuring the safety of his patrons by dealing with the issue, continued to call me "darling" and cut me off mid-sentence, saying essentially he had had a long night so was not prepared to deal with what had happened. He was patronising and unhelpful throughout.
I would strongly recommend you boycott this establishment because of this irresponsible, immoral and misogynistic response. I'm absolutely disgusted.
Customer service here is appalling! Went to the Big Lebowski party. The staff were generally quite aloof but the manager at the lanes was downright rude.
False promotions - We entered 2 competitions and were told we'd won free bowling. Staff kept trying to give us a lane and the manager kept intervening and saying it was fully booked, even though it clearly wasn't. No apology or explanation given.
When he realised we weren't going to pay for what we'd been offered as free, he relented and put us on a lane. Which was then switched off after 5 minutes. We decided to leave as couldn't be bothered arguing about it anymore.
Bouncer Alert. Despite the place being a great idea, once your night time is up and staff wants to go home they will start pushing you insistently without a second chance to grab a friend's phone number inside. The hassle gap was of about 5 seconds between each attempt to get us out quick, and too soon a bouncer started physically pushing some of out of the door. When I said "do not touch me" he smiled and continued pushing in a provocative manner. I told him loud and clear he shouldn't be touching me and another staff member aggressively pulled my arm from another direction hurting my shoulder. I asked him to stop and so he did, but the other had a smirk on his face as if he enjoyed bullying people. All I wanted was to get a friend's phone number before leaving. I finished my drink quickly and was closer to the door than anybody else. Such behavior is inappropriate use of power as I couldn't use the same amount of force to defend myself. The place left me feeling frustrated as my emotional state overwhelmed my being leaving me unbalanced in tears unable to say goodbye to all my friends outside at the end. Humiliating experience thanks to a bouncer and air head staff that did not know how he started the situation that went bad.
A usual hangout for me and the boys from work. Bar prices are good for central London and the bowling is better than at some of the competition. Had never eaten there til recently but last week we ordered this massive pizza and it was dirt cheap. Go if you get the chance!
Great venue! Never bowled but love going for a beer and a burger with friends. Can't comment on the lanes or anything but the wait staff are nice, the food is tasty and cheap and I've seen some great bands at Bloomsbury Bowling! Highly recommended.
Snap up exclusive discounts in London
Time Out's handpicked deals — hurry, they won't be around for long...