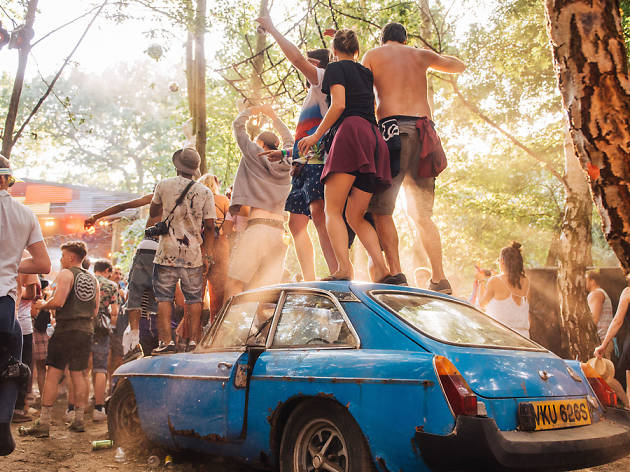 It's Time Out's 2017 festival review
From festival flops to flip-flops held aloft, plus politics and pricey poos: we pick out some notable thoughts and goss from the festival summer
It was the year people flushed their money down the loo
We all know that festivals stopped being a socially egalitarian microcosm a long, long time ago. But even so, we were still taken aback when we noticed private luxury toilets popping up at festivals this year. £32.50 for a wristband to get into a private loo all weekend? Er, no thanks – you are literally taking the piss.
DJs were playing at 128 boots per minute
For many, 2017 will be remembered as the year everyone started waving their shoes in the air. Usually during DJ sets, at a point where the vibes were just brimming nicely. It happened repeatedly for London ace Peggy Gou (or Peggy Shoe as she was swiftly rechristened), but wasn't confined to just footwear. A Glasto punter went viral after dancing with a loaf of bread aloft at dawn, and then perversely we also saw a guy waving a toaster around Secret Garden Party at 5am. If only they'd got together!
We couldn't ignore the depressing dressing
For the last few years, many journalists and pundits have decried festival fancy dress that is insulting to minority groups, ethnicities or that is seen as being a form of cultural appropriation. Well, it's sad to say that basically NOBODY got the memo. We saw an absolute cavalcade of deeply inappropriate looks all summer. We saw white Brits dressed up as rabbis, Arabs, African warlords, and about a thousand native Indian headdresses this summer. Perhaps most alarming of all, a team of white Glastonbury punters blacked up and carried a bobsled like the stars of 'Cool Runnings'. In 2017! Some joker even dressed as David Cameron at Wilderness this year.
Houghton showed everyone how to
The FOMO prize for the most raved about festival this year has to be Houghton (pictured above) – a new weekender started by Fabric resident Craig Richards on the old site of Glade Festival. If you didn't go, you missed arenas hosted by London institutions like Brilliant Corners and a stage only accessible by train. Plus they had a game-changing 24-hour music policy, which allowed punters to spread out their partying more than would usually happen at one-dayers.
There was more unexpected BBC ageism
As the BBC's coverage of Glastonbury gets ever deeper and more influential, it's important sometimes to remember the things you don't see on the Beeb. And what struck us most this year is just how many old people go to Glastonbury every year. Physically old, it should be said – definitely not old in spirit. It's quite the sight: walking sticks, mobility scooters and Zimmer frames, for example, are all really common. There was even a pub near the Avalon stage that looked suspiciously like a Wetherspoons.
Our favourite headliner was…
Frank Ocean's Lovebox show was everything that conventional wisdom says a headline set should never be: calm, subtle, understated and lacking confidence ('Sorry... I'm still trying to figure this out', he said at one point). Yet his vision won out. Such is the love for the man and his albums that crowds were hushed and enjoyed a show that was baffling, beguiling and beautifully different. Shout out to the enormous Frank fans who staked out the main stage hours before his set… only to realise he was actually performing on a totally different stage, in the middle of the crowd.
Reading's undergone a reinvention
Full marks have to go to Reading and Leeds for rejuvenating themselves so successfully over the last few years. In particular, they've managed to provide a really special place for grime artists within their traditional rock programming. Cue mad mosh pits and the definitive cameo of the summer – Drake joining Giggs during his Sunday slot at Reading.
Fyre went really, really wrong…
There are not enough superlatives in the dictionary to describe how diabolically badly the Fyre Festival went. Billed as a luxury event on a Bahamian island, some punters paid up to £9,000 for a ticket. But it quickly became a 'Lord of the Flies' parody featuring a mass evacuation, limp processed cheese sandwiches and stranded guests. It'll surely become the case study to end all case studies for Events Management lecturers across the globe – and hopefully teach future festival organisers not to go ahead with a failed plan just to 'be legends, man' (an organiser legit said that).
…but the UK ballsed up a few too
Y Not Festival had to close early due to a mudbath and agreed to give out 50% refunds because, erm, they didn't check they had the right rain precautions. And Hope & Glory literally blamed their cancelled festival on spilt milk.
All that glitters isn't good
Even the most tepid of punter can't get through a festival without a cheeky dab of glitter on their cheeks. But for how long? This year saw debate intensify about the environmental impact of microplastics like glitter, which end up in water supplies and never break down. Let's hope more people take up using biodegradable glitter (made of plant cellulose) next year.
This was the most political that fests have been in decades
Like a boozy meal with the in-laws, festivals suddenly became political in 2017. Of course, Glasto has always been a magnet for lefties, but a choice to have a speech from Jez Corbyn was a bold move in rallying support for the 'absolute boy'. Vexed at this, Tory MP George Freeman promised a festival for the right that would be like your 'first rave'. Except, it was planned to be 150 invite-only guests and aimed at 'family', so will probably be closer to your first parents' evening.
Goodbye SGP, hello Lost Village?
Secret Garden Party said ciao this year – the once-boutique festival reached a fitting finale after 13 years of German mud wrestling commentators, secret lingerie parties, or the perfect dance floor that was the lakeside pagoda. A natural successor might be Lost Village, which in its third year had an absolute stormer. Based in some woods near Lincoln, this 5,000-capacity fest had a great line-up and even has a lake in the middle.
Thanks to our 2017 festival scouts: Ketty Hopkins, Nan, Ken Hom, Chris Hughes.
Get ready to do it all over again next year
Your guide to all the best fests. Get tickets and information for festivals across the UK and further afield.