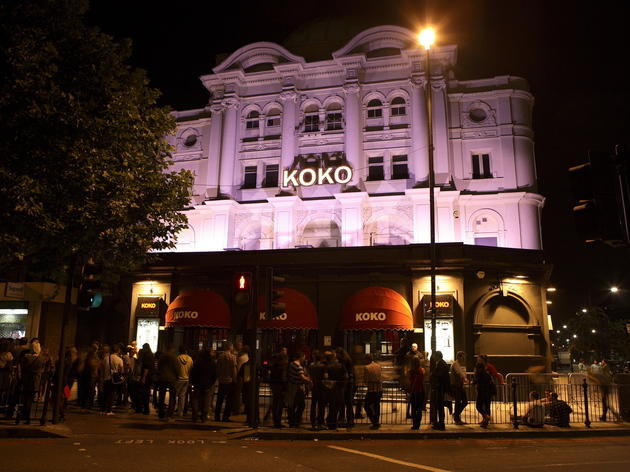 1/6
Michelle Grant / Time Out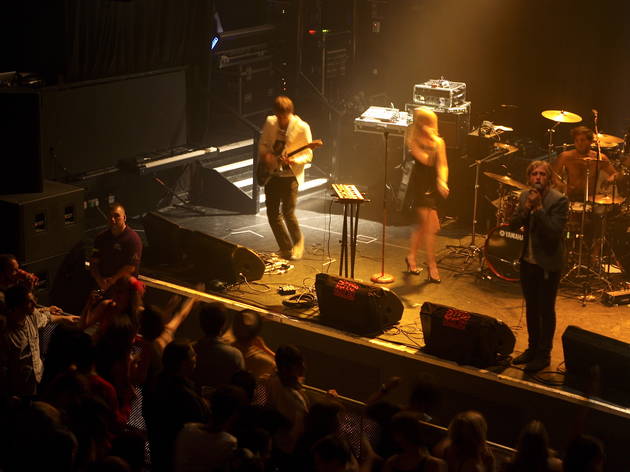 2/6
Michelle Grant / Time Out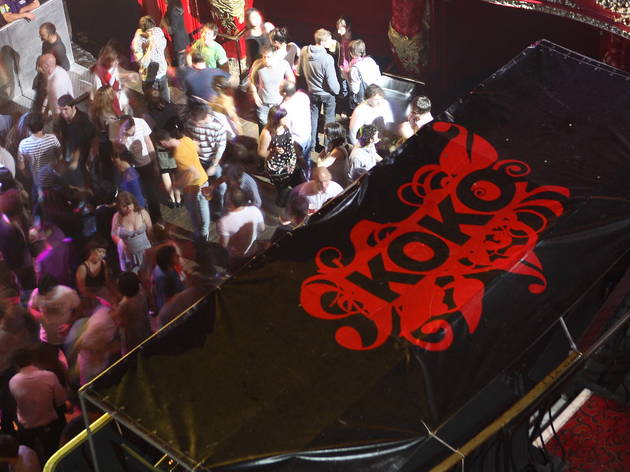 3/6
Michelle Grant / Time Out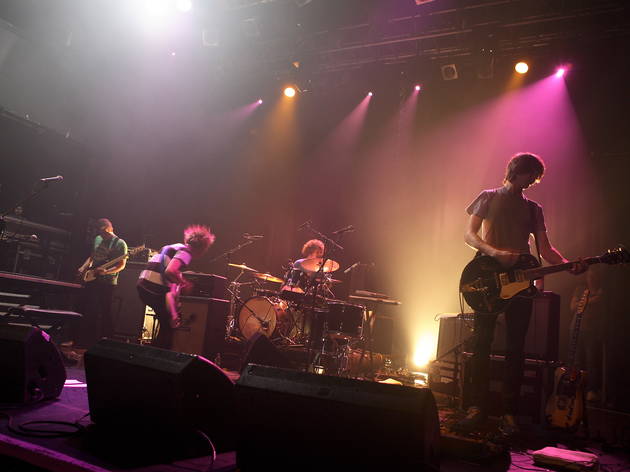 4/6
Michelle Grant / Time Out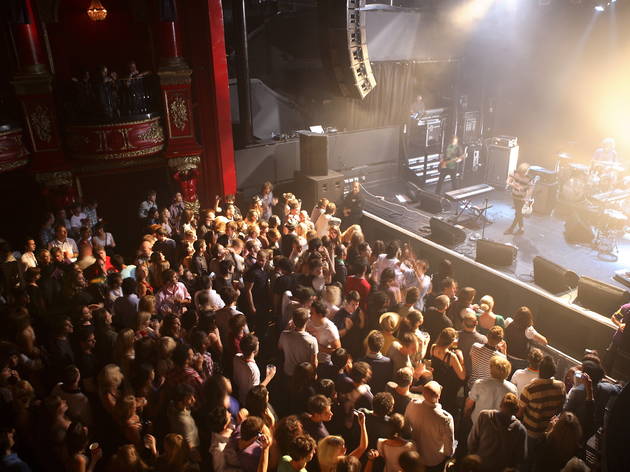 5/6
Michelle Grant / Time Out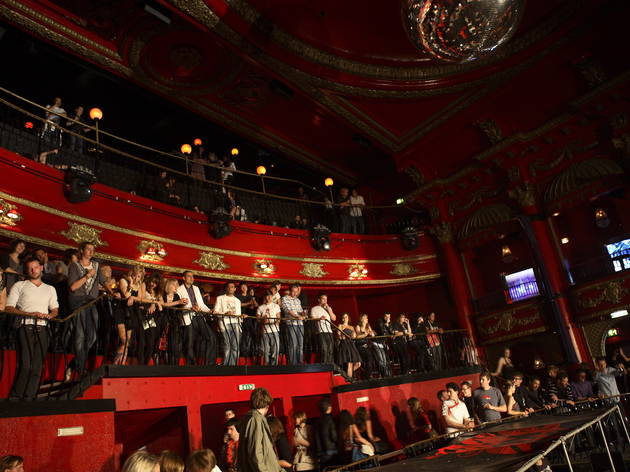 6/6
Michelle Grant / Time Out
Housed in an ornate, Grade II-listed building, this institution has endured through numerous incarnations. First opened on Boxing Day 1890, it was renamed The Camden Hippodrome nine years later, operating as a vaudeville house in which a young Charlie Chaplin trod the boards. Between 1913-40, the venue was a thriving cinema (often with supporting live acts) and subsequently (for 20 years from around 1945) a BBC theatre, which saw recordings of the legendary 'Goon Show'. In the '70s it was turned into a live music venue and renamed The Music Machine, before being taken over by Steve Strange and Rusty Egan of Visage in 1983 and undergoing yet another name change – to The Camden Palace. As such, it enjoyed a high profile on London's New Romantic club scene and hosted the very first London gig by Madonna, no less. It relaunched in the late '80s as an indie club and then - after closing its doors for refurbishment in 2004 – was rebranded as Koko. Despite the name change and major refit, it retains its indie/alternative pop/rock remit, while also embracing everything from hip hop to trance. With its colossal mirror ball as the ceiling centrepiece, its painted gargoyles and steep tiered balconies, Koko remains one of London's most atmospheric music venues.
Venue name:
Koko
Contact:
Address:
1a
Camden High St
London
NW1 7JE

Transport:
Tube: Mornington Crescent
Price:
Prices vary
Do you own this business?
Buttoned Down Disco

Overdose on hip indie-dance tunes spun by resident DJ Christian Laing and guests. As well as electro and indie-pop mash-up madness, you'll also hear a smattering of cheese and student party anthems. Full-throttle fun.

House, disco and techno

Saturday October 6 2018 - Sunday December 30 2018

The Coral

Summoning waves of nostalgia for either the '60s or the '90s, depending on when you were born, The Wirral's prime jangly guitar-poppers are back on stage to promote their new album 'Distance Inbetween' – and play a few of their sublime psychedelic hits,...

Rock and indie

Thursday October 11 2018

Show more
Average User Rating
3.4 / 5
Rating Breakdown
5 star:

4

4 star:

12

3 star:

5

2 star:

3

1 star:

3
I agree. Not the most welcoming of places. As for the refit?? I used to go there in the mid 90's and I could not tell what they had changed since then?... Sticky carpets, awful toilets and grumpy staff. Regretfully, best avoided.
I don't get the idea here. It's a lovely building with an interesting layout, but they treat their customers like cattle. They charge insane prices for a can of appalling bitter emptied lovelessly into a thin plastic glass. Queues 10-deep at the bar. Events where the comperes verbally abuse people for needing the toilet while they're speaking (and I mean abuse, not joke about, Patrick Kielty). It's bad enough that you start to think, 'Well if you really don't want me here I'll leave.' You're just a commodity, being fleeced for as much as they can get away with. It's a shame, as it has so much potential. But it's top of my blacklist nowadays.
This historic music venue has kept all the charm of it's original purpose as a theatre with various stairways and balconies to explore and a large open dance space for those club nights, a great historic music venue that has been witness to many changes in musical tastes through the years.
Went to one of the NME night, which turns out to be a student night too. Which is a great night out for a student, but not great setting for a laid back gig.
The bands and performances were exceptional. Enjoyed a sound quality too, unique interior of the place and a layout.
However, the club was very cold at first, toilets are in a in a poor condition. Bar staff is rude, and even with no customers, they rather chat around than serve you. Pretty pricy too.
It's a must go in London.

Not like other night clubs. Koko is a theatre, having several floors and a big balcony. Have been there clubbing but also for concerts and the acoustic is pretty good
Physically disgustingly Dirty - sub student acts - horrible atmosphere - overpriced bar with undercut dubious quality drinks - it was SO dirty that EVERY floor stank of sick & the surfaces were sticky with alcohol. I will never ever go to Koko again - i cannot believe Time Out lists it in best clubs - VILE. Go anywhere but here.
im forced to put a star rating to post the comment.
Am I allowed to post a review saying how excited I am to be returning to KoKo ? The scene of many good nights, but The Isle of White reunion is one of the biggest. Great line up this year. The poster says #bethere - I will be !
I paid £5.50 for a bottled beer. Enough said
A good venue for gigs but not so much for club nights.
I saw The Band Perry at the Koko club and it was a lovely venue, it is an old theatre with all the seating taken out in the stalls (I didnt see upstairs) and has a full bar at the back. The acoustics were very good, as were the Band Perry! Would recommend! I would like to go to one of their guilty pleasures nights and club nights soon!