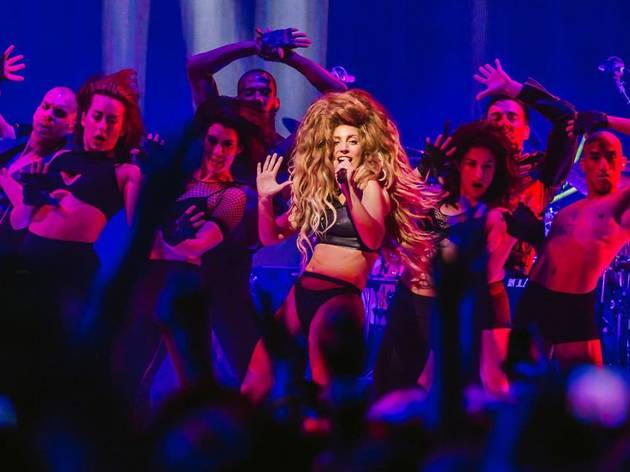 Lady Gaga debuts 'Art Pop' at iTunes Festival
After witnessing a mix of awesome and awkward, we give our verdict on the tone, tunes and theatrics of last night's Lady Gaga show
Opening the
iTunes festival
at the cosy, 3,000-capacity
Roundhouse
, she gave her first live introduction to 'Artpop' – her forthcoming album due in November.
However, it wasn't just the size of the venue that made it intimate. During an extraordinary hour-long set of all-new material, Gaga slowly descended into a full-on breakdown, albeit a strangely controlled and pre-meditated one. She wallowed in what can only be described as a solicitous sadness – telling her devoted fans that she was going to 'take you underneath all the theatre' while she removed 'the wigs that I use to cover up my pain'.
There were tears as she launched into piano ballad 'I Wanna Be With You', while for a considerable period in the middle, Gaga talked in a tone usually heard only by police counselors. 'I was just skin and hair. My brain, my hair and my pussy felt like trash' she confided at one point. It was awkward, disturbing even, and her Little Monsters lapped up every minute of it.
It's no secret that Gaga's tribe of super-fans are extreme in their devotion. The first person to arrive for the gig was there a full 75 hours before showtime, after pitching up a pop-up tent outside the venue on Thursday afternoon. Gaga fed that devotion mercilessly, at one point telling fans 'When I'm not with you, I can't live'.
But not everyone falls at the feet of Gaga, and not everyone will find this increasingly intense sense of worship entertaining. Communality is one thing, but Gaga crossed into overshare territory several times. The result was a little creepy, a little sad and sometimes just plain boring. With Gaga's confessionals occupying such a large chunk of the show, the unveiling of seven new songs from 'Artpop' almost felt like an afterthought.
'Jewels & Drugs' was perhaps the biggest leap forward, thanks to its head-nodding 'Harlem Shake'-styled trap beat and guest verses from rappers TI, Too Short and Twista (the latter two joining her onstage). 'Swine' began with some wonderful rock theatrics (in the vein of Queen or Bowie) but sadly didn't sustain itself – descending into the same crunchy electro she's been peddling for years.
The kink-a-licious 'Sex Dreams' also failed to set the room on fire, despite boasting a killer chorus, but there were real highlights as well. 'Manicure' – a heavyweight power-pop stomper – has 'single' written all over it, while set-closer 'Applause' went down a storm.
Our hunch is that 'Artpop' might not be the great leap forward Gaga's been promising, but we'll have to wait until November to know for sure. Of course, the majority of us don't want spiritual guidance or music virtuosity from Lady Gaga – we just want weird and wonderful nonsense by the pound. This was where she really delivered the goods.
She kicked off with 'Aura', dressed in a burqa-style face mask and brandishing a knife. Soon, men were bundling her into a harness that resembled the Techno Trousers from 'Wallace and Gromit' and she was being dangled above the crowd.
There were costume changes for each song but crucially they happened onstage instead of backstage. Seemingly designed to bring her fans closer into her world, it meant that the fitting of a giant Tina Turner style mane of hair became an event, not to mention the very public change into a sparkly bra and thong. She even made the simple act of putting on socks a spectacle.
Aside from the onstage changes, there was a revolving egg chair for 'Sex Dreams', a green military jacket for 'Applause' (picture a character from a Quality Street tin) and an endless supply of supple dancers in gothy fetish wear.
However, nothing was able to top 'Swine' and its accompanying army of pig-men in white boiler suits and paint guns. Some dangled from the ceiling, others pointed their nozzles at canvases and squirted at them like Jackson Pollock crossed with Action Man.
We may not know much about 'Artpop', but we know what we like. Let's hope she hangs onto those mischievous piggies for future shows. While her tone was uncomfortable and the tunes a little samey, the level of theatrical flair once again saved Gaga's bacon.
Were you in the crowd too? Let us know what you made of Gaga's iTunes performance in the comments box below or tweet us at @TimeOutMusic.