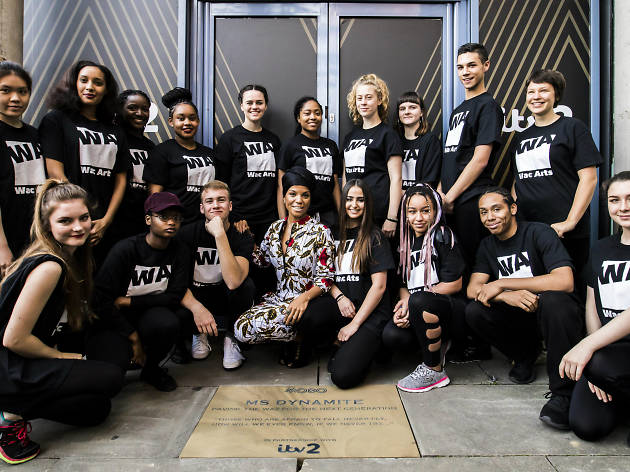 Ms Dynamite's contribution to London honoured with MOBO plaque
We talk with the UK garage singer, as she goes back to school to celebrate winning a prestigious award
Congrats to Ms Dynami-tee-ee! The notable noughties R&B singer today became only the second recipient of a MOBO 'Paving The Way' award – thanks to her career success and charitable work with former school WAC Arts. The award involves a plaque being laid in her honour at the school.
In an intimate ceremony held at the Belsize Park college, Ms Dynamite expressed her gratitude before tearing it up with a student choir to perform her smash hit 'Dy-Na-Mi-Tee'.
'I started here when it was in a different building a long time ago, when I was about six or seven. It was a place where we'd come and be creative,' Ms Dynamite said of WAC Arts. 'But it became a real saviour during my teens. At 15, I was really strong-minded – I thought I knew it all and decided I didn't want to live by my mum's rules anymore, so I left home. That was definitely one of the darkest times of my entire life.'
'But the minute I got to WAC, I felt understood. It's a place where you feel like you're heard. That was a really powerful, important part of growing up." The 'Paving The Way' initiative from MOBO is an award for 'trailblazers who are paving the way for future generations of talent'.
Last year, Bow-born MC Wiley surprised Time Out by actually showing up on time to receive the inaugural 'Paving The Way' award at his former school.
ollowing the unveiling of her paving stone, we caught up with Ms Dynamite about winning the award and what inspired her to make music:
How does it feel to be back at your old college? You seemed quite emotional when all the students were performing.
'It's so crazy to be here, in this setting, on this day. I've done a little bit of work here and there with the young people over the years. I've brought brothers and cousins here; I've brought my son here. I've come here in lots of different roles, but never like this. It's really overwhelming!'
'I'll try anything once. Let me just give it a try, if it's aligned and feels like the right thing to do, let me just try'
You said that you wanted to be a primary school teacher in the past. Would you ever take up a teaching role here?
'Yeah for sure, I'd honestly love to.' You originally mentioned you were into drama before singing.
What made you decide on singing as your career path?
'Honestly, it happened to me. I've been running away for years, and it kept coming, knocking down the door like: you're not gonna get away from this! So I was like, 'oh, OK, I'll accept it then'. And now, it's funny because as much as I started out thinking I was a little bit of an actress, I cannot act. I'll try to go into acting, and my son's like: "No mum, give it up, stay as a singer".'
Did you have a favourite teacher at this school?
'Rachel, my singing teacher, was amazing because she was always positive. I actually just bumped into another one named Steve, who I did physical theatre with, and he was always great. They were willing to come to your level and your place of understanding. For those reasons, they were the most amazing teachers I ever had.'
Who 'paved the way' for you?
'Lots of people actually, lots of reggae artists. When I was growing up, in my household we always listened a lot of old-school reggae: Studio One, Bob Marley, Dennis Brown, John Holt, a lot of lovers rock, dub music. Music that was very socially conscious. A massive part of Rastafarianism is about love and a respect for life. So those artists, that music, that upbringing, was definitely something that paved the way for me, in the sense of having the confidence to be an individual and to also be about love, inspiration and positivity.'
The paving stone outside the college reads 'Those Who Are Afraid To Fall Never Fly, How Will We Ever Know, If We Never Try.' Why did you choose that particular lyric for the paving stone?
'They asked for two lines of a song, and that just immediately came to me. I didn't give it a lot of thought. It wasn't actually a song; it was a poem that I wrote which was on the first album, but on the artwork on the last page. I haven't thought about that poem for years, but it just came to me in that moment and it felt perfect for the message I wanted to leave. It's literally that – if you're afraid to fall, you'll never fly. It sounds so cliché, but if you never try then you'll never know. That's been my motto, I'll try anything once. Let me just give it a try, if it's aligned and feels like the right thing to do, let me just try because I'll never know otherwise.'
Watch the MOBO Awards on ITV2 on Friday 4th November at 8pm.
When the 'Wiley Stone' was unveiled
We've always known that Wiley is so Bow E3, but now the MOBO Awards have gone and proved it by installing a paving stone tribute to the grime innovator in Tower Hamlets.