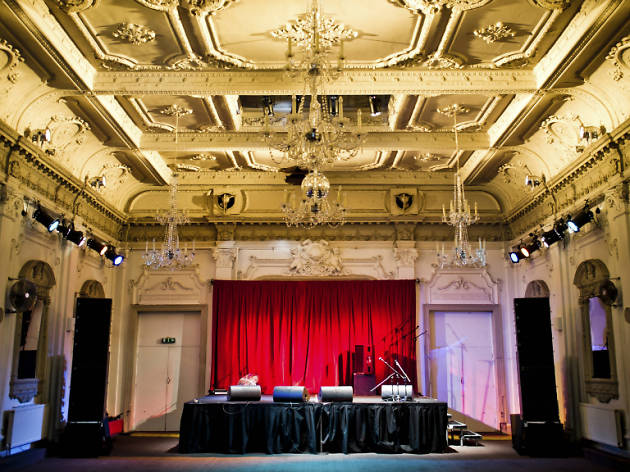 So you've never been to… Bush Hall?
An old school music hall with thoroughly voguish vibes
In a nutshell…
A lovingly restored venue that retains the charm and intimacy of a nineteenth-century music hall.
Where is it?
This grand hall with its old Edwardian decor is located slap bang in the middle of Uxbridge Road, Shepherd's Bush.
What's the vibe?
Bush Hall recreates some of that magic which gets lost in bigger venues. Depending on the bill, you can comfortably sit, stand and sway or rock out to an eclectic mix of musicians under beautiful chandeliers and ornate cornicing.
What makes it a great place for gigs?
It's the perfect size – not so big that you feel alienated from the stage but not so small you turn into a claustrophobic, sweaty mess. It's a flexible venue that accommodates theatre, comedy and spoken word, alongside gigs. It's also the place to catch big stars in an intimate setting. In 2003, you would have caught the smoky, raw talent of Amy Winehouse.
What's the booze situation?
Wine, spirits and bottled beers (nothing on tap) decanted into plastic cups, all at £4.50.
What's the weirdest thing to have happen at a gig there?
Cat Power played her set almost entirely with her back to the audience. They've had zip-wires from the roof, the audience has been serenaded from the balcony, and there's been a LOT of dancing on the grand piano.
Where do all the coats go?
Lost property is tagged and logged, then awaits collection. They have a clear-out about once every five years!
Previously: So you've never been to… Moth Club?
What's on at Bush Hall
Find out about the latest gigs and goings on at Bush Hall and get involved in all the action.