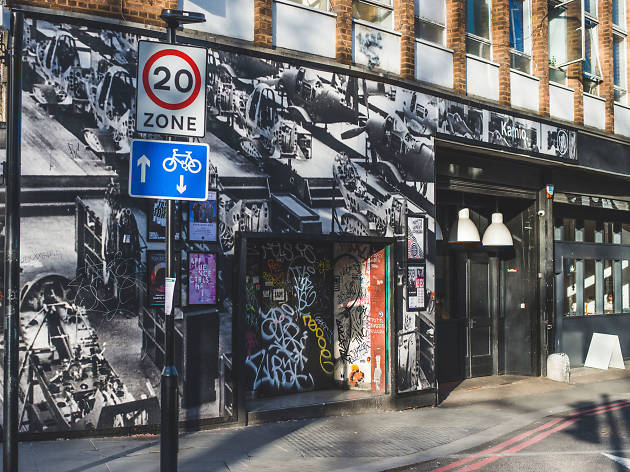 So you've never been to... Kamio?
Everything you need to know about the live music space in Shoreditch
In a nutshell...
A Vice-owned gallery and grimy live music space all in one.
Where is it?
In the heart of Shoreditch, just minutes from Old Street roundabout. Don't worry, you won't have to navigate the Magaluf-like carnage of the surrounding streets for too long. It's slightly hidden away from the chaos on the much quieter Rivington Street.
What's the vibe?
As you'd expect from the area, Kamio definitely feels a bit cool. Upstairs, the gallery space is chilled, while downstairs in the dark, concrete performance space all manner of music passes through, from grime and R&B, to indie and electronica. There's also a brilliantly big beer garden for when you need to take a little breather.
What makes it a great venue?
It's a proper small and sweaty venue, the kind that fills you with a sense of intimacy wherever you're stood in the room. Plus, you can see the stage from virtually anywhere and the sound is consistently chest-thumpingly great.
What's the booze situation?
Be prepared to spend if you fancy an alcoholic beverage. A pint of Bud is a fiver, while house wine ranges from £4.50 (125ml) to £7 (250ml). House spirits and mixers, meanwhile, will set you back £5.40. Makes you long for dry January.
Who's the most famous person spotted at a gig there?
Head down to the basement and you could be rubbing shoulders with perpetual renaissance man Damon Albarn or grime don Giggs. Skepta is also a regular at the venue, while staff cheekily suggest they're 'pretty sure one of the Kardashians popped in for a pint'.
What's on at Kamio?
A new multi-purpose music venue within Shoreditch's Red Gallery, set up by the brains behind the nearby Old Blue Last and Birthdays in Dalston. There's a bar, a hidden garden, and all the makings to host gigs and club nights.