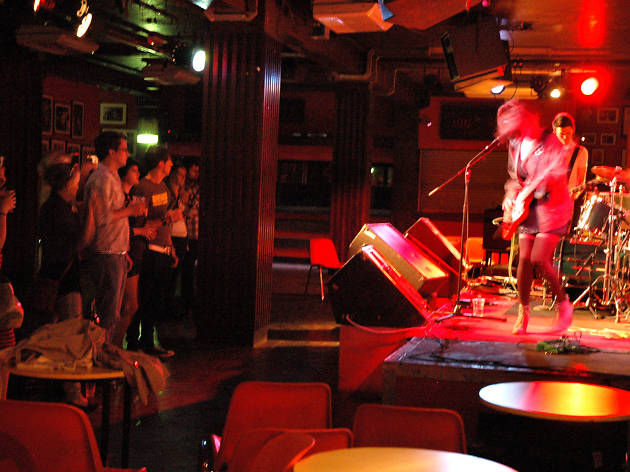 So you've never been to... The 100 Club?
Everything you need to know about the iconic boozer on Oxford Street
In a nutshell...
Slick 1940s jazz club meets iconic '70s punk boozer.
Where is it?
100 Oxford Street. Look for the teeny door between Ann Summers and Boots. Sex, drugs and rock 'n' roll!
What's the vibe?
Long-haired lads in snakeskin trousers and pretty young things dressed like backing dancers for the New York Dolls downing whiskey and moshing among fortysomething mods and proper old rockers who couldn't give a shit about snapping a pic for their Instagram.
What makes it a great venue?
For one thing, it hasn't changed since the 1970s. The 100 Club's ruby-red walls are covered floor-to-ceiling in enough memorabilia to make it a music collector's wet dream. Then there's the fact that fans can still get close enough to the stage to get gobbed on. Finally, it's wildly eclectic: everything from reggae, punk and metal to trad jazz, hip hop and grime.
What's the booze situation?
Grab a pint or a single for less than £4 or splash out with an independent craft or IPA on tap, coming in at just over a fiver.
What's coming up?
A shiny new partnership with Fred Perry means the 100 Club is toasting its big 75 this year with a bang. The venue is promising a huge (and currently still top secret) run of events.
What are some legendary 100 Club moments?
You're spoilt for choice! It's gone from being the only venue to bring mainstream reggae to the West End with its famous lunchtime sessions to throwing the first ever northern soul all-nighter in 1981. Everyone from The Stones to Blur have played intimate shows here, plus it played host to Mark Ronson and Amy Winehouse's debut performance together (and her last show, just five weeks before her death). Jack White even credited an album recorded at the 100 Club [Son House's 'John the Revelator'] as having inspired the formation of The White Stripes. Mighty praise indeed.
What's on at The 100 Club?
Many historic shows have been staged at the 100 Club through the decades, including sets by Louis Armstrong, Billie Holliday, Muddy Waters, The Kinks, the Sex Pistols and just about every notable Britpop band.