The best music venues in London: O2 Brixton Academy
The city's 20 best places to see live music, as voted by you – get the latest gig listings and buy tickets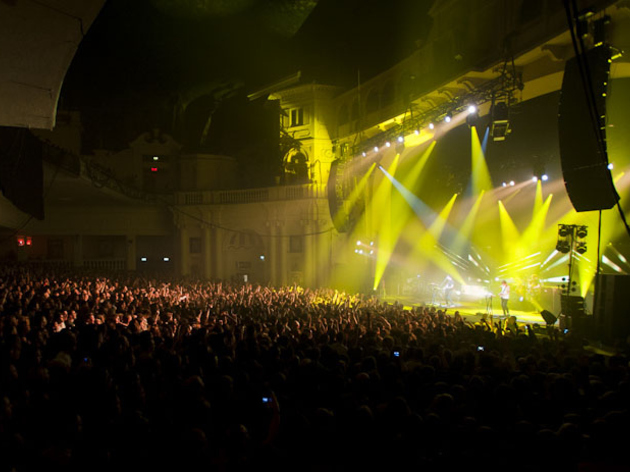 The Academy's famous raked dancefloor splits opinion – it allows the petit(e) attendee to see something of what's happening on stage, which is good, but isn't exactly ideal if you fancy a boogie. 

What's not in contention is the Academy's importance to London's nightlife, The 5,000-capacity art deco gem straddles the chasm between the pomp and volume of a stadium show and the intimate (read: sweaty) atmosphere of a club.


Since becoming a full-time music venue in 1983, it's served names from James Brown and the Stones to Springsteen, Dylan, Prince and Madonna, via the Chili Peppers. It's also a major figure in dance music history, having been the seat of the Megadog all-nighters (at which Orbital were regular fixtures), plus rave-ups from Fatboy Slim v Armand van Helden, right up to The Streets' and Plastikman's recent super-futuristic (although not that good) augmented-reality beano.
Book now
Read more
Next venue: The Lexington
Sponsored listing
The Victoria
Here's what happens when Dreambagsjaguarshoes grows up, packs its bags and moves to Dalston. The Victoria is now owned by the same people as the perennially cool and grungy Shoreditch hangout, and probably represents a mellowing out with age – it's a pub, it's more relaxed, it stages live music, and it's on a backstreet off Dalston Lane instead of the illuminated strip down the road. As a pub, it's decent – an artily thrown-together look, a few local beers (although not many), and a 'residency' from peripatetic grillers Psychic Burger. It's a misleading name – I sat thinking about what I wanted to eat for half an hour before having to go up and order at the bar in the old-fashioned way. But as US diner food in plastic trays goes, it's a fine example of its type. Through the back of the pub is the stage, where assorted bands assemble to perform. The Victoria has been a scuzzily democratic live music venue for decades, so it's great that the new owners kept that going and didn't turn the room into a dining room/yoga space/Tesco Metro.