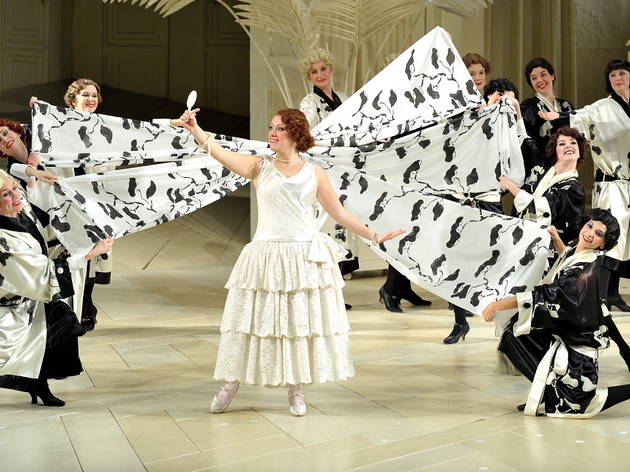 Time Out says
Jonathan Miller's production of 'The Mikado' returns to ENO in 2019. This review is from 2012.
English National Opera's twenty-sixth season of 'The Mikado' is back in time for Christmas. Much loved, it transfers Gilbert and Sullivan's topsy-turvy Japan to a cream-coloured cartoon country house in England. Designed by the late Stefanos Lazaridis, the set includes several hidden doors and Escher-like passages upstage where something funny – or naughty – is almost always going on behind the protagonists' backs.
Richard Angas plays the title role as a larger-than-life country squire. Bumbling through his domain, he applies himself to a sadistic statute book as if to a mildly diverting hobby. Lately, his law against flirting has wrongfooted Ko-Ko, a tailor, who is consigned to death row. While out on bail, though, Ko-Ko is elevated to the office of Lord High Executioner. Now he means to capitalise on this stroke of luck by wedding the beautiful Yum-Yum. She, however, is more inclined towards a mysterious wandering minstrel, Nanki-Poo. Meanwhile, the minstrel is fleeing unwanted attention from the frightful Katisha.
All this provides plenty of material for WS Gilbert's unique wit. Yum-Yum and Nanki-Poo get a counterfactual love duet – sung with sweet playfulness by Mary Bevan and Robert Murray – about the kiss they're not about to enjoy. Another highlight is a trio so hypothetical it requires lyrics in algebra and Ko-Ko's manic patter delivered by Richard Suart. Flitting between accents in an actorish way, Suart proves a resourceful comedian (though his 'little list' of candidates for execution was a tad slow and contrived).
For a comic opera, 'The Mikado' contains an awful lot of 'serious' music. Much of this, as the ENO Orchestra's sensitive playing under David Parry reminds us, is substantial stuff. But, coming between slapstick numbers, it can leave an audience feeling disorientated.
Fortunately, veteran director Jonathan Miller has some tricks up his sleeve. While Yvonne Howard sings 'The Hour of Gladness' with dark intensity, Miller has Katisha's chaffeur (David Newman) whip off his goggles to accompany on the piano with exaggerated gestures and much flopping of his white mane. This hilarious device expertly diffuses our unease – and there are plenty more. But Miller also knows when to leave well alone. Mary Bevan's warm-toned, perfectly controlled rendition of 'The Sun, Whose Rays' requires no comic foil.
Details
Users say